'Every single institution is under RSS control'
Rahul rues 'death of democracy', slams Modi government
Congress leader says the regime has captured every institution and controlled the political narrative through coercion and allurements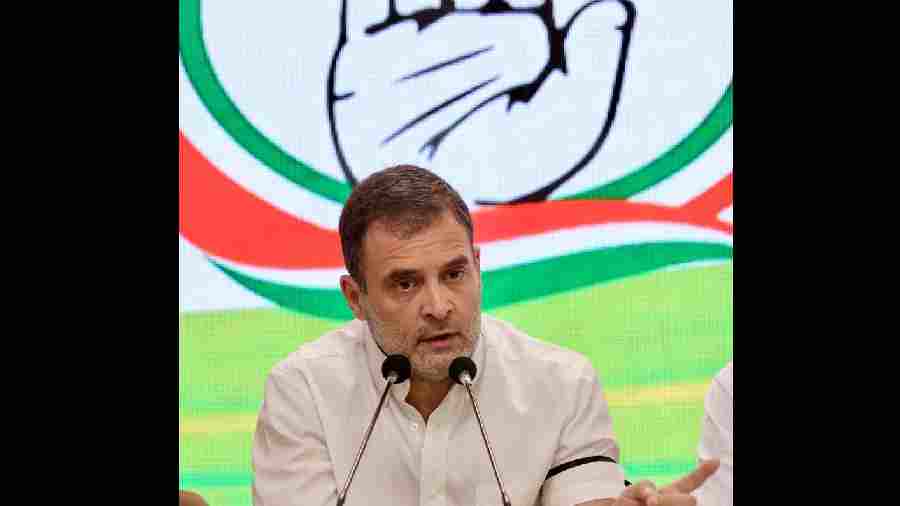 Rahul Gandhi at the press meet.
Twitter
---
New Delhi
|
Published 06.08.22, 01:40 AM
|
---
Rarely have opening lines dealt such a sledgehammer punch to the collective gut: "How are you enjoying the onset of dictatorship in India? Are you enjoying it?"
Rahul Gandhi, having for years warned about an imminent danger to Indian democracy, on Friday kicked off his media conference with the two questions. Then he added: "What we are witnessing is the death of democracy. What India has built, brick by brick, starting almost a century ago, is basically being destroyed in front of your eyes…. Democracy is now just a memory; nothing more. India now has a dictatorship of four persons."
While the Congress MP didn't name anyone, he had in the past alleged that Prime Minister Narendra Modi and home minister Amit Shah ran the government to serve the interests of two top industrialists. Rahul's latest comments come amid a government crackdown on protests and the selective targeting of Opposition leaders through central investigative agencies, with Rahul himself, Congress president Sonia Gandhi and Shiv Sena MP Sanjay Raut being recent examples. Even on Friday, Congress leaders were prevented from marching against the savage rise in prices. Rahul asserted that the Opposition's voice was being ruthlessly crushed.
Rahul said: "All of you know it; the whole of India knows it. Anybody who stands against this idea — dictatorship — doesn't matter which state, which religion, male or female, (they are) viciously attacked, put in jail, beaten up." 
"The idea is that people's issues — price rise, unemployment, violence in society — must not be raised. That is the sole agenda of the government. And the government is run to protect the interests of four or five people."
Rahul alleged the government had captured every institution and controlled the political narrative through coercion and allurements."They lie on every issue. 'Start-up India', where is it? They are firing employees. (On) Covid, they boasted excellent management. The United Nations said five million people died in India. We saw bodies floating in the Ganga. Price rise? No. Unemployment? No. China? Nobody has entered."
Finance minister Nirmala Sitharaman and BJP members had during a recent debate in Parliament denied any significant price rise in the country. Modi had in June 2020 claimed that no one had entered or occupied Indian territory, speaking four days after a clash in the Galwan Valley in eastern Ladakh had killed 20 Indian soldiers and an unspecified number of Chinese. Rahul stressed, once again, that formal democracy held little significance if institutions were not free.
"Every single institution is under RSS control — not one has been spared. Legal structure, electoral structure, financial structure, media… all support the government. The battle is no more political," he said. "In our time, the infrastructure remained neutral. Political entities could freely contest. Now we are fighting the collective might of India's infrastructure. That's why the impact isn't there even as the Opposition is getting aggressive."Asked about the party's strategy to fight the politics of intimidation, he responded, "Where is the fear? No fear. What is there to be afraid of?"
Rahul added: "I learn from their attacks. I get great joy when they attack me. It helps me understand better my own commitments and ideology. I understand better what's the nature of the battle. I see the battlefield better.
"Not only the Congress, anybody — political, non-political, film stars — whoever speaks against this government faces retribution. It's not about individuals or parties; the very idea of the Opposition is not being tolerated.
"The more I raise people's issues, the more I speak the truth, the more I will be attacked. I am not afraid. In fact, they are scared. They fear the circumstances that their policies have developed."They are scared because they didn't fulfil the promises. They are scared because they lie constantly. But there will be consequences of the death of democracy. Devastating consequences. People are not going to keep quiet."Asked about the government's claim that inflation was not a big concern, he shot back: "Complete nonsense. The finance minister has no understanding of what is happening to our economy. Zero understanding. She either cannot see the reality or has been told to speak like that."
To a question about the Congress protests being a ploy to divert attention from the questioning by the Enforcement Directorate, Rahul said: "There is absolutely nothing in the National Herald case. Everybody knows that."
He added: "They have to understand the culture I come from. Why is the Gandhi family attacked? We fight for ideology. We fight for democracy. When communal violence happens, we are pained. When Dalits are attacked, we are pained. When women are attacked, we are pained. My family has made extreme sacrifices fighting for the nation."Asked about the BJP's electoral victories despite its governments' questionable performances, Rahul said: "Even Hitler won elections, because he too controlled all the institutions in Germany."