Dhankhar VP; Margaret Alva salvo at Didi's divider role
Of the 725 votes polled in an electoral college of 780, the NDA candidate bagged 528 votes, clocking a vote share of 72.83 per cent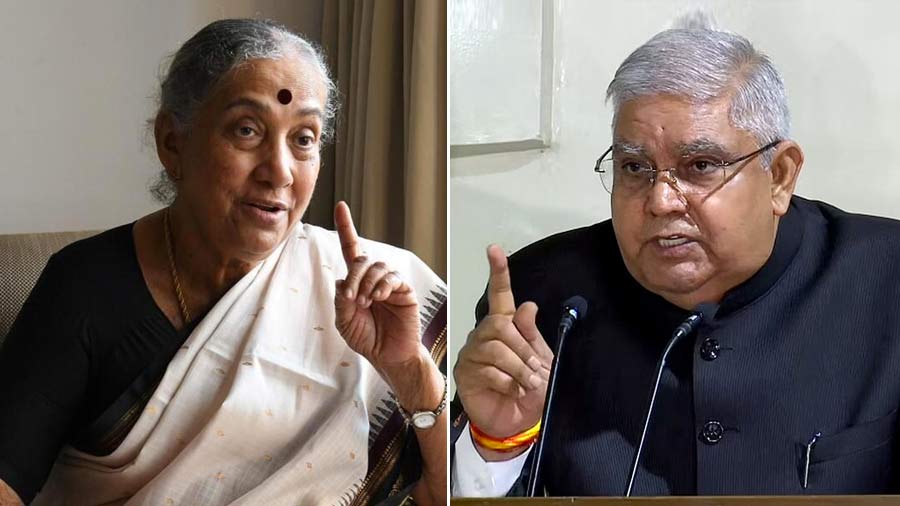 Margaret Alva and Jagdeep Dhankhar.
File photo
---
New Delhi
|
Published 07.08.22, 02:54 AM
|
---
Former governor of Bengal Jagdeep Dhankhar was elected Vice-President of India on Saturday evening, defeating Opposition candidate Margaret Alva by 346 votes.
Of the 725 votes polled in an electoral college of 780, Dhankhar bagged 528 votes, clocking a vote share of 72.83 per cent. Alva secured 182 votes, and 15 votes were declared invalid.The result did not throw up any surprise as the government was expecting Dhankhar to corner 527 votes.
Within minutes of the declaration of the results by the Lok Sabha secretary-general, Alva congratulated Dhankhar. "Congratulations to Mr Dhankhar on being elected Vice-President! I would like to thank all the leaders of the Opposition, and MPs from across parties who voted for me in this election. Also, all the volunteers for their selfless service during our short but intense campaign," Alva tweeted.
Without naming any party but in an oblique reference to the decision of the Trinamul Congress to abstain from the election, Alva said: "This election was an opportunity for the Opposition to work together, to leave the past behind and build trust amongst each other. Unfortunately, some Opposition parties chose to directly or indirectly support the BJP, in an attempt to derail the idea of a united Opposition. It is my belief that by doing so, these parties and their leaders have damaged their own credibility."
Alva added: "This election is over. The battle for protecting our Constitution, strengthening our democracy and restoring the dignity of Parliament, will continue. Jai Hind."With the NDA's overwhelming majority in both Houses of Parliament and the additional support Dhankhar got from Naveen Patnaik's BJD and Jagan Mohan Reddy's YSRCP, the former governor polled way above the 356-mark, the quota set for declaring a candidate victorious.The result was declared at 8pm, an hour after counting was taken up after polling concluded at 5pm.