Designer murdered over 'tailor dues'
Three men, in their mid-20s, looted jewellery worth lakhs and fled in Mala Lakhani's car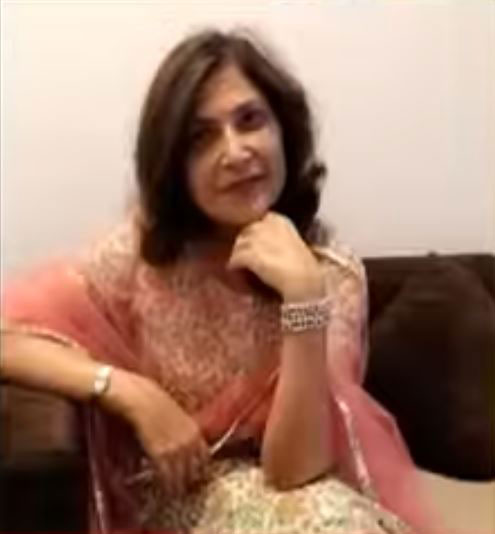 Mala Lakhani (in pic) and her domestic help were stabbed to death inside her apartment on Wednesday night.
(Screengrab from ABP News)
---
New Delhi
|
Published 15.11.18, 09:03 PM
|
---
A fashion designer, Mala Lakhani, and her domestic help-cum-security guard, Bahadur, were stabbed to death inside her plush apartment on Wednesday night, allegedly by three of her tailors who said she hadn't paid them for months.
Police said the three men, all in their mid-20s, looted jewellery worth lakhs of rupees from the flat after the double murder and fled in Lakhani's car. But soon, they panicked and turned up at the police station at 2.45am to confess their crime, officers added.
Police sources said the trio had planned the murder 10 days ago with the motive of robbery and revenge for the allegedly unpaid salaries. Lakhani, 53, was stabbed at least 10 times and Bahadur, 41, too showed multiple gashes, they said.
"Rahul Anwar, Rahmat and Bashir thought the police would trouble their families if they ran away. So, they decided to surrender," an officer said. "We have recovered Lakhani's car, in which they had fled after the murder."
He said the double murder took place between 10pm and midnight at Lakhani's flat in the Vasant Kunj Enclave, south Delhi. Lakhani ran a boutique, Tulsi Creations, in Green Park.
Police sources said the accused had come with four knives they had bought at a weekly market. After the double murder they went to a pond to dispose of the knives and their blood-stained clothes. Officers said they had recovered a knife.
Anwar had been arrested last year on the charge of molesting a minor girl and was out on bail.
During interrogation the trio allegedly told the police they had been working with Lakhani for the past three years but had not been paid the last few months' salaries.
Anwar, the master tailor, would come to Lakhani's flat, from where she ran a tailoring workshop, every morning. He had the keys to the house and the workshop, the police said.
Wasim and Rahmat arrived around 6.30pm on Wednesday. Anwar called Lakhani to show her a suit he had stitched and the trio stabbed her to death when she came to the workshop, the police said. When Bahadur came to check on her, he was killed too, officers added.
They said Lakhani was single and had been living in Vasant Kunj for several years. Her sister lives in Gurgaon and her brother in Goa.
Bahadur, a Nepali national, had been with Lakhani's family since childhood. The police have not been able to trace his family.
"We are questioning Lakhani's neighbours," an officer said.
After preserving the crime scene, the police sent the bodies to AIIMS for post-mortem. A forensic team visited the spot on Thursday and will do so again on Friday.