Delhi's trendy buy breath of fresh air
Oxygen inhalation at parlours carries more risks than benefits, say medical experts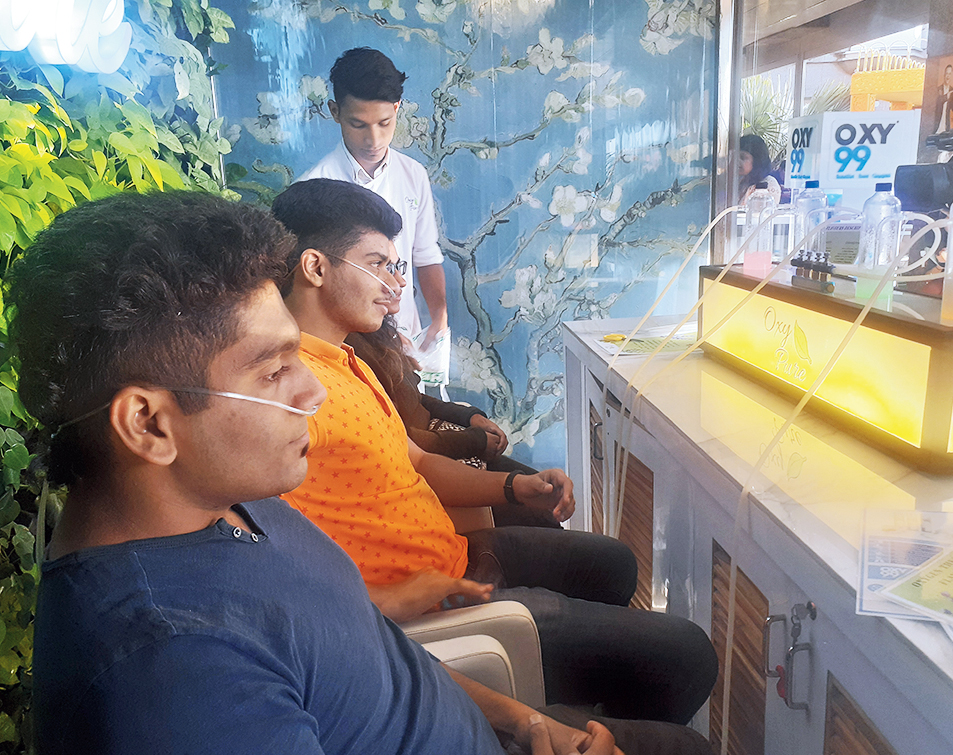 ---
---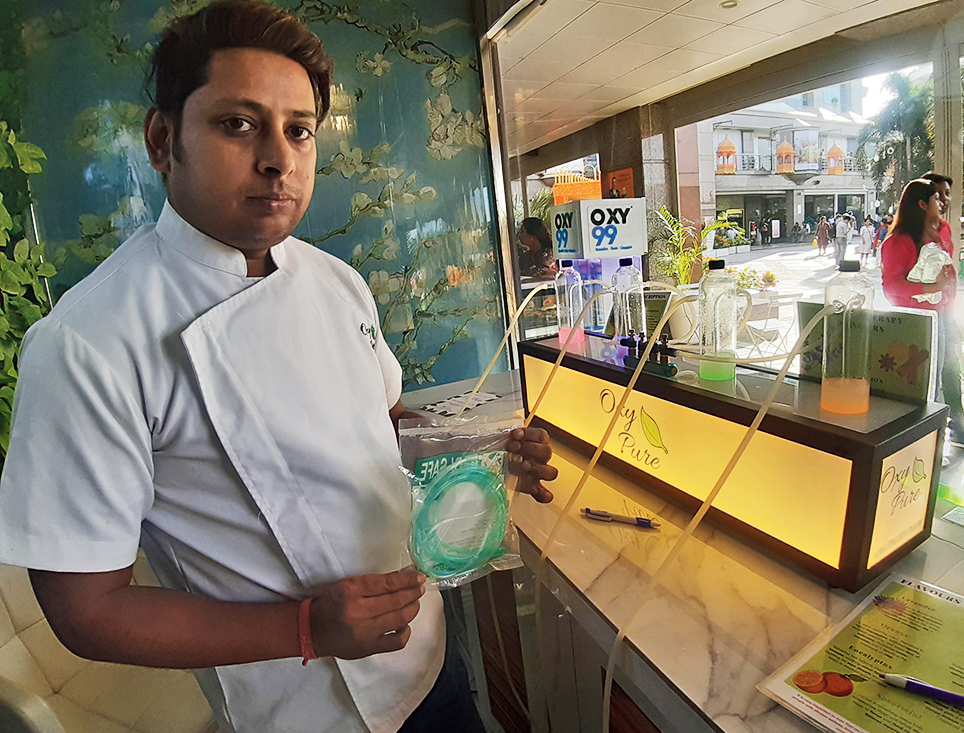 Three people in their 20s walk into what looks like an ice cream parlour at a south Delhi mall. They look at a rate card and choose their flavours — orange, lemongrass, peppermint — sit down on tall white chairs and begin to inhale through pipes.
Welcome to Delhi's new fad. Instead of relaxing over a cup of tea, visitors entering the Select Citywalk mall to watch a movie, or weary shoppers preparing to leave, are taking a 15-minute dose of oxygen at Oxy Pure.
The trio visited the mall on a rare Sunday of clear skies in November, a month during which severe smog in Delhi had led to even grocery stores selling pollution masks. In parts of the capital, pollution had risen to 60 times the tolerable limit for 2.5-micron-sized dust particles that may cause cancer.
Vaishnavi and Suryavansh Chauhan, both in their 20s, suffer from shortness of breath and bronchitis, respectively. They gloss over the disclaimer on the brochure that asks patients of chronic asthma, bronchitis or emphysema to consult a doctor before using the oxygen bar.
Vaishnavi chooses peppermint and Chauhan, lemon grass. Neither has spoken to their doctors although Vaishnavi routinely uses an inhaler and Chauhan a nebuliser.
"I don't think it's a good idea to buy oxygen. It sounds crazy, but I just wanted to try it once," Vaishnavi, an executive with an online hotel aggregator, tells The Telegraph. "It's nice but I'm not sure I will make it a regular thing."
Her friend Arpan Shah, who has chosen the orange flavour, can feel his headache going away.
Doctors say the immediate feeling of well-being an oxygen bar customer experiences owes not to the piped air having a high oxygen content but to it being cleaner than the outside air. Even the polluted outside air has enough oxygen to meet the body's needs.
A medical expert told this newspaper that a dose of oxygen inhalation doesn't really make a difference. Instead, it can harm some patients of chronic obstructive pulmonary disease (COPD), an umbrella term that covers emphysema, chronic bronchitis and irreversible asthma.
However, the parlour, the first of its kind in the capital, has been doing good business since it opened in May, and particularly since the spike in pollution over the past one month.
Ajay Johnson, an attendant who wears a lab coat, says the parlour gets 15 to 20 customers a day.
"Some people often walk in saying, 'Arrey, how can you sell oxygen?' We ask them to take a (pulse) oximeter reading. Many show readings as low as 91. We explain to them that this air is better than the air outside."
Normal blood oxygen levels are between 95 and 100.
The firm is expected to open an outlet at Delhi airport soon, and is flush with franchise requests. The rates range from Rs 299 to Rs 499, depending on the flavour, for a 15-minute sitting during which 85 per cent oxygen is piped into a customer's nostrils with a disposable nasal cannula.
There are also packages ranging from Rs 2,100 to Rs 3,100 for 10 doses, to be taken over 10 days within a month, as well as an offer to serve a group of five at the cost of four.
The flavours include lavender, cinnamon, spearmint, peppermint, eucalyptus, lemongrass and orange. Eucalyptus is the most popular, and customers are demanding the introduction of coffee and chocolate flavours too.
The firm was started by Aryavir Kumar, whose family runs the Clarks group of hotels, and his Ukrainian business partner Margarita Kuritsyna.
Kumar told this newspaper that the oxygen parlour had broken even within three months. "It's not just about pollution. Oxygen treatment leads to muscle recovery and relieves jet lag and fatigue," he said.
"Twenty years ago, you wouldn't pay for clean drinking water. Today, clean air is something worth paying for."
Kumar is set to make higher profits with the air crisis showing no signs of abating. Schools shut down twice in Delhi in November because of a declared pollution emergency.
Prime Minister Narendra Modi, a voracious tweeter, has remained silent on the crisis about which the recently retired Chief Justice of India, Ranjan Gogoi, had said "little has been done".
The government appears clueless. Health minister Harsh Vardhan has tweeted that eating carrots can help fight the ill effects of pollution, and an Uttar Pradesh minister has urged governments to perform yagnyas to Indra to wash away the pollution with rain.
On the day Vaishnavi, Chauhan and Shah visited Oxy Pure, Delhi had owed the drop in pollution to high surface winds.
J.K. Samaria, a professor of chest diseases at Banaras Hindu University and treasurer of the Indian Chest Society, debunked the claims of oxygen relieving myriad ailments.
"Normal air contains 21 per cent oxygen — the rest is mainly inert nitrogen — and that's all the body needs. When one walks in from a polluted place, one may feel some relief for the first five minutes breathing clean air. That's all there is to it," he said.
Oxy Pure's brochure promises relief from ailments ranging from depression to diarrhoea.
"The body only absorbs oxygen up to its saturation point. Beyond that, it doesn't take in oxygen, and the claims about it curing ailments lack proof," Samaria said.
"Oxygen parlours haven't done well in the West or in Bangalore (which saw its first oxygen parlour in 1999) because the air is better there. This concentrated oxygen inhalation may not be beneficial."
He added: "Less than 10 per cent of COPD patients run the risk of becoming dependent on it (inhalation of high-concentration oxygen), and the body's natural response to stimulate certain chemicals that absorb carbon dioxide may be affected."