Delhi violence: Ajit Doval does Amit Shah's job
NSA Doval had also been deployed to reach out to Kashmiris after Jammu and Kashmir's special status was scrapped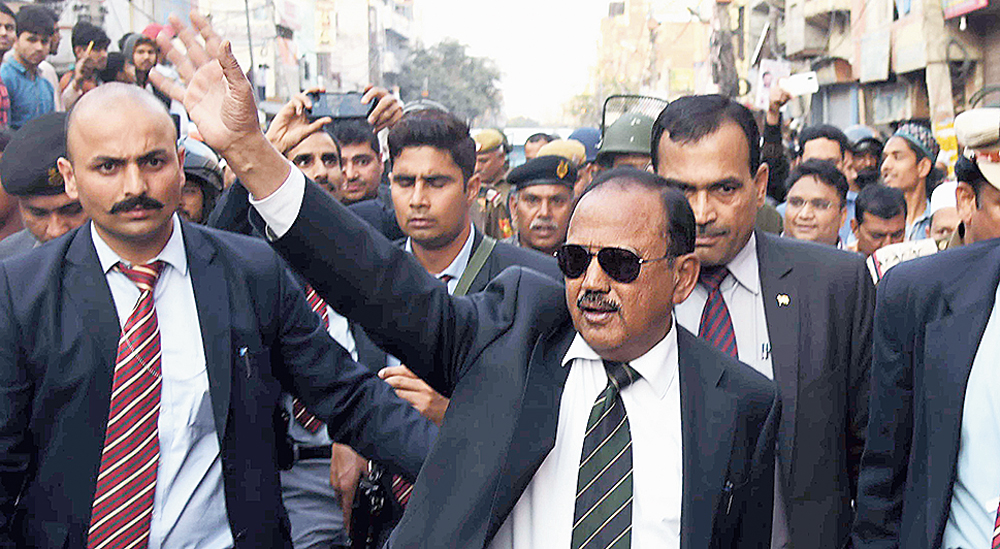 Ajit Doval visits the violence-hit area of northeast Delhi on Wednesday
Picture by Prem Singh
---
New Delhi
|
Published 26.02.20, 08:48 PM
|
---
National security adviser Ajit Doval was confronted on Wednesday by a burqa-clad college student during his outreach to the minority community in Jaffrabad, the epicentre of the worst communal flare-up in the capital in over three decades.
"I am a student, we are feeling very unsafe and cannot sleep at night," she interjected when Doval told journalists that the situation in Delhi was under control after his visit to the lanes and bylanes of several Muslim pockets in the area.
As Doval tried to speak, she said: "Let me complete, Sir."
The woman, whose identity was not known, narrated the community's ordeal. "Our houses and shops are being torched…. We are not fighting, I cannot go to college…. Our brothers are trying to protect us," she said as TV screens beamed live images.
NSA Doval, who had been deployed by the government to reach out to Kashmiris after Jammu and Kashmir's special status was scrapped, tried to pacify her, saying: "You don't have to worry. It is the responsibility of the government and the police to keep you safe."
The young woman shot back: "The police and the administration are not doing their job." She asked him to intervene and take strong action. "I give you my word," Doval replied.
"Thank you very much for coming here," she responded.
Earlier, Doval had been confronted by an elderly man in the area who told him that "Muslims are being massacred where they are in small numbers and the RSS has created a reign of terror in this part of Delhi".
Doval, in Jaffrabad as part of a confidence-building effort, walked with a posse of police officers. Twenty-seven people have been killed in northeast Delhi and over 200 injured in the violence that erupted after BJP leaders called for anti-citizenship law protesters to be evicted.
Doval interacted with residents, enquired about their problems and tried to pacify them by saying that law-abiding citizens did not need to fear anyone. His presence in the neighbourhood appeared to inspire confidence among community members and some of them shouted in unison "Ajit Doval zindabad."
"The situation is under control. Insha Allah, there will be peace," Doval told reporters.
He said people were doubting the capabilities and intentions of Delhi police, which needed to be addressed as people needed to trust the men in uniform.
Within two hours of his visit, reports of fresh violence surfaced at Bhajanpura. Some shops were set afire and vandalised. A large number of policemen brought the situation under control.
The move to put Doval in charge of restoring peace in northeast Delhi raised eyebrows since the local police directly reports to the Union home ministry helmed by Amit Shah.
"It's very unusual and surprising that the NSA, who has more pressing jobs, has been entrusted with the responsibility to ensure law and order and normality in the capital. The exercise shows home minister Shah in poor light as Delhi police directly report to him. Isn't it his responsibility to reach out to people and calm nerves? Is the country's NSA doing the job of a politician too?" asked a security expert.
A home ministry official said Delhi police, who have a strength of 90,000 personnel, had failed to control the violence. "Where is the Delhi police commissioner? He did not visit the affected areas since the violence broke out on Sunday night. Why was it allowed to simmer for four days and then the NSA sent to control law and order?" he asked on the condition of anonymity.
Doval hit the ground twice in less than 12 hours as he had visited some affected areas — Gokilpuri, Maujpur and Seelampur — late on Tuesday night.
The sources said the NSA later briefed Shah about the situation.
"People have a sense of unity among them, there is no enmity. A few criminals do things like this (spread violence), people are trying to isolate them. The police are here and doing their work. We are here as per the orders of the home minister and the Prime Minister," Doval had told reporters during his visit.
Abdul Rashid, a resident of Jaffrabad, said Doval's claim that everything was under control defied logic. "Muslims are living in fear, their houses and properties have been torched. People are so scared that they are fleeing their homes in Mustafabad…," Rashid said.