Cops 'visits' the offices of Twitter India in Delhi and Gurgaon
Move comes three days after the micro-blogging site labelled as 'manipulated media' a post by BJP leader Sambit Patra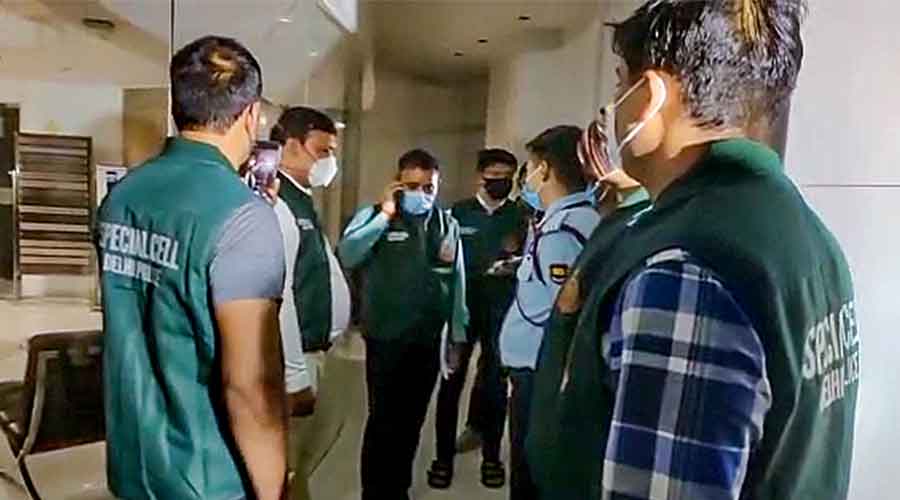 A team of Delhi Polices Special Cell visits the Twitter Indias Lado Sarai office in connection with the probe into the alleged COVID toolkit matter, in New Delhi
PTI
---
New Delhi
|
Published 25.05.21, 02:10 AM
|
---
Delhi police visited the offices of Twitter India in Delhi and Gurgaon on Monday evening, three days after the micro-blogging site labelled as "manipulated media" a post by BJP leader Sambit Patra.
Patra's post dealt with what he had claimed was a Congress "toolkit" on Covid. The Congress had last week complained to Twitter against Patra, BJP chief J.P. Nadda and other leaders of the ruling party for allegedly circulating forged documents and spreading misinformation. The Congress had also complained to the Delhi police.
Amid reports that Twitter had been raided, Delhi police PRO Chinmoy Biswal told PTI: "The police team went to the Twitter office to serve a notice on Twitter as part of a routine process. This was necessitated as we wanted to ascertain who the right person is to serve a notice, as replies by Twitter India MD have been very ambiguous."
Earlier on Monday, a Delhi police special cell had served a notice on Twitter. The notice was addressed to Manish Maheshwari, managing director of Twitter India.
In the evening, the Delhi police said: "Delhi police is enquiring into a complaint…. It appears that Twitter has some information which is not known to us, on the basis of which they have classified it as such. This information is relevant to the enquiry. (The) special cell, which is conducting the enquiry, wants to find out the truth. Twitter, which has claimed to know the underlying truth, should clarify."