More than 300 protesters were detained
Delhi Police register case on Congress protest
Cops had denied permission to the Opposition party in the national capital as prohibitory orders were in place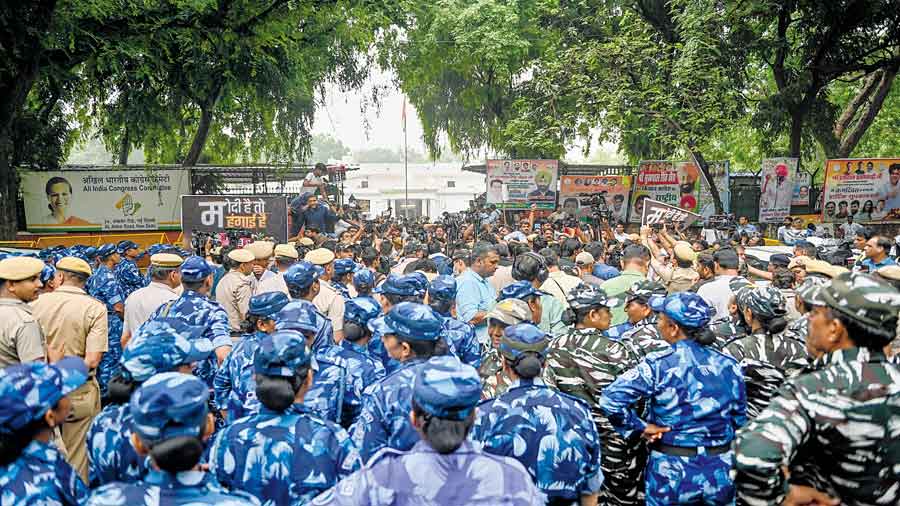 Security personnel deployed to stop Congress protesters in New Delhi on Friday.
PTI
---
New Delhi
|
Published 06.08.22, 02:31 PM
|
---
The Delhi Police has registered a case at the Tughlaq Road police station in connection with a protest staged by the Congress party, officials said on Saturday.
The Opposition party called for a nationwide protest on Friday against inflation, unemployment and the Goods and Services Tax (GST) hike on essential items.
Deputy Commissioner of Police (New Delhi) Amrutha Guguloth said a case under sections 186 (obstructing public servant in discharge of public functions), 188 (disobedience to order duly promulgated by public servant), 332 (voluntarily causing hurt to deter public servant from his duty) and 34 (common intention) of the Indian Penal Code (IPC) has been registered at the Tughlaq Road police station, PTI reported on Saturday.
The Delhi Police had denied permission to the Congress to stage a protest in the national capital as prohibitory orders are in place in New Delhi district.
Police detained more than 300 protesters, including 65 members of Parliament, from Lutyens' Delhi on Friday.
Those detained included K C Venugopal, Mallikarjun Kharge, Adhir Ranjan Chowdhury, P Chidambaram, Ramesh and Shashi Tharoor.
Congress leaders hit the streets on Friday as they staged nationwide protests against price rise and unemployment, with over 300 of them including Rahul Gandhi and Priyanka Gandhi Vadra detained by police for over six hours in the national capital.
Wearing black clothes, Sonia Gandhi and Rahul Gandhi led the charge in Parliament where party MPs took out a protest march and were detained by the police at Vijay Chowk while they were on their way to Rashtrapati Bhavan. Priyanka Gandhi led at the AICC headquarters here, where hundreds were detained by the police amid dramatic standoffs. Sonia Gandhi did not participate in the march due to ill-health.
While several BJP leaders called the protests an attempt to save the Gandhi family, Home Minister Amit Shah linked the protest in black clothes to the party's "appeasement" politics to convey its opposition to the Ram temple foundation laying by Prime Minister Narendra Modi on this day in 2020.
Shah said the Congress was using the issues like ED action and price rise only as excuses.
The Congress hit back saying only a sick mind could give a malicious twist to the protests.
"Home Minister has made a desperate attempt to divert, distract, polarise and give a malicious twist to today's democratic protests of @INCIndia against price rise, unemployment & GST. It's only a sick mind which can produce such bogus arguments. Clearly the protests have hit home!" party general secretary Jairam Ramesh tweeted.
The Congress workers and leaders were released by Delhi Police after more than six hours of detention in various police stations, where they were taken away from the protest sites in the national capital.
According to Delhi Police, 335 protestors including 65 MPs were detained. Similar actions happened in various parts of the country, while water canons were also used at some places including in Chandigarh.
The day started on Friday with Rahul Gandhi addressing a press conference, alleging that India is witnessing the "death of democracy" and anybody who raises people's issues and stands against the onset of dictatorship is "viciously attacked", beaten up and put in jail.
Noting that the Gandhi family is attacked because it fights for democracy and for communal harmony, he alleged the sole agenda of the government is that people's issues such as price rise, unemployment and violence in society must not be raised.
"There is no democracy in India and there is a dictatorship of four people, he alleged, without taking any names.
"What we are witnessing is the death of democracy. That is what India is witnessing. What India has built brick by brick, starting almost a century ago, is basically being destroyed in front of your eyes," said Gandhi.
"Democracy is now a memory in India and nothing more. There are going to be consequences of this because people of India will not be quiet about that," he also said.