Delhi police questions Youth Congress president for helping Covid patients and their families
Party communications chief Randeep Surjewala held a news conference to say Modi and home minister Amit Shah were following 'raid dharma' and not 'raj dharma'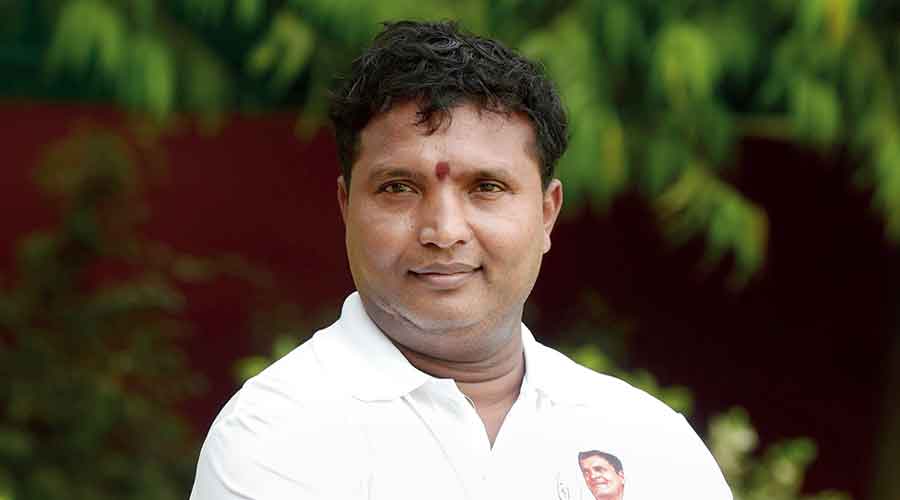 BV Srinivas
Telegraph picture
---
New Delhi
|
Published 15.05.21, 02:02 AM
|
---
Delhi police's crime branch on Friday questioned Youth Congress president B.V. Srinivas about the help the organisation was providing to Covid patients and their families, prompting the Congress to post this message: "For Modi-Shah, compassion is crime."
Delhi police, who report to the Union home ministry, said they were following a Delhi High Court order, and the BJP said some of its leaders had been questioned too. But the Congress targeted the government.
Rahul Gandhi tweeted: "Bachane wala hamesha maarne waale se bada hota hai (The saviour is always bigger than the killer)."
Party spokesperson Shaktisinh Gohil said Prime Minister Narendra Modi's motto was "Na madad karunga, na karne dunga (Neither will I help people nor let anybody else do so)."
It was a tweaked version of Modi's 2014 poll promise of "Na khaunga, na khane dunga (Neither will I take bribes nor let anyone else do so)."
Party communications chief Randeep Surjewala held a news conference to say Modi and Union home minister Amit Shah were following "raid dharma" and not "raj dharma".
"We are ready to face the extremes of Modi's zulm (tyranny)," he said.
Srinivas himself was unruffled. "Somebody has filed a public interest litigation asking how these people are able to help so many patients. The crime branch team came and asked me how we managed to help people," he said.
"I told them the details. They wanted a written answer. We have given that as well. I don't want to give much significance to this. Our focus is to help people. That will continue non-stop. We are not scared of the police or any PIL."
Under Srinivas's leadership, the Youth Congress has been responding to calls for help from every part of the country. With a network of around 1,000 dedicated workers, it has been providing food and delivering oxygen cylinders, remdesivir injections and medicine at Covid patients' doorstep, apart from arranging hospital admissions and transport.
Srinivas has personally performed the last rites of the dead whose families couldn't arrange funerals.
Politicians across party lines have approached him for help, as have people from remote corners of the country, journalists and even foreign embassies. Apart from the domestic media, CNN and BBC have profiled him.
BJP leaders, including MP Gautam Gambhir and spokesperson Harish Khurana who too have been questioned by the police in connection with the distribution of relief material, said the issue should not be politicised.
But Surjewala denied that a routine inquiry was being turned into a political controversy.
"Has the court ordered a raid on the Youth Congress office? Has the court said that those who are helping people should be humiliated, demoralised? This is a childish lie," he said.
"Have you seen the crime branch at the BJP headquarters? Have they questioned their youth wing chief? The government is rattled by the remarkable service done by the Youth Congress and is using the police to demoralise them. This is vulgar politics by the BJP."
Congress leaders insisted that this was not the time to set the police after those who were selflessly helping Covid patients, and that the government's priority should be to help the desperate and the dying.
Almost every state Congress unit and a large number of party leaders unleashed a fierce campaign on social media.
"India, don't worry. Nothing can scare us. We are at your service come what may," one of the messages said.
Another said: "You are asking us how we are helping. The world is watching our service. When will you be accountable for PM-Cares Fund?"
The high court, hearing a public interest plea, had on May 4 directed the police to examine instances of politicians procuring and distributing remdesivir in Delhi and lodge FIRs if evidence emerged of any offence, PTI reported.
Gohil said that if the government wanted to crack down on black marketeering and hoarding, it should have started by interrogating the Gujarat BJP chief, accused of possessing 5,000 remdesivir vials, and the son of a BJP leader in Surat who was allegedly manufacturing fake drugs.
"None of our leaders has been found hoarding. We are collecting small donations and arranging things for the needy," he said.
Aam Aadmi Party MLA Dilip Pandey and Delhi Congress vice-president Ali Mehdi too have been questioned by the police, PTI said.