Covid: Youth Congress president B.V. Srinivas earns reputation for helping people in distress
He has been seen distributing food, arranging for transport, delivering oxygen and medicines at doorsteps and securing hospital admissions for patients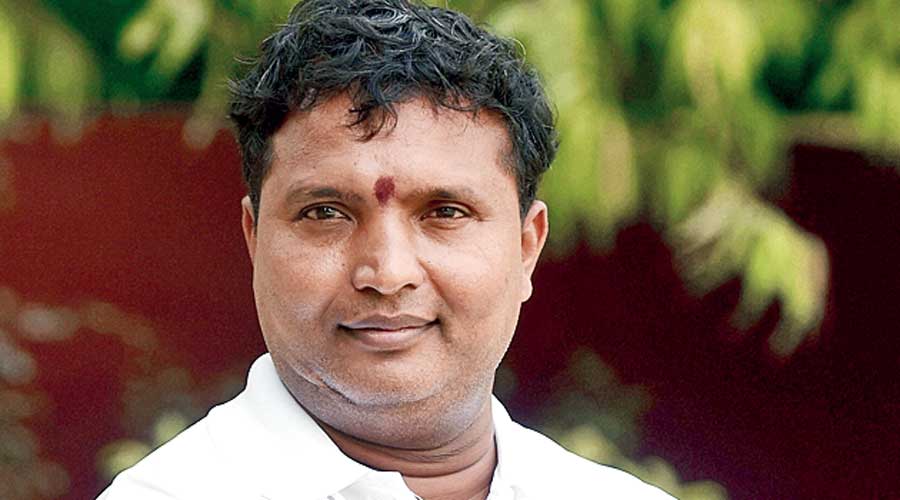 ---
New Delhi
|
Published 04.05.21, 02:08 AM
|
---
Youth Congress president B.V. Srinivas has earned a reputation for helping people in distress. From the harsh lockdown in March 2020 to the devastating second wave of the pandemic now, he has been seen distributing food, arranging for transport, delivering oxygen and medicines at doorsteps and securing hospital admissions.
In an interview with The Telegraph, Srinivas refused to accept that he was doing anything exceptional, arguing that thousands of people were helping each other in this time of crisis.
Excerpts follow:
Q: What motivated you to serve people at a time when politics is all about networking and deception?
B.V. Srinivas: I will tell you the reality. In March 2020, Rahul Gandhi told us that this pandemic will play havoc with the world and instructed us to help people in whatever way possible. We followed his instructions. Again on March 7, 2021, Rahulji attended the Youth Congress executive and alerted us to the lurking danger of the second wave. He asked us to keep focus on Covid, farmers' agitation and unemployment. We responded to his call with sincerity.
Q: But the leader always exhorts the cadre to serve the people. That's taken as hollow rhetoric. You have taken it very seriously.
Srinivas: Not me. We selected 600 Youth Congress workers last year — those who had passion to serve the people and were resourceful and networked across the country. They all worked tirelessly last year during the lockdown when millions of people got dislocated and walked hundreds of kilometres to reach home. We have added 400 more this year and these 1,000 people are Rahul Gandhi's team extending a helping hand to people in distress. We formed a helpline, set up systems on social media — with the hashtag "SOSIYC" — and used personal Twitter accounts to connect to needy persons. We are getting thousands of distress calls. It saddens us that we cannot help everybody.
Q: But the nature of youth politics has been different — it is known more for energy than compassion. The Youth Congress was known more for rowdyism than social service. You have developed a new model of youth politics.
Srinivas: No, no… our tradition is politics of Mahatma Gandhi. Our leader Rahulji is also young and he tells us this is not the time for politics. If you can't help people in such a great humanitarian crisis, politics will be reduced to power-grabbing. I am lucky that Rahulji gave me the opportunity and platform to do something for the people.
Q: There are thousands of youth in the Congress and other parties. Why is that Srinivas stands out? How many other leaders are working like this?
Srinivas: Thousands of people have come out to help. Civil society knows the government has failed and people are desperately looking for help. We are working among the people because there is extreme distress. We are living in difficult times. I was lucky to have worked in natural calamities in Uttarakhand, Jammu and Kashmir and Kerala over the past few years. I went to Bihar as well during floods.
Q: You had this commitment from the very beginning, to serve the people?
Srinivas: I don't come from a political background. My father died early, my mother was an employee in Steel Authority of India. I was playing cricket, played under-19. I was a wicketkeeper-batsman. An accident ended my cricket and I got interested in politics in college. Then Rahulji made me national secretary of Youth Congress and I came to Delhi. When I was given charge of Uttar Pradesh as general secretary, I was hesitant as I didn't know Hindi. But Rahulji told me you have to understand "bhavna (emotion)" of the people, "bhasha (language)" is not important. That motivated me. Now as Youth Congress president, I have the opportunity to work.
Q: How do you manage to help such a large number of people? Where do the resources come from? Does the party help?
Srinivas: Nothing can be done without the party's help. We also rely on donations, primarily from Youth Congress members themselves. There are many resourceful persons, well-connected guys who help. They can arrange transport, get admission in hospitals, arrange medicine and food. There are dedicated boys who are working 24x7. It is unfortunate that I have become the face; the whole team is equally responsible.
Q: Don't you think the very nature of politics will change if social service becomes the guiding principle for all?
Srinivas: That's how it should be. We are seeing aberrations now when humanitarian responsibilities are ignored. But Rahulji is committed to that kind of politics. Things will change soon. Politics has to be about people.