Delhi Metro gears up to reopen with safety norms
Every aspect from entry to ticketing to security checks and travel covered under new Covid guidelines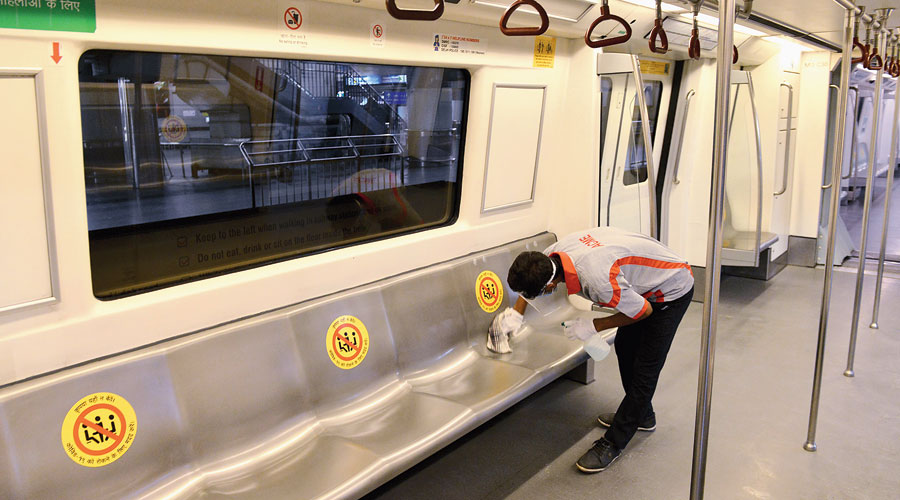 As part of the Delhi Metro drive to resume services from next week, every alternate seat is marked with a yellow symbol asking passengers not to use them to ensure physical distancing.
Picture by Prem Singh
---
New Delhi
|
Published 04.09.20, 05:16 AM
|
---
As Delhi Metro gears up to resume services on Monday, the authorities have issued detailed guidelines to ensure passenger safety amid the pandemic that could serve as a reference point for other cities like Calcutta that too are preparing to open up.
The new norms announced by the Delhi Metro Railway Corporation (DMRC) on Thursday cover every aspect from entry to ticketing to security checks and travel. 
All lines of the Delhi Metro will gradually reopen from September 7 to 12, with services initially from 7am to 11am, and 4pm to 8pm. The Delhi Metro has 285 stations spread over 389km of tracks.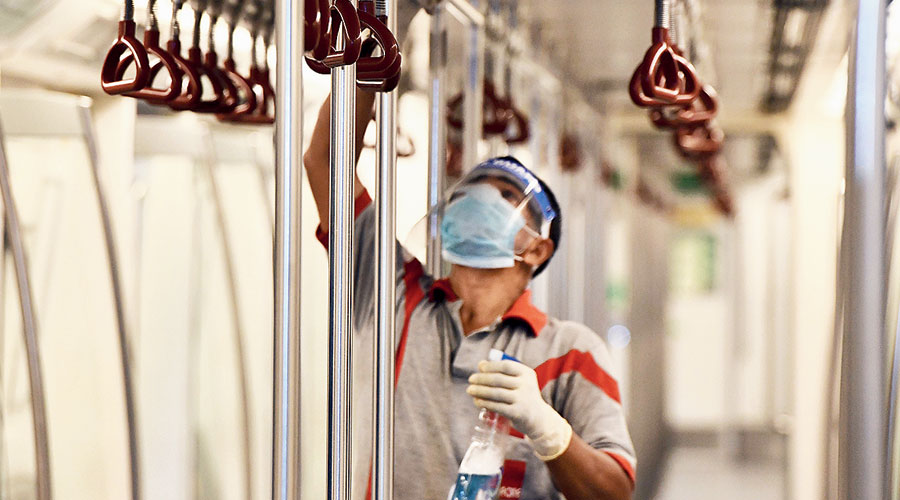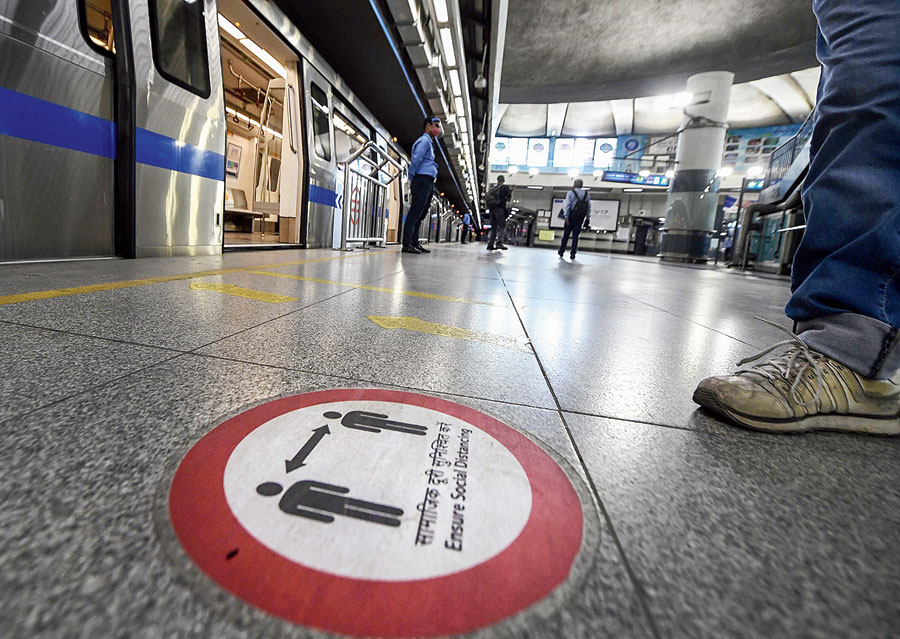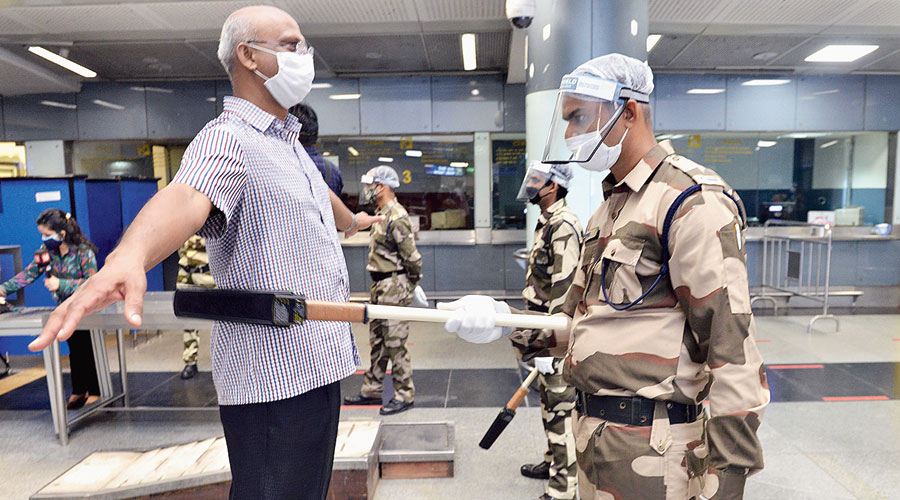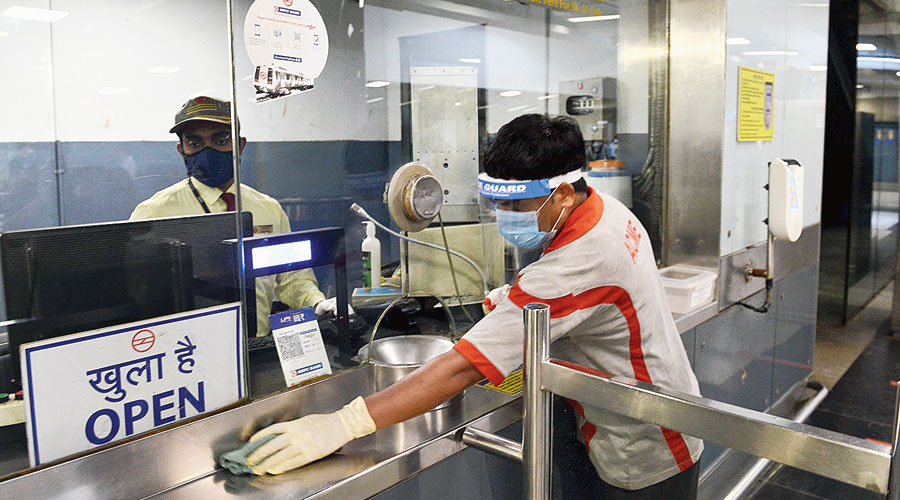 Union minister for housing and urban affairs Hardeep Puri had on Wednesday announced the staggered reopening of Metro services across the country except in Maharashtra, where the lockdown has been extended to the end of this month.
Even before the lockdown began in the capital on March 22, Delhi Metro had restricted the number of passengers in trains and prevented crowding at stations. 
In a media release on Thursday, the DMRC said that initially only one or two entrances would be opened at every station. 
"All passengers will be required to undergo thermal screening and hand sanitisation at the entry/frisking point itself. Forty-five major stations have been provided with 'auto thermal screening-cum-hand sanitisation machines', whereas the rest of the Metro stations will be having provision of 'auto sanitiser dispensers'… and thermal screening will be done manually by 'thermal guns'," the statement said.
"Only 2-3 persons at a time will be allowed to use the lift depending on the capacity…. Similarly, passengers will be required to stand on alternate steps on escalators to maintain social distancing," it added.
Fifty lifts at 16 stations have been made "leg-operated", where buttons can be pushed with the feet instead of hands. 
Ticketing will be cashless and almost entirely without human interface.
"Only smart card holders (including QR code users on Airport Express Line) will be allowed to travel, which can be recharged digitally by a number of ways easily avoiding human interface. Recharge of smart cards at the ticket vending machines (TVMs) or customer care centres will be through cashless modes only (debit/credit/Bharat QR code etc)," the DMRC media release said. Smart card recharging will also be cashless. 
The trains are going to be warmer and slower.
Fresh airflow intake will be increased from 30 per cent to 100 per cent inside trains. Earlier, stations used to have only a 10 per cent intake of fresh air from 7am to 10pm to keep temperatures low, now such an arrangement will be allowed only from 10.30am to 4.30pm. For the rest of the time, there will be 100 per cent fresh airflow.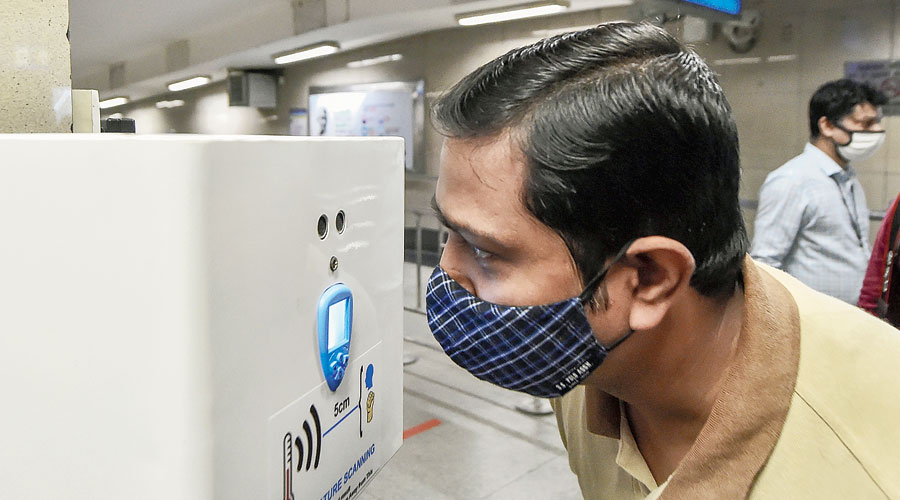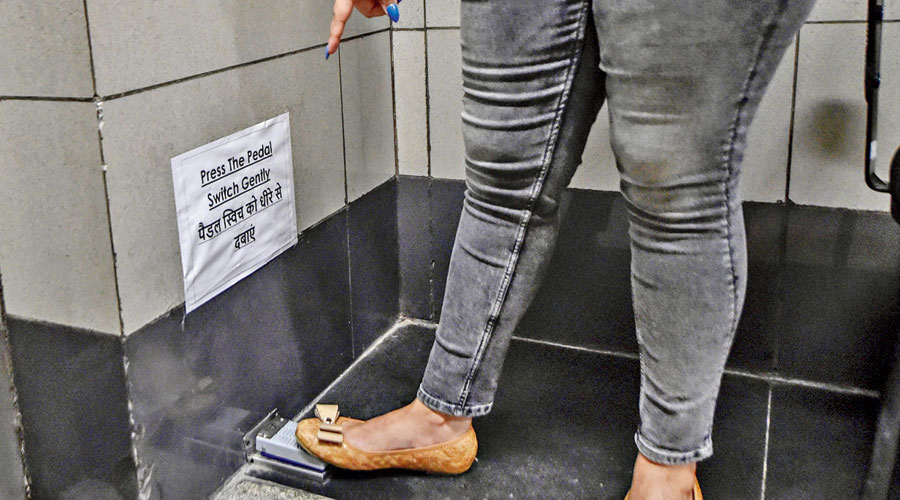 The time a train will stop at a station will be increased by 10 seconds — from 10-15 seconds to 20-25 seconds — so that passengers get sufficient time to board and alight. At interchange stations, the stoppage time will be increased by 20 seconds — from 35-40 seconds to 55-60 seconds.
The feeder bus services will remain suspended.
Besides the mandatory use of masks, and seating on alternate seats, trains may skip stations that fall in Covid containment zones. The list of such stations will be issued just before the services begin and will be updated regularly. 
A team of 800 Metro officials as well as local police can restrict the entry of passengers into stations if crowds swell and physical distancing is compromised.