Candidates in the spotlight
This Delhi Assembly Elections, The Telegraph Online brings to you profiles of key candidates across political parties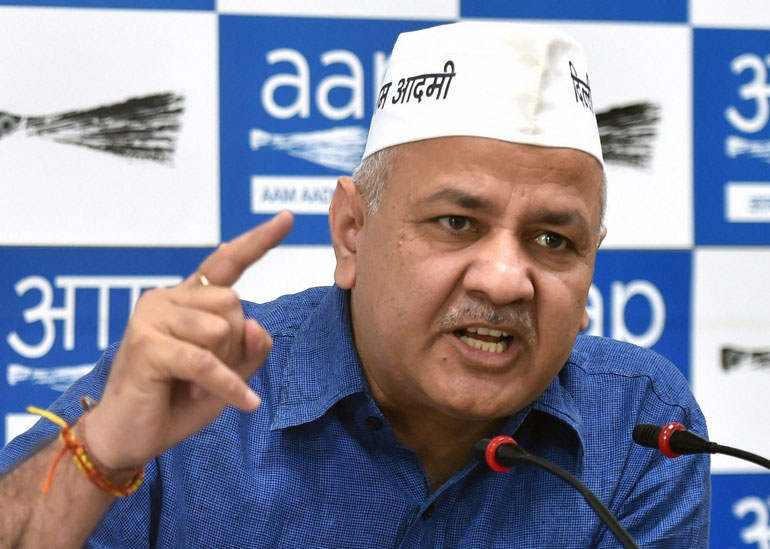 ---
Delhi
|
Published 05.02.20, 05:30 PM
|
---
Dilip Pandey, author and social activist
Meet Alka Lamba, a Congress old-timer
Manish Sisodia, present Deputy CM and Education Minister
Sisodia is contesting from Patparganj constituency in east Delhi for the third time and is its MLA since 2015. 
Manish Sisodia is the architect of Delhi's education reform, an achievement which ranks at top on the AAP government's list of successes in the past five years. Arvind Kejriwal has been constantly asking people only to vote for AAP on the basis of work done in the last five years. He has emphasised free electricity, mohalla clinics, improved healthcare, but more importantly, free and quality education.
Unlike previous governments, the AAP government ploughed just under 25 per cent of its overall budget towards improvement in education in 2015, a figure that touched 26 per cent in the 2019 budget.
Once notorious for their rundown infrastructure and truant students, Delhi schools now stand completely overhauled, a feat the AAP credits Manish Sisodia with.
Sisodia started as a journalist, and later founded Kabir, an NGO, with Kejriwal. The two, along with a fine array of other social activists, waged a fierce battle against the then Delhi government during their India Against Corruption movement, and have worked together well despite a rift in the party which witnessed the exit of psephologist Yogendra Yadav and lawyer Prashant Bhushan.
Known to be a confidant to Kejriwal, Sisodia has been able to fulfill the promises made in regard to education to a satisfactory extent. The party's manifesto of 2015 promised 500 new schools and 20 new colleges in the city.
The AAP government in tenure has been able to add 20,000 new classrooms, as per its own records, which, one of its spokesperson said, in effect amounts to 500 schools.
"We were not able to build many new schools due to shortage of land. But we did add 20,000 new classrooms. On an average a school has 40 classrooms, by that rate, we have been able to fulfill our target," Akshay Marathe, a party spokesperson told The Telegraph Online.
He said though there was a target of 20 new colleges, it could create only "15-16". The reason, he said, was the absence of an affiliating university in the city.
The overhauling of the Delhi schools should be visible even to the political partisans, apparent in the stark difference between their infrastructure and that of MCD schools, Marathe informed.
MCD, which is responsible for the almost 1700 primary level schools in the city, is dominated by the BJP for the last 15 years, and Sisodia has not minced words when it came to highlight the comparative quality of AAP and BJP's governing of schools.
'The quality of education delivered in civic body-run schools in Delhi is so poor and the lack of grade-level learning so evident that when children pass out of grade five and join a Delhi government school in grade six, they are unable to read even the books of grade two," Sisodia said slamming Delhi BJP last month during a press conference. As many as 109 BJP-ruled MCD schools were closed in the last nine years. It's a crime.' Alka Lamba is contesting the same seat she won in the last elections in Delhi, but on a different ticket. Lamba had won the Chandni Chowk seat on a Aam Aadmi Party (AAP) ticket but is contesting from Congress this time .

The 44-year-old will be taking on AAP candidate Parlad Singh Sawhney and Bharatiya Janata Party's (BJP) Suman Kumar Gupta.
Receiving almost 50% votes the last poll, Lamba defeated Gupta with more 18,000 votes. Veteran Cobgress member Sawhney came third. A close-aide of former Delhi chief minister Sheila Dikshit, 68-year-old Sawhney won from Chandni Chowk  four consecutive terms before Lamba. Soon after Lamba joined Congress, Sawhney defected to AAP.
Lamba has a two-decade long history with the Congress. Before joining AAP in 2013, she served Congress in various capacities, which includes posts such as national president of the Congress' student wing NSUI, and general secretary of the Delhi Pradesh Congress Committee.
Lamba moved to Congress in September 2019, following a bitter battle with AAP leaders. Her tiff started with a resolution, adopted in Delhi assembly, to demand withdrawal of Bharat Ratna awarded to former prime minister and Congress leader Rajiv Gandhi. Lamba took to Twitter alleging that the party pressured her to support the resolution.
"I was asked to support the resolution demanding taking back the Bharat Ratna awarded to former Prime Minister Rajiv Gandhi. Since I didn't agree to this, I staged a walk out," she had said. After the incident, Lamba was asked to quit the party, an allegation AAP denied. In an interview to ABP news later, Lamba claimed that Arvind Kejriwal calls his MLAs "tuccha (insignificant)".
Lamba has made her presence visible not just on the streets of her constituency but online as well. Unlike many other Congress candidates, Lamba is frequent on social media, addressing her supporters directly through social media lives. She has also been vocal about issues of women and was critical of the rape cases in Kathua and Unnao.
At a time when politicians are distancing themselves from protests against the Citizenship Amendment Act, she was also seen visiting the protest sites. Lamba had turned up at Jamia Millia Islamia protest wearing a hijab. She also addressed the protestors from the stage at Shaheen Bagh protests. 
Author, anti-corruption activist and politician Dilip Pandey is contesting from the Timarpur constituency in place of AAP's sitting MLA Pankaj Pushkar.

Hailing from Zamania, a small tehsil of Eastern Uttar Pradesh, Pandey was pitted against former chief minister and Congress leader Sheila Dikshit and BJP's state chief Manoj Tiwari in the Lok Sabha elections. He lost the North East Delhi seat securing only 13% of the votes.
North East Delhi is an area dominated by Purvanchali population. According to a survey by the Center for Study of Developing Societies (CSDS), 56% that had voted for the BJP in the 2019 Lok Sabha elections 24% preferred the AAP government in Delhi. A significant part of that 24% is made up of Purvanchali voters.
Pandey was the convenor of AAP's Delhi unit but resigned from the post after the party's defeat in the 2017 municipal elections.
Pandey has worked extensively for the Jan Lokpal movement spearheaded by Anna Hazare. 
AAP's Atishi banks on education reforms 
At Kalkaji, she faces BJP's Dharamvir Singh and Congress' Shivani Chopra The Aam Aadmi Party's Atishi is back on the streets seeking votes for the Delhi Assembly elections. South Delhi's Kalkaji seat is Atishi's battle ground this election where she will face BJP's Dharamvir Singh and Congress' Shivani Chopra.
In 2019 Lok Sabha elections, Atishi had contested for the East Delhi seat. She lost to BJP's Gautam Gambhir. She managed a third spot with Congress candidate Arvinder Singh Lovely.
In 2015, AAP's Avtar Singh had won with a share of more than 50% votes defeating BJP's sitting MLA Harmeet Singh Kalka. Singh was not given a ticket this time.
Atishi is part of AAP's Political Affairs Committee and headed the team who drafted the 2020 manifesto.
She was an advisor to Delhi education minister Manish Sisodia till April 2018 when her appointment was cancelled by the Centre. She is also credited for introducing the happiness curriculum.
Atishi, a graduate from the University of Oxford, is credited with changing the face of government schools in Delhi. Education reforms in Delhi is considered one of the major achievements of the Kejriwal government.
Atishi had dropped her surname, Marlena – a tribute to communist icons Karl Marx and Vladimir Lenin, in August 2018 when she was declared the East Delhi Lok Sabha candidate.
In a bid to woo the Punjabi and Hindu voters in the Kalkaji constituency, Atishi has reportedly started using Singh with her first name. She continues to use only her first name on Twitter and press releases.
Manish Sisodia and Atishi have said that they see the Assembly elections as a fight between AAP and BJP. Atishi has called for clean politics in her campaign, saying that BJP does not have "an issue, an agenda or a face" to fight with.
Kalkaji has a diverse population including Punjabi refugees, Purvanchali and slum dwellers.
Former DUSU president Rocky Tuseed is the youngest
At 25 years the Congress candidate has assets worth over Rs 50,000 Congress' Rocky Tuseed is the youngest candidate in the Delhi assembly elections.
The former Delhi University Students' Union president has been fielded from the Rajendra Nagar constituency against AAP's Raghav Chadha.
Tuseed, 25, is from Dusghara area, a Jat-dominated village near Rajendra Nagar, owning assets worth over Rs 50,00o.
"I am a local of the area and I chose this constituency also because even during the university election campaign, people from the area lent their support to me," Tuseed told The Telegraph Online.
Tuseed became the DUSU president in 2017. The ABVP had held the post for five-years.
He was first removed from his post for a disciplinary action taken against him for assaulting a student in 2014. Later, he was reinstated as president by the Delhi High Court.
Asked about his apprehensions in being pitted against Raghav Chadha, Tuseed said, "I am very confident of my win. Raghav Chadha is an outsider and has been parachuted to this constituency. He is not aware of the issues of the locals and I am sure of their full support".
According to the young politician, Rajendra Nagar suffers from poor water quality, garbage on roads and lack of sports facilities.
"I will work to improve these conditions if I come to power", said Tuseed.
Kapil Mishra, BJP's controversy king BJP's Kapil Mishra has been in the news for all the wrong reasons. Courting controversy after controversy, Mishra has managed to stay popular this election season.
In one of his tweets, he had said, "Pakistan is entering through Shaheen Bagh, and mini-Pakistans are being created in Delhi". The Election Commission had imposed a ban on him for "creating enmity among classes" with his remarks.
Mishra's communal and inflammatory words are not just limited to social media platforms. In December last year, soon after the protests against the Citizenship Act erupted across the country, Mishra led a rally in support of the Act in Delhi. It is in this rally that the controversial slogan "Desh ke gaddaron ko… (Traitors of this country…)" was raised.
In 2015, Mishra contested elections for the AAP and won North-east Delhi's Karawal Nagar seat defeating BJP's four-time MLA Mohan Singh Bisht.
In this election, he is contesting for BJP from Model Town in north Delhi against AAP's Akhilesh Pati Tripathi, who had won in 2013 and 2015 with more than 50% vote share.
In May 2017, Mishra had rebelled against AAP accusing Delhi chief minister Arvind Kejriwal and health minister Satyendar Jain of corruption.
An official investigation into the corruption charges couldn't find any proof against Kejriwal. In an apparent change of heart, Mishra started supporting Narendra Modi before the 2019 elections. In August 2019, he was expelled from the Delhi assembly under the anti-defection law.
Priyanka Singh contests from a Congress strong-hold Priyanka Singh is the Congress face from R.K. Puram going up against former MLAs, Pramila Tokas of AAP and Anil Kumar Sharma of BJP.
Contesting an election for the first time, Singh has been active in politics since 2008 and has served as the vice president of the Delhi Mahila Congress. She is the daughter of former Delhi assembly speaker Yoganand Shastri.
Last month, Shastri quit the Congress party over differences with party's state president Subhash Chopra. Priyanka was nominated for her first election the day her father quit the party.
The R.K. Puram constituency has been a Congress strong-hold since 1993, with the BJP winning it only twice. It is considered an affluent locality with a significant Rajput and trader population.
Like other Congress leaders, Priyanka Singh has also taken a stand against the Citizenship Act, calling any implementation of NRC or CAA outside Assam as unconstitutional.