Delhi air 'severe', expected to improve
The concentrations of tiny particulate matter over Delhi were four times the safe permissible limits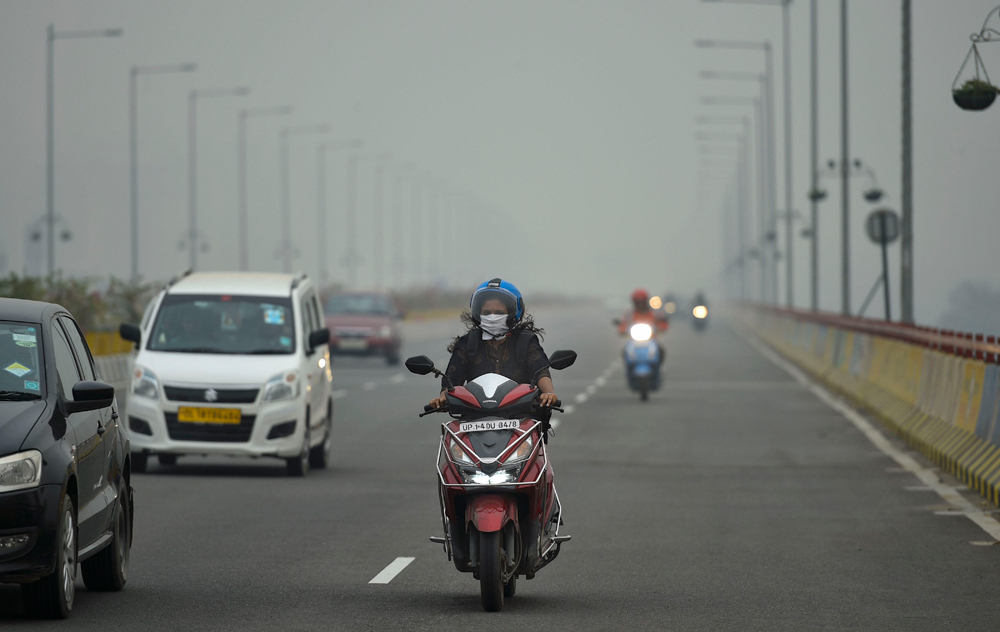 ---
New Delhi
|
Published 30.10.19, 08:18 PM
|
---
Air quality over the National Capital Region improving after pollution spikes from firecrackers' during Diwali remained in the "severe" category on Wednesday but is expected to improve by Friday, a Central air quality monitoring agency said.
The concentrations of tiny particulate matter (PM) over Delhi were on Wednesday evening four times the safe permissible limits, according to data from the Union science and technology ministry's System of Air Forecasting and Research (SAFAR).
The poor air quality prompted former cricketer Gautam Gambhir to express concern about its impact on people's health ahead of a match between India and Bangladesh in Delhi on Sunday.
"It is a far serious issue than having a game of cricket or any other sports matches in Delhi," Gambhir told the ANI news agency. "I think people living in Delhi should be more concerned about the pollution levels rather than the cricket match that happens."
Scientists with SAFAR have attributed the persistent poor air quality over NCR since Sunday night to the accumulation of pollutants coupled with absence of adequate wind to disperse the pollutants. Tuesday night's "extremely calm" Delhi surface wind conditions have contributed to the worsening air pollution by allowing accumulation of pollutants, SAFAR said in a media release.
However, the agency has predicted falling concentrations of PM2.5 microns and PM10 microns on Thurday. The PM10 levels are expected to fall from 428 micrograms per cubic metre to 394 on Thursday and 312 on Friday, while the PM2.5 levels are expected to fall from 277 to 254 on Thursday to 202 on Friday.
The safe permissible limits are 100 for PM10 and 60 for PM2.5.
Air pollution over the NCR has plunged into the severe category, after the Diwali festival, every winter for many years, scientists say. This results not only from firecrackers but through the accumulation of pollutants from multiple sources, including traffic and industrial emissions, dust, and crop residue stubble burning in Haryana and Punjab — and calm wind conditions.
SAFAR has also predicted that wind speed is expected to increase late Wednesday and contribute to dispersal of pollutants over the next two days. The agency said the air quality is likely to improve from "severe" to the "very poor" category by Friday unless there is a huge increase in stubble burning.
An analysis by the non-government Centre for Science and Environment earlier this week had found that the concentrated bursting of firecrackers on Sunday night had pushed pollution levels this year to nearly the same level as during Diwali last year.
Anumita Roychowdhury, CSE's executive director for research and advocacy, said authorities would need to enforce multiple actions to prevent the NCR from experiencing a prolonged smog episodes as it has in the past.
The CSE has urged authorities to enforce emergency actions to curb industrial pollution, waste burning, and dust generators across the NCR region and step up long-term plans to eliminate unclean industrial fuels and invest in public transport systems.