Defector MLA richer by Rs 185 crore
Nagaraju filed his nomination papers from Hoskote near here on Friday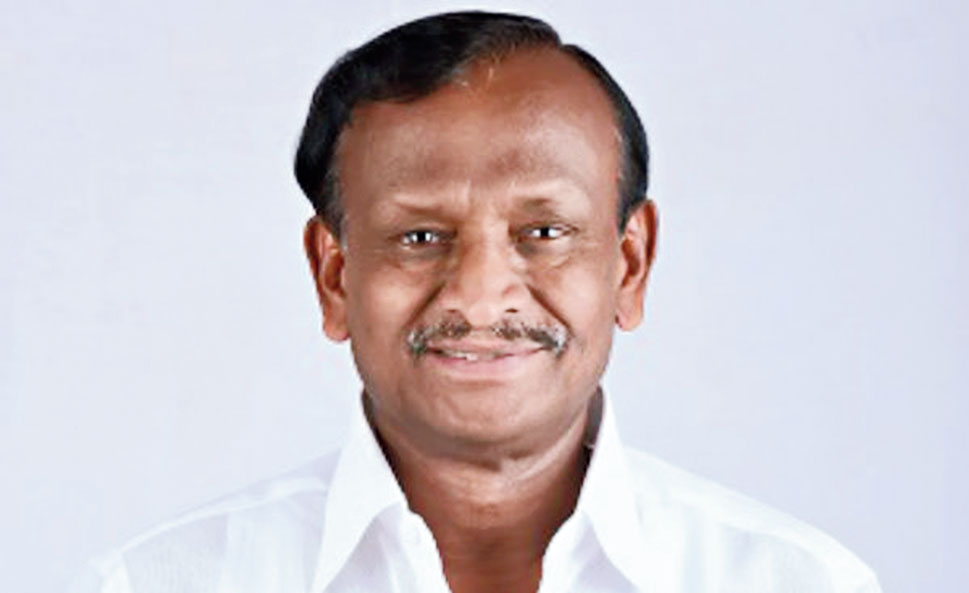 Nagaraju
(Sourced by Correspondent)
---
Bangalore
|
Published 16.11.19, 08:41 PM
|
---
One of the former Congress MLAs whose defection in July helped the BJP come to power in Karnataka has declared a Rs 185-crore rise in total assets in 18 months in his by-election affidavit, prompting the Congress to demand an explanation.
However, BJP sources have highlighted that N. Nagaraju, popularly known as "M.T.B. Nagaraju" after his brick company Manjunath Table Bricks, is a very rich man and argued that the rise in his assets reflects his business earnings.
The Congress has long been accusing the BJP of attempting to buy off rival MLAs with bribes and has over the past one year released several audiotapes to try and buttress its charge.
Nagaraju is among 14 former Congress MLAs who had, along with 3 Janata Dal Secular counterparts, resigned in July, their actions causing their then parties' coalition government to collapse. All of them are being fielded as BJP candidates in the by-elections to 15 Assembly seats on December 5.
Nagaraju filed his nomination papers from Hoskote near here on Friday. In his affidavit he put his and his wife M. Shantakumari's combined assets at Rs 1,200 crore.
This represents a rise of Rs 185 crore from the couple's total assets of Rs 1,015 crore that Nagaraju had declared in his affidavit for the Assembly elections of May 2018.
Further, Nagaraju showed 53 term deposits, ranging between Rs 75 lakh and Rs 98 lakh each and totalling Rs 48 crore, between July and August this year.
"Nagaraju must explain the sudden increase in his wealth and the term deposits made between July and August," Congress spokesperson and senior lawyer V.S. Ugrappa told The Telegraph on Saturday.
"It's the job of the authorities to find out how he made so much money, especially in recent months," Ugrappa said.
"There's no doubt about his wealth. He is very rich. But we as a political party want to know how he made such abnormal deposits in recent months."
In his 2018 poll affidavit as a Congress candidate, Nagaraju had mentioned 150 term deposits totalling Rs 121 crore.
"Why is the Congress making a noise about his wealth when Nagaraju joined us only a few days ago? Didn't they know he had very deep pockets when he was with the Congress?" BJP spokesperson Vaman Acharya said.
"The monthly rent he earns from his properties, which include those rented out to software companies, runs to some Rs 5 crore."
Another BJP politician, who declined to be named, said: "Nagaraju lends money at a two per cent monthly interest. Candidates from all parties go to him when they run out of money."
He added: "He (Nagaraju) has business interests in a wide variety of areas, especially rental properties that bring huge amounts each month."
Nagaraju's MTB Estates and Properties owns office complexes and marriage halls, which are big business in Karnataka.
Calls to Nagaraju's mobile numbers went unanswered.
Nagaraju had modest beginnings and drove his own truck for a living. He was very close to P.C. Siddaramaiah, who was then with the Janata Dal. The relationship continued when Siddaramaiah moved to the Congress in 2006.
Shortly after the July rebellion and the accompanying drama, Nagaraju had bought a super luxury Rolls Royce Phantom VIII, worth about Rs 11 crore, giving some Congress politicians a chance to insinuate bribery.
Most people and politicians, however, accepted that Nagaraju was too rich to need a bribe to buy an expensive car.