Dalits convert to protest
180 families from 3 villages in UP give up Hinduism citing 'atrocities' under Yogi rule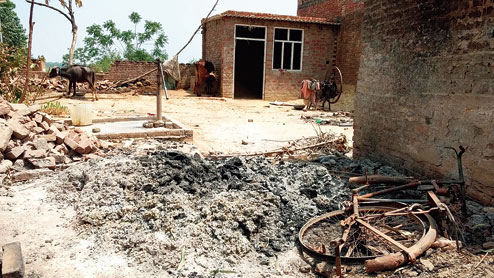 ---
|
Lucknow
|
Published 20.05.17, 12:00 AM
---
Lucknow, May 19: At least 180 Dalit families from three western Uttar Pradesh villages claim to have embraced Buddhism "in protest against the atrocities on Dalits under the Yogi Adityanath government".
Residents of Idhari, Roopadi and Kapoorpur in Saharanpur district, 600km northwest of Lucknow, gathered in Mankamau village last evening and threw idols and pictures of Hindu gods and goddesses into the Badi Nahar canal to signal their abandonment of their previous faith.
The incident carries echoes of a milestone protest six decades ago when atrocities against Dalits had prompted Babasaheb Bhimrao Ambedkar to adopt Buddhism with a group of followers on October 14, 1956.
Asked why they had converted, the Saharanpur Dalits referred to a May 5 clash between Thakurs and the Dalit Jatavs in Shabbirpur village in the same district and argued that Adityanath's government "belongs only to his fellow Thakurs".
Last Sunday, about 50 Dalit families in Moradabad, 200km east of Saharanpur, too had cited the Shabbirpur violence and threatened to abandon Hinduism if Adityanath did not stop the attacks on Dalits by the "saffron brigade".
"Dalits were attacked and their homes and agricultural fields burnt down in Shabbirpur. Our caste brethren were arrested and now the state government wants to link our social organisation with Maoists," said Narendra Gautam, one of those who claimed to have converted to Buddhism in Saharanpur.
"Our social organisation" was a reference to the Bhim Army, which describes itself as a non-violent and apolitical organisation formed to unite and help Dalits but is facing a police crackdown in western Uttar Pradesh.
Rahul Gautam, another purported convert to Buddhism, said: "We support the Bhim Army because it makes us aware of our socio-political situation and unites the community to raise a collective voice. But the BJP government and the Hindu vigilante groups don't want us to be united."
Police officers accuse the Bhim Army of leading a violent Dalit protest against the Shabbirpur clashes in Saharanpur city on May 9. The outfit is also accused of planning further violence in Saharanpur and Delhi, and circulating "objectionable" videos and messages on Facebook and WhatsApp against Adityanath.
Rahul and his fellow Dalits did not provide details of how exactly they had converted, and who conducted the rituals. They, however, identified the immediate provocation: a police raid yesterday morning on a house in Chapur village and the arrest of five Dalits on the charge of being Bhim Army members.
"They were planning a violent protest in the city. Pawan Gautam, at whose home the meeting was going on, is a member of the Bhim Army," said M.P. Singh, station house officer of Sahsawa police station that conducted the raid.
Pawan told reporters at the police station that it was not a crime to be a member of a lawful organisation.
Subhas Chandra Dubey, Saharanpur senior superintendent of police, denied hearing about any religious conversion in the district.
"We are taking unbiased action against whosoever is involved in violence and hate-mongering," he said.
A few days ago, Dubey had alleged that the Bhim Army's operations resembled those of a Maoist outfit.
Officers have so far, however, failed to produce any evidence before the media that the Bhim Army possesses firearms. Police records show that the May 9 protesters carried only stones and sticks.
The police, who had already registered a case against Bhim Army founder Chandra Shekhar for "instigating Dalits to violence", lodged a fresh case against him and his friend Vikas Meshram today over certain videos and messages.
"I have received the screen shot of a WhatsApp message from Vikas's number that contained objectionable remarks against the chief minister," said Piyush Dixit, officer in charge of Sadar police station in Saharanpur city.
Manish Bist, a sub-inspector, told reporters he had received a similar video clip from Chandra Shekhar's mobile number.
"Such messages and clips are in circulation on many social networking sites. They have appealed to Dalits to assemble at Jantar Mantar in Delhi on May 21 (to protest attacks on Dalits in Uttar Pradesh)," Bist said.
Chandra Shekhar, said to be a Saharanpur native, remains a somewhat shadowy figure. The police believe he is a lawyer. He apparently founded the Bhim Army in 2008 but it became active in a big way only two years ago.
Some police sources, however, said that western Uttar Pradesh was home to at least a dozen organisations that called themselves the Bhim Army.
K.L. Gupta, former Uttar Pradesh police chief, blamed "Hindu vigilante groups associated with the ruling party" for the tensions.
"They have become very active since Adityanath's elevation as chief minister two months ago. Adityanath should control their unlawful activities if he wants the other side to maintain peace," Gupta said.
On May 9, BJP and Bajrang Dal activists had surrounded a house at Raniyala Dayalpur village in Saharanpur and beaten up two young men, alleging they were encouraging Dalits to abandon Hinduism.
The vigilantes forced the police to take the two men into custody. Chhote Singh, officer in charge of the local Nakud police station, later said the allegations against the duo were "fiction" and released them.
The May 5 violence in Shabbirpur had taken place when a procession by Thakurs, sporting saffron scarves and marking the birth anniversary of 16th-century Rajput king Maharana Pratap, entered Jatav settlements.
The Dalits claim they were attacked first. Over two dozen people suffered injuries and a young Thakur died - killed mistakenly by his caste brethren, the Dalits claim. The incident is seen as a sign of rising Dalit assertiveness in the region.
A police officer had told this newspaper last week that "Shabbirpur and a couple of other villages are like tinderboxes that can explode anytime".
Mahesh Prasad Ahirwar, a Dalit activist and professor of ancient history and culture at Banaras Hindi University, had recalled that since Ambedkar's protest, many Dalit families had converted to Buddhism in the face of upper caste oppression.
He said that buoyed by their election victory, Hindu radicals were "showing their true colours but were forgetting that their numbers would fall drastically if the 22 per cent Dalits discard Hinduism".
Ahirwar believes that Dalits could convert to other religions in large numbers across the state "in the coming days".