26 vaccine centres shut in Mumbai
Covid: 12 states showing upward trajectory of daily new cases
National weekly positivity rate increases from 2.19 to 8.40 per cent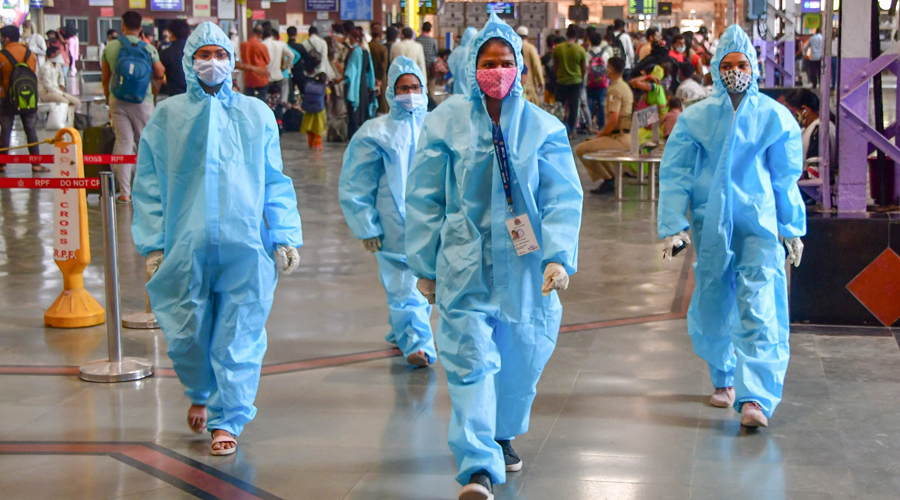 ---
---
Ten states including Maharashtra, Chhattisgarh, Karnataka, Uttar Pradesh, Delhi, Madhya Pradesh, Tamil Nadu, Gujarat, Kerala and Punjab have shown a steep rise in the daily COVID-19 cases accounting for 84.21 per cent of the 1,26,789 new infections, the health ministry said on Thursday.
The national weekly COVID-19 positivity rate has increased by 6.21 per cent from 2.19 to 8.40 per cent in the first seven days of March and April, the ministry said.
India registered a record single-day spike of 1,26,789 new coronavirus infections pushing the nationwide COVID-19 tally of cases to 1,29,28,574, according to the ministry data updated on Thursday morning.
Maharashtra has reported the highest daily new cases at 59,907. It is followed by Chhattisgarh with 10,310 while Karnataka reported 6,976 new cases.
India's total active caseload has increased to 9,10,319 and now comprises 7.04 per cent of the country's total infections.
A net incline of 66,846 cases recorded in the total active caseload in a span of 24 hours.
"Maharashtra, Chhattisgarh, Karnataka, Uttar Pradesh and Kerala cumulatively account for 74.13 per cent of India's total active cases. Maharashtra alone accounts for 55.26 per cent of the total active cases of the country," the ministry said.
Twelve states including Maharashtra, Chhattisgarh, Punjab, Karnataka, Delhi, Tamil Nadu, Madhya Pradesh, Gujarat, Haryana, Rajasthan, Uttar Pradesh and Kerala are displaying an upward trajectory in daily new cases, the ministry said.
India's cumulative recoveries stand at 1,18,51,393 with 59,258 recoveries being registered in a span of 24 hours.
Besides, 685 deaths were reported in a span of 24 hours.
Ten states account for 87.59 per cent of the new deaths. Maharashtra saw the maximum casualties (322). Punjab follows with 62 daily deaths, the ministry said.
Twelve states and UTs have not reported any COVID-19 deaths in the last 24 hours. These are Assam, Ladakh, D&D & D&N, Nagaland, Tripura, Meghalaya, Sikkim, Manipur, Lakshadweep, Mizoram, Andaman and Nicobar Islands and Arunachal Pradesh.
Mumbai vaccine centres shut
Amid a steep rise in cases, the Maharashtra government on Thursday said that 26 vaccination centres have been shut in Mumbai and the state was waiting for more doses from the Union government, NDTV reported.
"Satara, Sangli, Panvel have stopped vaccinations," state health minister Rajesh Tope said. In Pune too, several centres were shut, tweeted ationalist Congress Party MP Supriya Sule.
Meanwhile, BJP leader Devendra Fadnavis said to address the shortage of remdesivir, the Maharashtra government should procure the drug from states that are not witnessing a second wave of the COVID-19 pandemic and take action against black marketing of the injection.
Speaking to reporters at Nagpur airport, Fadnavis said the state government should pay attention to the availability of remdesivir, as instances of black marketing had been reported last year.
"The same is happening now as well. Not all states are witnessing a second wave. Hence, the government should procure remdesivir from states that are not in the second wave of the pandemic and companies that are producing the drug," he said.
The BJP leader further said that the state government should stop playing politics over the COVID-19 vaccine.
Mamata skips Modi's Covid meeting
Bengal Chief Minister Mamata Banerjee will not attend the virtual meeting called by Prime Minister Narendra Modi to discuss the Covid-19 situation with CMs, sources in the state government said on Thursday.
Chief Secretary Alapan Bandyopadhyay will be present in the meeting, they said.
The TMC supremo will be busy campaigning for the ongoing assembly elections in the state, the sources said.