Covid: Karnataka hospitals stare at imminent shortage of medical-grade oxygen
The rising number of patients with severe respiratory distress threatening to increase the demand fourfold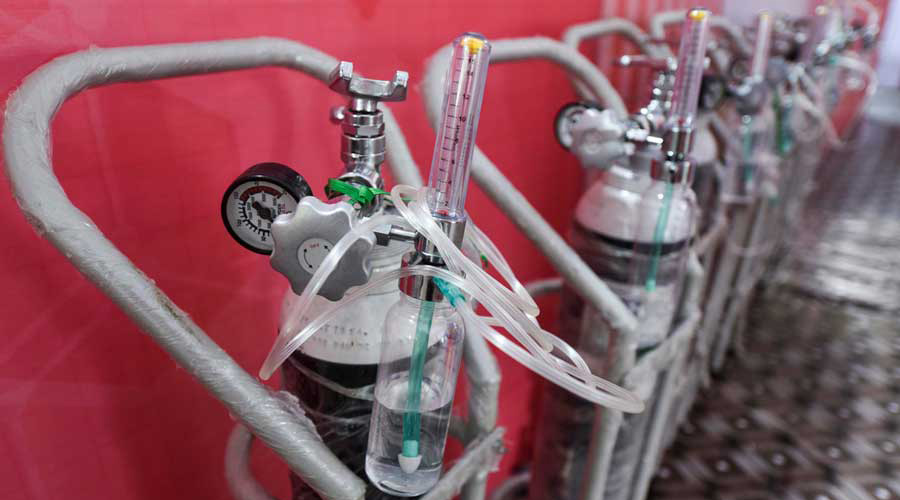 ---
---
Hospitals in Karnataka are staring at an imminent shortage of medical-grade oxygen, with the rising number of Covid-19 patients with severe respiratory distress threatening to increase the demand fourfold.
While the total consumption of medical-grade oxygen in the state was around 280 tonnes on Saturday, it had crossed 300 tonnes on Monday, sources in the state health department said.
"Our statewide requirement could go up to 1,200 tonnes per day if the spike continues in this manner for another couple of weeks," a health department official, who declined to be named, told The Telegraph on Tuesday.
Karnataka has seven plants that manufacture liquid oxygen, with a total daily capacity of 810 tonnes.
The shortage, currently limited to some small hospitals in rural and semi-urban areas, could soon hit the bigger hospitals if oxygen production was not ramped up, the source said.
Dr K. Harish, associate dean in-charge of the Covid-19 wards at the Ramaiah Medical College Hospital and the Ramaiah Memorial Hospital in Bangalore, said the two facilities had stocks of about 20 kilolitres (approximately 7 tonnes) of oxygen.
"Usually this stock lasts six days, but now we have to refill the (storage) plant every alternate day. Such is the rise in the demand for oxygen," he said.
The two hospitals together had 550 Covid patients on Tuesday morning.
A doctor who works at the Covid ICU in the government-run Bowring and Lady Curzon Hospital here painted a grim picture.
The doctor said the Charaka Superspeciality Hospital, launched in October 2020 as part of the state government's plan to ramp up facilities to treat Covid-19, lacked a dedicated oxygen storage facility.
"Any big hospital should have a proper oxygen manifold system that maintains a steady supply to the wards and operation theatres. But Charaka does not have one yet. So we are forced to use regular cylinders to administer oxygen to patients with severe respiratory issues," the doctor, who requested anonymity, said.
An oxygen manifold is an array of inter-connected oxygen cylinders linked to an oxygen pipeline that caters to patients.
The doctor said the oxygen shortage had already begun to bite government hospitals in Karnataka.
"Ideally, all Covid-19 patients who need respiratory support should be provided 'high-flow' oxygen. But the way the shortage is staring at us, I fear tough times ahead unless the government ramps up manufacture and supplies," the doctor said.
An aide to health minister K. Sudhakar told this newspaper: "Oxygen manufacturers have assured full cooperation in ramping up production since we would need between 800 and 1,000 tonnes daily if the spike continues for a few more weeks."
Also, some Karnataka hospitals are short of the drug remdesivir, used to treat Covid patients.
"Our daily requirement is 120 vials of remdesivir but yesterday (Monday) we could manage just 40 vials," Dr Harish said.
"We don't know how things will pan out with the shortage of remdesivir and an impending shortage of oxygen."
R. Ashok, state revenue minister and vice-chairman of the Karnataka Disaster Management Authority which is in charge of Covid management, dismissed the fears.
"Today we are releasing 20,000 vials of remdesivir — 10,000 each for government and private hospitals," he told reporters ahead of an online meeting with chief minister B.S. Yediyurappa, who is under treatment for Covid.
Karnataka recorded 15,785 Covid cases on Monday, which took its total active cases to 142,084. The state's Covid death toll is 146.