Call for tribute in memory of those lost to Covid, lockdown, lynch mobs or hunger
An appeal to light a lamp every Sunday to keep humanity alive was sent out by a host of people including actors, musicians, politicians, writers and academics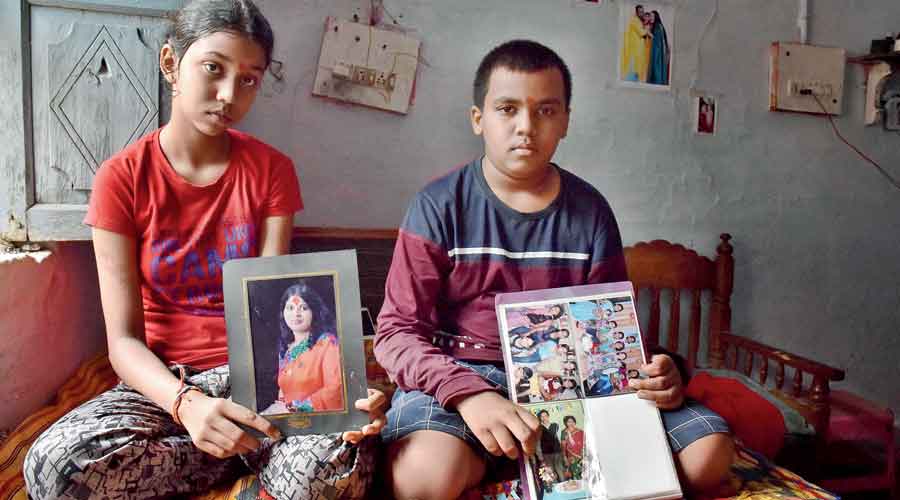 Toshika Naidu, 13, and her brother Srinivas GR Naidu, 10, show pictures of their parents who died of Covid-19 in Jabalpur, Madhya Pradesh. Numerous children have lost at least one parent to the second wave of the pandemic.
(PTI picture)
---
New Delhi
|
Published 05.06.21, 02:03 AM
|
---
Every Sunday, light a lamp or candle for those killed by Covid or the long walk back home amid the lockdown, by lynch mobs or hunger, to remember the humanity of people now turned into a statistic.
And to keep alive your own humanity in so doing.
This was the appeal sent out on Friday by a host of people who included actors Parambrata Chatterjee and Richa Chadha, badminton player Jwala Gutta, singers T.M. Krishna, Moushumi Bhowmik and Rupam Islam, Assam MP Ajit Bhuyan, Gujarat MLAs Chhotubhai Vasava and Jignesh Mevani, Bihar MLAs Manoj Manzil and Mahboob Alam, Jharkhand MLA Vinod Singh and former navy chief L. Ramdas.
Joining them were writers and academics V. Geetha, S.V. Rajadurai, Samim Ahmed, Du Saraswati, Rajendra Chenni and Rahamath Tarikere, Kannada filmmakers Giriraj and B. Suresh, and actor Chetan "Ahimsa" Kumar.
Apart from lighting a lamp at home, in the neighbourhood or at the workplace every Sunday, the statement encourages people to sing, share pictures and post messages on social media on the theme if they want to.
"It's a really simple activity: one just has to light a candle of remembrance. This collective mourning will perhaps be cathartic," Chadha told The Telegraph.
"A lot of people are numb or gutted right now. It will take a long time to heal. People aren't just statistics: they are colleagues, papas, betis (daughters), dadis (grandmas), classmates and wives."
The appeal says: "Governments do not want to count the dead or even admit they have died. They are even removing the shrouds from the riverside graves so that the world may not be able to count our dead. By refusing to count them, they are seeking to forget our precious loved ones.
"But we cannot let our loved ones be forgotten: each has a name, each must be remembered, each must continue to be loved.
"We must remember not only those who fell to Covid-19 but those who fell to other disasters and violence — migrant workers killed walking home, kids and the elderly who died of hunger, those killed in cyclones, droughts, victims of lynching by mobs instigated by hatred and fake news, victims of targeted communal, caste or patriarchal violence, victims of police firing, manual scavenging deaths."
Gutta told this newspaper: "It is to keep our sanity and human-ness.... As humans we want to talk about what is positive but we should not and cannot ignore the negative, or not envy other countries that have moved on.... We can't overlook those who distract us from the crisis like Baba Ramdev who demoralises our healthcare personnel."
She added: "We cannot exist as a society without (remembering) those who lost their lives, like the workers who died on the roads. I shall be surprised if no human feels for these people."
The appeal adds: "No need to gather in large numbers and risk spreading the virus: you can join in from wherever you are, without any crowds. Just try and reach out to neighbours and strangers, and share their losses."
Krishna told this newspaper: "We have had deaths caused by an uncaring government. The migrant workers dying is a classic example. There are people dying for lack of oxygen. Do you call it Covid deaths?
"For so many years now you have had people dying because of lynching, communal hatred — not to forget police firing. We need a cultural change to remember those who are not remembered."