AIIMS begins issuing admit cards for postgraduate entrance exam
The exam will be a computer-based, three-hour test to be held in centres across India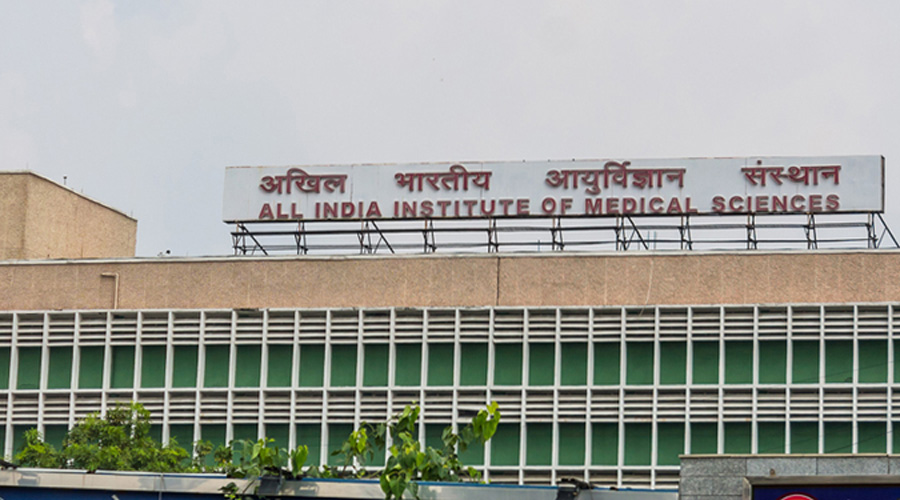 AIIMS will hold the Institute of National Importance Common Entrance Test on June 16. The exam will be a computer-based, three-hour test to be held in centres across India.
File picture
---
New Delhi
|
Published 11.06.21, 02:11 AM
|
---
The All India Institute of Medical Sciences (AIIMS) has begun issuing admit cards to over 80,000 students for its entrance exam for postgraduate courses, joining several other institutions in going ahead with exams amid the pandemic despite objections from students.
AIIMS will hold the Institute of National Importance Common Entrance Test on June 16. The admit cards mention that the institute will not be responsible for any kind of travel restrictions in any state. Lockdowns and similar restrictions are in force in many states.
The AIIMS exam will be a computer-based, three-hour test to be held in centres across India.
Delhi University (DU) is conducting exams for the award of degrees. Despite protests by students' and teachers' groups, the university started the online open-book exam on Monday for final-year students.
The Bar Council of India (BCI) has accepted the recommendations of an expert committee that had said LLB exams be allowed to be conducted by the institutions keeping in mind the availability of resources and the pandemic situation in respective areas.
Students questioned the decision to push ahead with exams when nearly a lakh Covid cases are being reported every day.
Students have said they are not prepared for online exams as well because many students and their family members are down with Covid, others have lost nears and dear ones to the disease, and not to mention the toll the pandemic has taken on mental health.
Last week, a meeting chaired by Prime Minister Narendra Modi cancelled the CBSE Class XII board exams because, according to a media release, "students, parents and teachers are naturally worried about the health of the students in such a situation".
The CISCE, the other national school board, also scrapped this year's ISC exam the same day. The Class X exams of both boards had been called off earlier.
"The number of daily Covid cases is still very high. The situation has not changed much over last week. Students have launched a campaign against the AIIMS entrance exam. A case has been filed in the Supreme Court too. But AIIMS is determined to hold the entrance exam," a student said.
"School board exams have been cancelled. Why this double standard for us? Moreover, many states have lockdowns till at least June 15. The Odisha lockdown will continue till at least June 16. AIIMS has conveniently said it has no responsibility if students face any difficulty in reaching the exam centres," the student added.
Academics said universities and other higher educational institutions were no longer considering cancellation or deferment of exams as an option.
Former DU Executive Council member Abha Dev Habib blamed the central government and the University Grants Commission (UGC) for varsities going ahead with exams. She said Covid had affected most families in Delhi and other cities in one way or the other.
"Students are not in a position to appear for exams. But DU is conducting exams for final-year undergraduate and postgraduate students.
"The UGC had last year asked the universities to hold exams amid the pandemic. That decision has not been revisited. Most universities are headed by in-charge vice-chancellors. Even otherwise, no university would dare to deviate from the norms set by the UGC," Habib said.
She also highlighted the lack of transparency in online exams.
"The students are sitting at home. There is hardly any proctoring. The quality of the exams is under question," she said.
A DU official said many students wanted the final-year exams to be held since they would prepare for entrance tests for master's and other courses.
"Students are largely comfortable with exams now. They want degrees. Delay in award of degrees or conduct of exams will affect their career objectives," the official said.
The BCI panel headed by Justice Govind Mathur, former Chief Justice of Allahabad High Court, has recommended that each university and centres of legal education should conduct exams for intermediate and final-year law students as per
their own discretion, depending on the availability of resources and the impact of Covid-19 in that region, a BCI press statement said on Thursday.