Covid-19: Date of birth spelt out for children's vaccination
The health ministry says those kids born on or before March 15, 2010 — those above 12 years of age — should be jabbed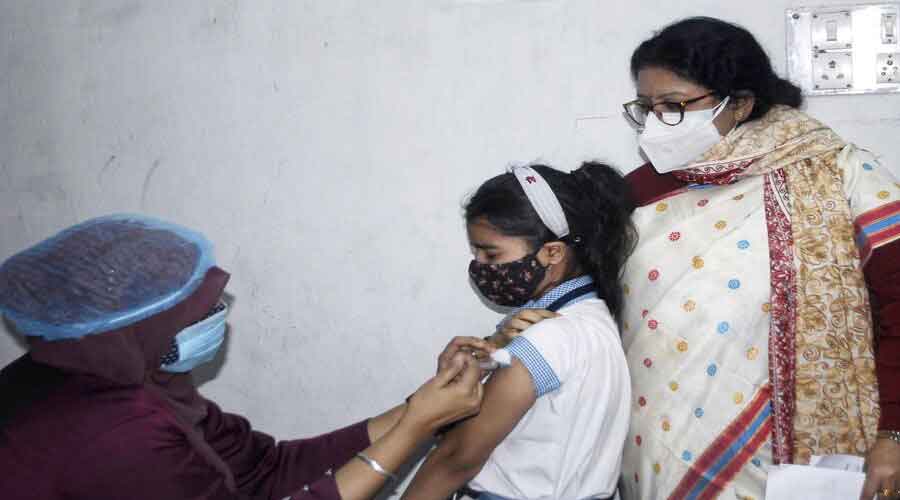 Health officials estimate about 47 million children aged 12-14 years are eligible for Corbevax.
File photo
---
New Delhi
|
Published 16.03.22, 02:18 AM
|
---
The Union health ministry on Tuesday asked states to ensure that Covid-19 vaccines are administered only to those children who have attained the age of 12 years on the date of vaccination.
"The vaccinator and the verifier will be responsible to ensure that any (child) aged less than 12 years on the date of vaccination is not vaccinated, with special reference to those born in 2010," the ministry said in a note sent to all states.
The ministry, outlining guidelines for the vaccination of children aged 12-14 years starting March 16, said those children born on or before March 15 2010 — those above 12 years of age — should be vaccinated.
Children born during 2008, 2009, and 2010 would receive Corbevax, the US-designed and Indian-made vaccine to be introduced into the national Covid-19 vaccination campaign for the first time. Children in the 14-15 and 15-18 years age groups are already receiving Covaxin, the ministry said.
Online registrations for the vaccinations would start at 9am on CoWin, the digital platform developed by the Indian government to implement the campaign. But beneficiaries may also opt for onsite walk-in registrations, the ministry said.
Health officials estimate about 47 million children aged 12-14 years are eligible for Corbevax.
A top health expert said about 10 to 15 per cent of children in the 12-18 years age group have some comorbidities, or underlying health disorders, that increase their risk of developing severe Covid-19.
"We know from our experience in India and worldwide that Covid-19 does not have a big impact on most children, but children with comorbidities have a 5 or 6-fold higher risk of severe Covid-19," said Narendra Arora, a member of the National Technical Advisory Group on Immunisation, the Centre's apex advisory body for vaccines.
Arora said NTAGI had three months ago recommended that children with comorbidities — such as cancer, underlying lung or kidney diseases — and those who have received organ transplants should receive Covid-19 vaccines to reduce their risk of severe disease.
"But in a mass vaccination campaign where speed is important, it becomes difficult to distinguish between those with comorbidities and those without — hence the decision was taken to vaccinate all children 12 years or older."
About 34 million among an estimated 74 million children aged 15-18 years have already been fully vaccinated with two doses of Covaxin.
The expanded campaign starting March 16 will also offer booster doses to all people 60 years or older. Until now, only those 60 years or older with comorbidities were eligible for the booster doses. Over 113 million people above 60 have been fully vaccinated and 20 million have taken their booster doses.