Courts can't decide on faith: Lord Ayyappa Devotees
The 7-judge bench is expected to hear matters relating to religious restrictions on Muslim and Parsi women too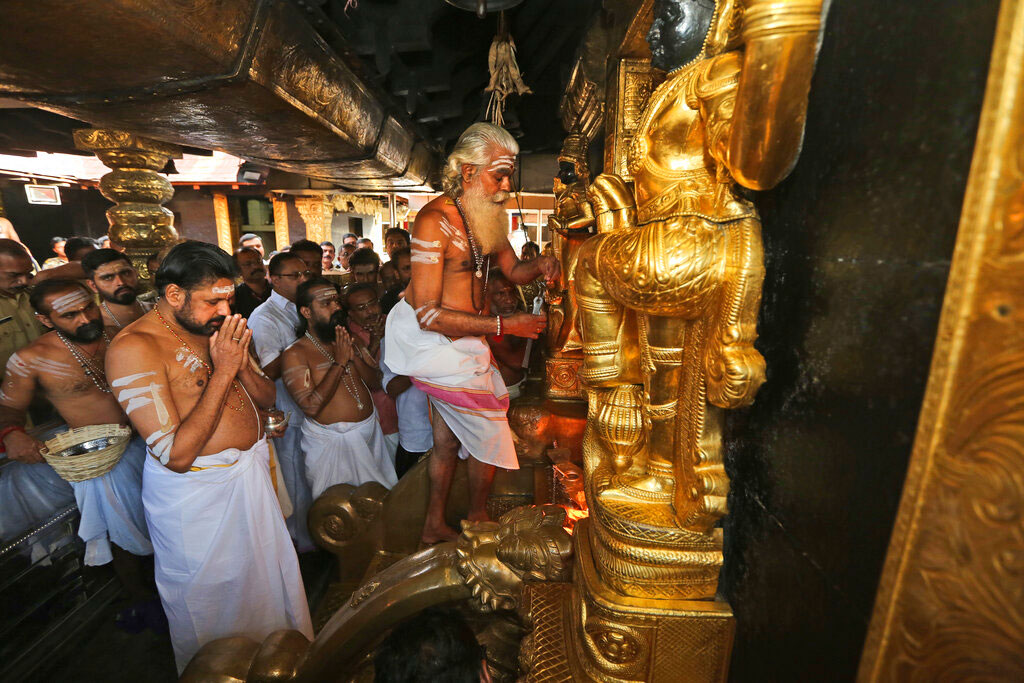 In this November 5, 2018, file photo, the head priest opens the sanctum sanctorum of the Sabarimala temple in Kerala.
(AP)
---
New Delhi
|
Published 16.11.19, 08:42 PM
|
---
The National Lord Ayyappa Devotees Association on Saturday contended that courts cannot decide on matters of faith, such as whether women of childbearing age can enter the Sabarimala temple.
"Since the said controversy falls in the exclusive province of faith, no court has jurisdiction to decide whether that faith is right or wrong. Faith is blind and could even be contrary to reason, science and logic and thus not justiciable at all," the association said here on Saturday.
The Supreme Court had in September 2018 quashed the centuries-old ban on women aged 10 to 50 entering the shrine, but another five-judge constitution bench on Thursday referred the matter to a seven-judge bench by 3:2 majority.
However, the two dissenting judges emphasised that last year's judgment had not been stayed and asked the Kerala government to enforce it.
In Saturday's statement, devotees association president Mathews J. Nedumpura pleaded that the courts focus on issues relating to people's welfare instead of dealing with sensitive religious matters.
"The job of a court is to resolve crises, bring peace and not to pave (the) way for social unrest by entertaining petitions (relating to the) entry of women into Sabarimala shrine, entry of Muslim women into mosques, etc, controversies which do no good to the country," he said.
The seven-judge bench is expected to hear matters relating to religious restrictions on Muslim and Parsi women too.
"My humble opinion, nay, I pray, that courts should devote their time to dispose of long-pending cases of undertrial prisoners languishing in prison for decades awaiting decision on their appeals and the like who cry for justice rather than rendering judgments without trenching into the domain of legislation," Nedumpura, a lawyer by profession, said.
The association, however, said it fully agreed with Thursday's dissenting judgment that any court verdict should be enforced.