Coronavirus updates: Record jump of 5,611 cases in 24 hours, tally rises to 1,06,750
Death toll now 3,303; ICMR says no to invasive techniques in foreign body autopsy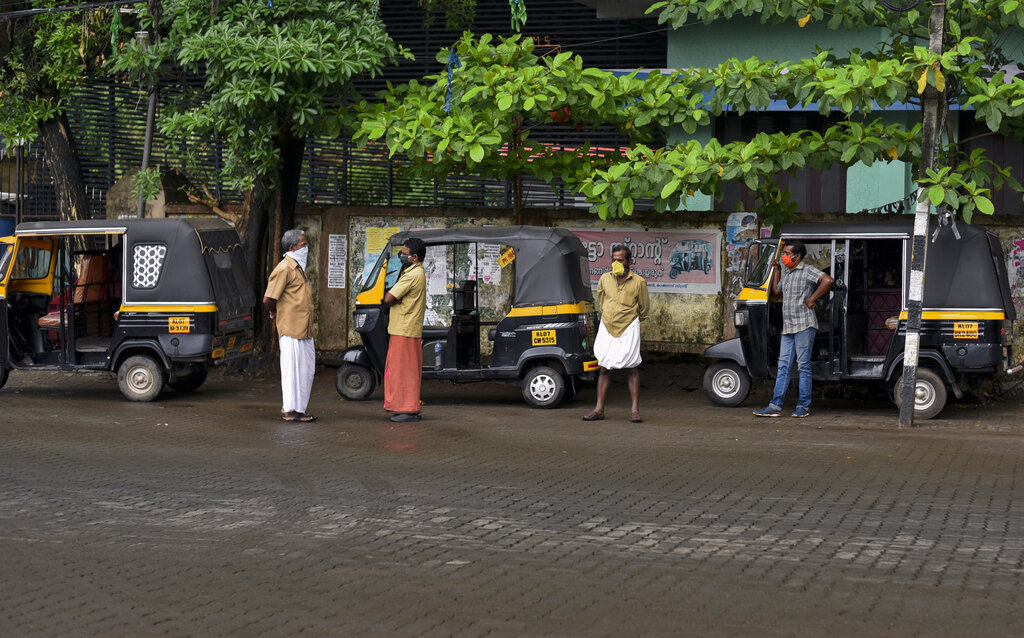 Auto rickshaw drivers wearing masks wait for customers on the day their services resumed in Kochi, Tuesday, May 19, 2020.
AP
---
New Delhi
|
Published 20.05.20, 05:30 AM
|
---
The death toll due to Covid-19 rose to 3,303 and the number of cases climbed to 1,06,750 in the country on Wednesday, registering an increase of 140 deaths and a record spike of 5,611 cases in the last 24 hours, according to the Union health ministry.
The number of active Covid-19 cases stood at 61,149, while 42,297 people have recovered and one patient has migrated, it said.
'Thus, around 39.62 per cent patients have recovered so far,' a senior health ministry official said.
The total confirmed cases include foreigners.
Of the 140 deaths reported since Monday morning, 76 were from Maharashtra, 25 from Gujarat, six each from West Bengal and Madhya Pradesh, five each from Rajasthan and Uttar Pradesh, three each from Tamil Nadu Karnataka and Telangana, two each from Andhra Pradesh, Assam, Jammu and Kashmir and one each from Odhisha and Punjab.
Of the 3,303 fatalities, Maharashtra tops the tally with 1,325 deaths. Gujarat comes second with 719 deaths, followed by Madhya Pradesh at 258, West Bengal at 250, Delhi at 168, Rajasthan at 143, Uttar Pradesh at 123, Tamil Nadu at 84 and Andhra Pradesh at 52.
The death toll reached 40 in Karnataka, 38 each in Punjab and Telangana.
Jammu and Kashmir has reported 17 fatalities due to the disease and Haryana 14. Bihar has registered nine deaths and Odisha five.
Kerala and Assam have reported four deaths each.
Jharkhand, Chandigarh and Himachal Pradesh each have recorded three Covid-19 fatalities, while Meghalaya, Uttarakhand and Puducherry have reported one fatality each, according to the data shared by the health ministry.
According to the ministry's website, more than 70 per cent of the deaths are due to comorbidities, the existence of multiple disorders in the same person.
As per the health ministry data updated in the morning, the highest number of confirmed cases in the country are from Maharashtra at 37,136. It is followed by Tamil Nadu at 12,448, Gujarat at 12,140, Delhi at 10,554, Rajasthan at 5,845, Madhya Pradesh at 5,465 and Uttar Pradesh at 4,926.
The number of Covid-19 cases has gone up to 2,961 in West Bengal, 2,532 in Andhra Pradesh and 2,002 in Punjab.
It has risen to 1,634 in Telangana, 1,498 in Bihar, 1,397 in Karnataka, 1,317 in Jammu and Kashmir and 978 in Odisha.
Haryana has reported 964 coronavirus infection cases so far, while Kerala has 642 cases. A total of 231 people have been infected with the virus in Jharkhand and 200 in Chandigarh.
Tripura has reported 173 cases, Assam has 142 cases, Uttarakhand has 111, Chhattisgarh has 101, Himachal Pradesh has 92 and Goa has registered 46 cases so far.
Ladakh has reported 43 Covid-19 cases, while the Andaman and Nicobar Islands has registered 33 infections.
Puducherry has registered 18 cases, Meghalaya 13 and Manipur nine.
Mizoram, Arunachal Pradesh and Dadar and Nagar Haveli have reported a case each till how.
'1,096 cases are being reassigned to states,' the ministry said on its website, adding 'our figures are being reconciled with the ICMR'.
State-wise distribution is subject to further verification and reconciliation, it said.
Restrictions around quarantine centres in Udhampur
The Jammu and Kashmir administration has imposed restrictions around quarantine centres in Udhampur district where stranded people brought back from other states through special trains have been kept, officials said on Wednesday.
These directions were issued soon after the visit of lieutenant-governor Girish Chandra Murmu to the railway station in Udhampur on Tuesday, they said.
Murmu took stock of the facilities being provided to the people of the UT who were stranded outside and are being brought back through special trains.
As per an order, there shall be no gathering of four or more persons in the radius of 30 metres outside the notified quarantine centres.

ICMR no to invasive techniques in foreign body autopsy
Invasive technique should not be adopted for forensic autopsy in Covid-19 death cases as mortuary staff are exposed to potentially dangerous health risks due to organ fluids and secretions even after taking the highest precautions, the ICMR has said.
The Indian Council of Medical Research (ICMR), in its 'Standard Guidelines for Medico-legal autopsy in Covid-19 deaths in India', said, 'It will prevent the spread of infection to doctors, mortuary staff, police persons and all the people in chain of dead body disposal.'
According to the guidelines, the deaths in hospital and under medical care due to coronavirus infection is a non-MLC case and doesn't require postmortem examination and the required certification of death will be done by treating doctors.
Bodies of suspected Covid-19 patients, which are brought to hospital, may be labelled as medico legal cases by the doctor in emergency and it will be sent to mortuary and police will be informed, which may necessitate a medicolegal autopsy for clarity in the cause of death.
'The forensic autopsy of these cases may be waived off,' the guidelines said.
In some homicidal, accidental or suicidal death cases, the deceased may be Covid-19 confirmed or suspected. If the patient dies in hospital, the clinical records and all other relevant documents may be sent along with the body for forensic autopsy. Rohini prison assistant superintendent tests positive
The assistant superintendent of the Rohini Jail has tested positive for Covid-19, five days after 15 inmates from the prison contracted the disease, officials said on Wednesday.
'Around three-four days ago, the officer had high sugar and sore throat, following which he was asked to stay at home and take rest,' a senior jail official said.
He went to Deen Dayal Upadhyay Hospital Hospital for coronavirus check-up and his report came positive on Tuesday, the official added.
The jail assistant superintendent lives in the Tihar residential complex and his family members have been quarantined, he said.
The jail staff, who live nearby his house, will be directed to stay inside their homes and isolate themselves for 14 days, the official said.
On May 16, 15 inmates and a head warden of the Rohini Jail had tested positive for Covid-19, days after a 28-year-old inmate of the prison contracted the disease.
Death toll in Delhi mounts to 176; cases cross 11,000-mark
The Covid-19 death toll in Delhi has climbed to 176, while 534 fresh cases of the infection reported on Wednesday, the highest single-day spike so far, took the total in the city over the 11,000-mark, authorities said.
The previous highest spike in fresh cases -- 500 -- was recorded on May 19.
In a bulletin issued on Wednesday, the Delhi Health Department said the death toll from the coronavirus infection has risen to 176, and the total number of cases mounted to 11,088.
It, however, added the cumulative death figure refers to fatalities where the primary cause of death was found to be Covid-19, as per the report of the Death Audit Committee on the basis of case sheets received from various hospitals.
On Tuesday, the total number of cases stood at 10,554, including 166 deaths.
Bengaluru doctor turns Covid positive, six staff in Kerala quarantined

Six employees of a private clinic here and a taxi driver have been put on mandatory 14 days quarantine as a lady gynaecologist running the dispensary tested positive for Covid-19 in Bengaluru.
District Medical Officer Dr V Jayashree said the gynaecologist had returned to Karnataka a fortnight ago and tested positive while she was on quarantine there.
Six staff members of the clinic at nearby Thamarassery and the taxi driver who dropped her in Bengaluruon May 5 have been asked to go on quarantine, she said.
Patients had visited the clinic, belonging to the gynaecologist and her doctor husband, till April-end.
Sources said the district administration is trying to figure out the contacts of the gynaecologist, including pregnant women, for being quarantined.