17 states earmarking hospitals for dedicated treatment of Covid-19 patients
There is still no hard evidence to say there has been community transmission of coronavirus in India: Health ministry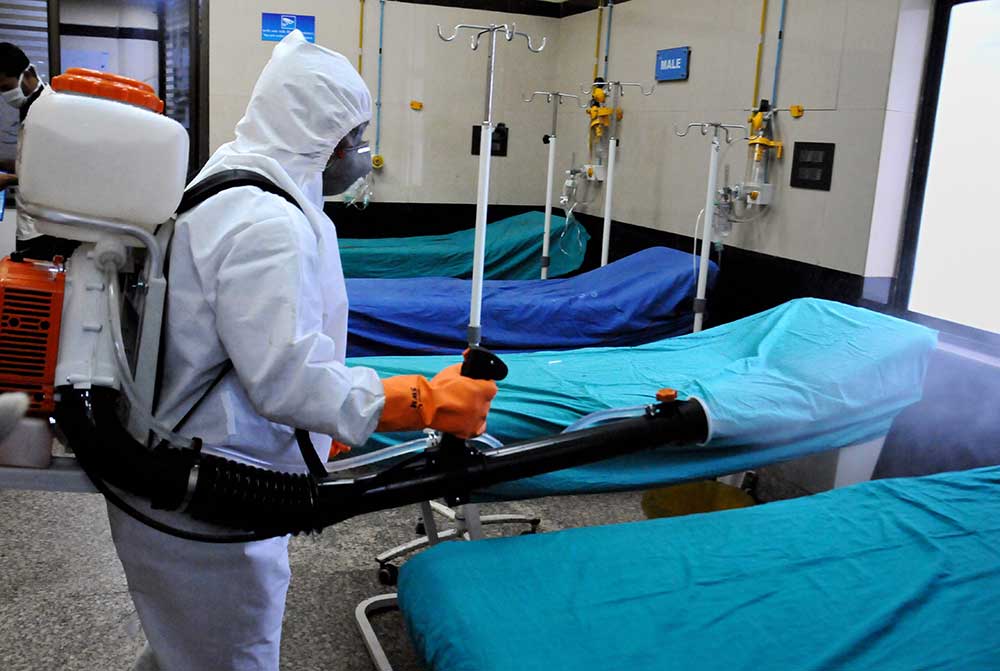 ---
---
The health ministry on Thursday said that 17 states have started work on earmarking hospitals for dedicated treatment of Covid-19 patients.
Briefing the press on the coronavirus situation, Health Ministry joint secretary Lav Agarwal said, 'There is still no hard evidence to say there has been community transmission of coronavirus in India.' Agarwal said.
He also denied that the virus spreads through mosquitoes.
Assuring the general public, Agarwal said that India is geared for Covid-19 challenge.
The Ministry of External Affairs said that a discussion on travel restrictions has been conducted during a meeting of the Group of Ministers and it will be conveyed to the public soon.
Agarwal said if 'we can maintain 100 per cent social distancing than it will be effective intervention in breaking chain of coronavirus transmission'.
The number of coronavirus cases climbed to 649 in India on Thursday and the death toll due to Covid-19 rose to 13, with one death reported each from Gujarat, Tamil Nadu and Madhya Pradesh, according to the Health Ministry.
Prime Minister Narendra Modi announced a nationwide lockdown for 21 days from Tuesday midnight, asserting in an emotional appeal 'with folded hands' that unless India's 130 crore people practised social distancing, the country will lose the war against the coronavirus outbreak and slide back 21 years.
Karnataka Health Minister B Sriramulu today visited the Wenlock District Hospital in Mangaluru to check the hospital's preparedness for #Coronavirus. pic.twitter.com/lV2Sc0H5U1

— ANI (@ANI) March 17, 2020
Wenlock hospital to be dedicated Covid-19 hospital
The district Wenlock hospital in the city will be turned into a dedicated hospital for the treatment of COVID-19 patients, Dakshina Kannada district-in- charge Minister Kota Srinivas Poojary said on Thursday.
Addressing reporters here, he said the 250-bed super speciality wing at Wenlock would be converted to a dedicated hospital to treat coronavirus patients in view of the prevailing situation.
The 20-bed Ayush block will be used for the treatment of suspected cases.
The patients currently being treated for various other ailments at the hospital will be shifted to private hospitals within three days.
The expenses for their treatment will be borne by the government, he said.
The 705 beds available at the hospital wards will be used for coronavirus cases in a phased manner.
The patients visiting the outpatient ward will be directed to go to nearby medical colleges for treatment, he said.
A total of 140 children being treated at the regional advanced paediatric care centre at the hospital will be shifted to nearby medical college hospitals.
The centre will also be used for covid-19 treatment.
Poojary said at present five COVID-19 patients and 140 suspected cases are being treated at the Wenlock hospital.