Multiple peaks theory as cases soar
Five states account for 68 per cent of cases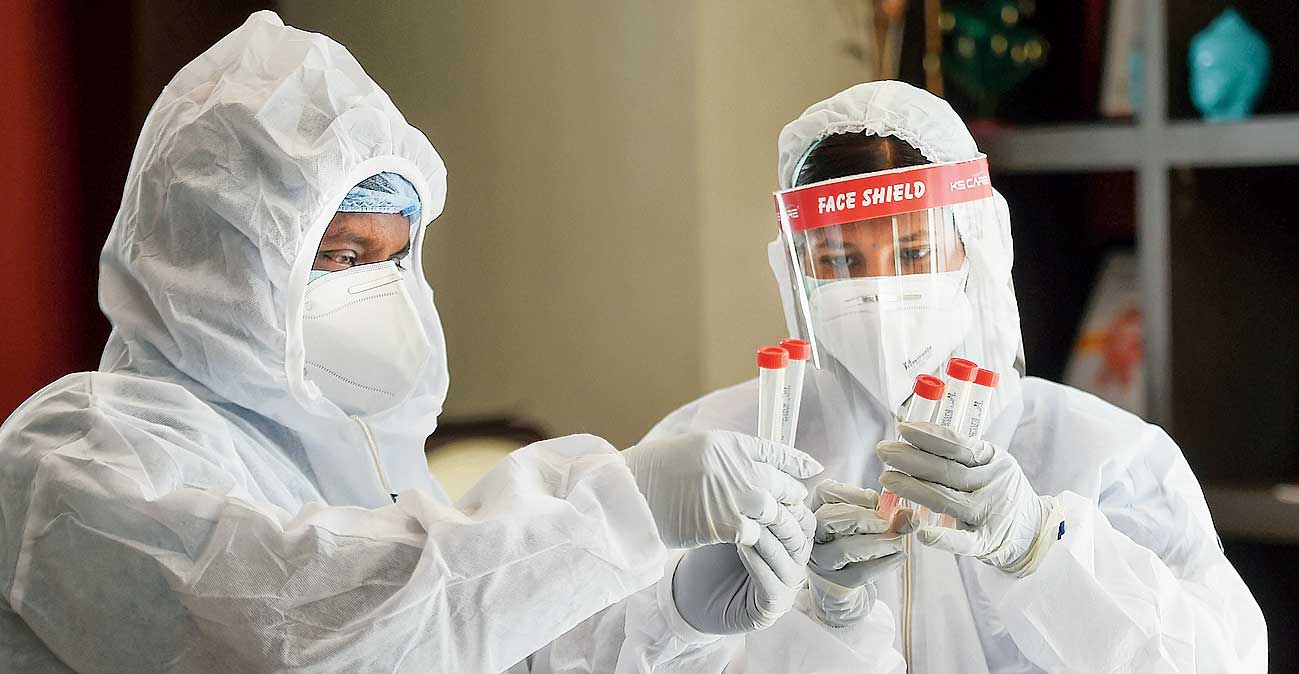 ---
---
India recorded yet another highest-ever overnight count of 9,887 new coronavirus cases on Saturday, raising the number of patients under medical supervision across the country to 115,942, with only five states accounting for 68 per cent of them.
The country's total confirmed cases since the start of the Covid-19 epidemic has increased to 236,657 patients, of whom 114,073 have recovered and 6,642 have died, including 294 deaths over the past 24 hours.
Maharashtra had 42,224 patients on Saturday, followed by Delhi (15,311), Tamil Nadu (12,700), Gujarat (4,901) and Bengal (4,025), reflecting a skewed distribution of infections in the country that some health experts say could change over time as more infections emerge.
Public health experts say the epidemic continues to display an exponential growth trend and it is unclear when it will approach and cross its peak numbers.
Some researchers who have tracked the epidemic's state-specific patterns believe that different states will experience peaks at different periods.
States such as Maharashtra, Delhi, Gujarat and Tamil Nadu, which experienced early large growth in the number of infections, could see relatively earlier peaks than other states, said Deepankar Basu, an associate professor of economics at the University of Massachusetts in the US.
"While this is clearly one possibility, it is not possible to rule out another one — the states where case counts are highest right now could see late peaks, because the severity of the outbreak in these states will make it that much more difficult to contain the spread," Basu said.
Basu, collaborating with Bhramar Mukherjee, professor of epidemiology at the University of Michigan, and others, has in a study suggested that national patterns might mask some state-specific trends. The study, not peer-reviewed yet, has been posted on an archive of research papers.
"It is possible that states such as Bihar or Uttar Pradesh where migrant workers are travelling might see later peaks," Basu said. "But it's not possible to say with any degree of certainty which possibility will actually play out in the coming weeks or months."
This uncertainty, experts say, springs from mathematical models' inability to accurately predict human behaviour relating to personal protection, which will critically determine the size and period of the peak.
If people take adequate precautions such as physical distancing, facemasks and hand hygiene, scientists say, the epidemic's growth may be a slow one and the peak may take longer to occur.
Public health and infectious disease experts say the virus will continue to spread as long as it finds susceptible people to infect. The principles of epidemiology suggest that around 60 per cent of people in an area would need to be infected to achieve a condition called "herd immunity", after which the virus will no longer find it easy to spread.
Herd immunity may be achieved through natural infection or vaccines. Although over 100 research groups worldwide are working on vaccines, and even if some candidates are proven as safe and effective, scientists do not expect a vaccine to be available before 12 to 18 months.