Ex-gratia rule hurts teachers' families
Covid: Yogi govt to compensate kin of only three teachers who died on poll duty
Teachers' bodies not only slam the 'narrow' criterion for choosing ex-gratia beneficiaries, but also contest the figure of three deaths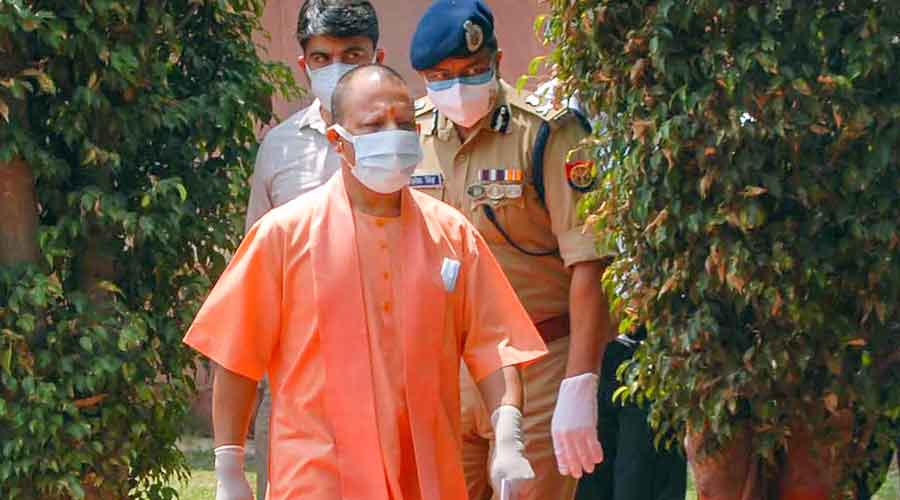 ---
---
The Yogi Adityanath government in Uttar Pradesh has decided to compensate the families of just three teachers who died while on panchayat poll shift although teachers' bodies claim to have counted over 1,600 Covid deaths among teachers and other school staff posted on election duty.
The state government will be granting ex-gratia only for the deaths that occurred during poll duty, ignoring those who died of Covid in the days and weeks after their assignment and had presumably caught the infection while on duty during the April 15-May 5 election process.
"According to the Uttar Pradesh election commission's guidelines, election duty refers to going from home to duty till coming back home. During this duty period, if there is any death, ex-gratia will be paid," a statement from the state basic (primary) education department said on Tuesday.
"Till today, district authorities have submitted verified data of death of three teachers."
Tribhuvan Singh, vice-president of the Uttar Pradesh Siksha Mitra Sangh, a teachers' body, said: "Can anyone die of Covid within a few hours of the infection?"
Teachers' bodies have not just slammed the government's "narrow" criterion for choosing the ex-gratia beneficiaries and threatened an agitation and a legal battle, they have also contested the figure of three deaths.
The Uttar Pradesh Prathamik Shikshak Sangh has released a list of 1,621 teachers and other staff of primary schools who it claims died after contracting Covid while on panchayat poll duty. It has threatened a "mass movement" if all the bereaved families are not compensated.
The Rashtriya Shaikshik Mahasangh (RSM) has brought out its own list of 1,205 such teachers, but its data appear to be a few days older than the Prathamik Shikshak Sangh's.
"We shall move court unless the government amends its orders and gives ex-gratia to all those who died," RSM joint secretary Shashank Pandey said.
Dinesh Chandra Sharma, state president of the Prathamik Shikshak Sangh, said his list had every detail from names and addresses to the dates of poll duty, onset of symptoms and death, and invited the state government to "verify every name".
Noopur Giri, whose husband Divya Dristi Giri died of Covid after reporting for election duty, regretted the government decision to compensate just three families.
"My husband was the headmaster of a primary school in Kanpur. He went for election training on April 11 and fell sick the same day. He died of Covid on April 26," she said. "This criterion of death-during-duty-hours is illogical."
According to the state election commission guidelines, families of those who die "during duty" from accidents or violence are entitled to ex-gratia between Rs 15 lakh and Rs 30 lakh.
On May 8, death from Covid was added to the list but without a clarification on the period within which such deaths should have occurred.
Tribhuvan, the Siksha Mitra Sangh official, said the addition of Covid deaths was just "eyewash" in the absence of an extension of the period of "poll duty" in the context of the epidemic, where infection and death are often separated by weeks.
"At the election training centres, teachers were made to sit close to one another. No Covid protocol was followed. Many teachers got Covid at the training centres, many others while dealing with the public while on election duty," he said.
Pandey said some of the basic education department's district-level offices had released their own lists of teachers who had died of Covid while on poll duty showing, for example, 12 deaths in Allahabad district and 26 in Rai Bareli.
"If the government does not accept our list, at least it should accept its own district officials' lists. They should pay ex-gratia accordingly," Pandey said.
An email sent to the additional chief secretary in charge of the basic education department, Renuka Kumar, asking why no ex-gratia would be paid to families of teachers who died after poll assignment has brought no response.