Covid: UP teachers' body releases list of 1,621 who died on poll duty
The Prathamik Shikshak Sangh, an association of primary teachers, demanded that the Yogi govt give each bereaved family a compensation of Rs 1 crore and a job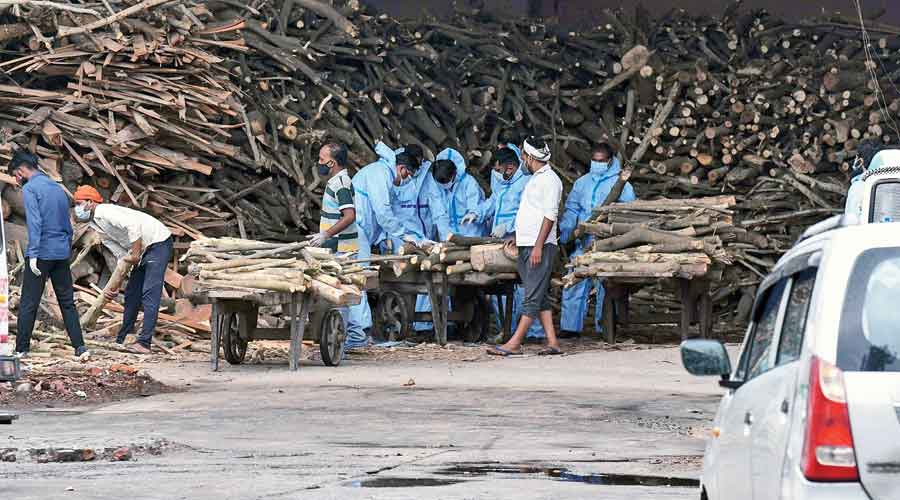 ---
Lucknow
|
Published 20.05.21, 01:12 AM
|
---
The Uttar Pradesh Prathamik Shikshak Sangh has released a list of 1,621 primary school teachers and other staff who it claims died after contracting Covid while on duty during the April 15-29 panchayat elections or the May 3-5 counting.
The Sangh, an association of primary teachers, has demanded that the Yogi Adityanath government give each bereaved family a compensation of Rs 1 crore and a job.
However, the state government claims that only three teachers died of Covid while on poll deputation — a figure contested by the Shikshak Sangh — while remaining silent on the deaths that occurred afterwards. It has passed the responsibility for compensation on to the state election commission.
"We have prepared a list that anybody can verify," the state president of the primary teachers' association, Dinesh Chandra Sharma, told reporters.
"We have given their names and addresses along with the dates on which they were on poll duty, the dates on which they fell ill and the dates on which they died and where."
He added: "We invite the state government to form a committee and verify every name. We shall start a mass movement if our demands are not met soon."
State health minister Jai Pratap Singh dismissed the association's claim.
"There's a protocol for election duty and for coronavirus patients. Those who were infected must have stayed away from the election process," he said, conveniently sidestepping the association's allegation of teachers getting infected while on poll duty.
"I think infected people would themselves choose not to join election duty and the authorities would not force them," Singh added.
Sharma alleged that district officials had refused to listen to teachers who said they were unwell and threatened to register FIRs against them if they didn't report for election shift.
"Some 250 or so died on election duty. Most of the others who have died came in contact with coronavirus-infected people during the election and counting, fell ill and died in home isolation or in hospital. Some died while returning home," he said.
The list of 1,621 includes 68 from Azamgarh, 35 from Lucknow, 46 from Allahabad, 50 from Gorakhpur and 53 from Rae Bareli. The figure is above 25 in 23 of the state's 75 districts, Sharma said.
"We have their medical reports," Sharma said.
The basic (primary) education department has in a statement said that according to poll panel guidelines, the state election commission is responsible for the well-being of polling officials from the time they leave home for election work to the time they return home, and pays compensation to the families of those who die in this period.
"The district magistrates have certified the deaths of three teachers and sent this information to the state election commission…. We appeal to all not to get confused over misleading news," the statement said.
Priyanka Gandhi Vadra tweeted in Hindi on Wednesday: "The insensitive UP government is rejecting the UP Shikshak Sangh's list of 1,621 dead teachers who were on election duty, and is claiming that only 3 died. The teachers didn't get proper facilities and treatment when they were alive, and now the government is denying them respect after their death."
Unofficial reports claim some 600 secondary and higher secondary school teachers too have died of Covid after catching the infection during election duty.