Small steps important: Abhijit Banerjee
Abhijit Banerjee urged Mamata to set up a reporting structure for widening the ambit of random testing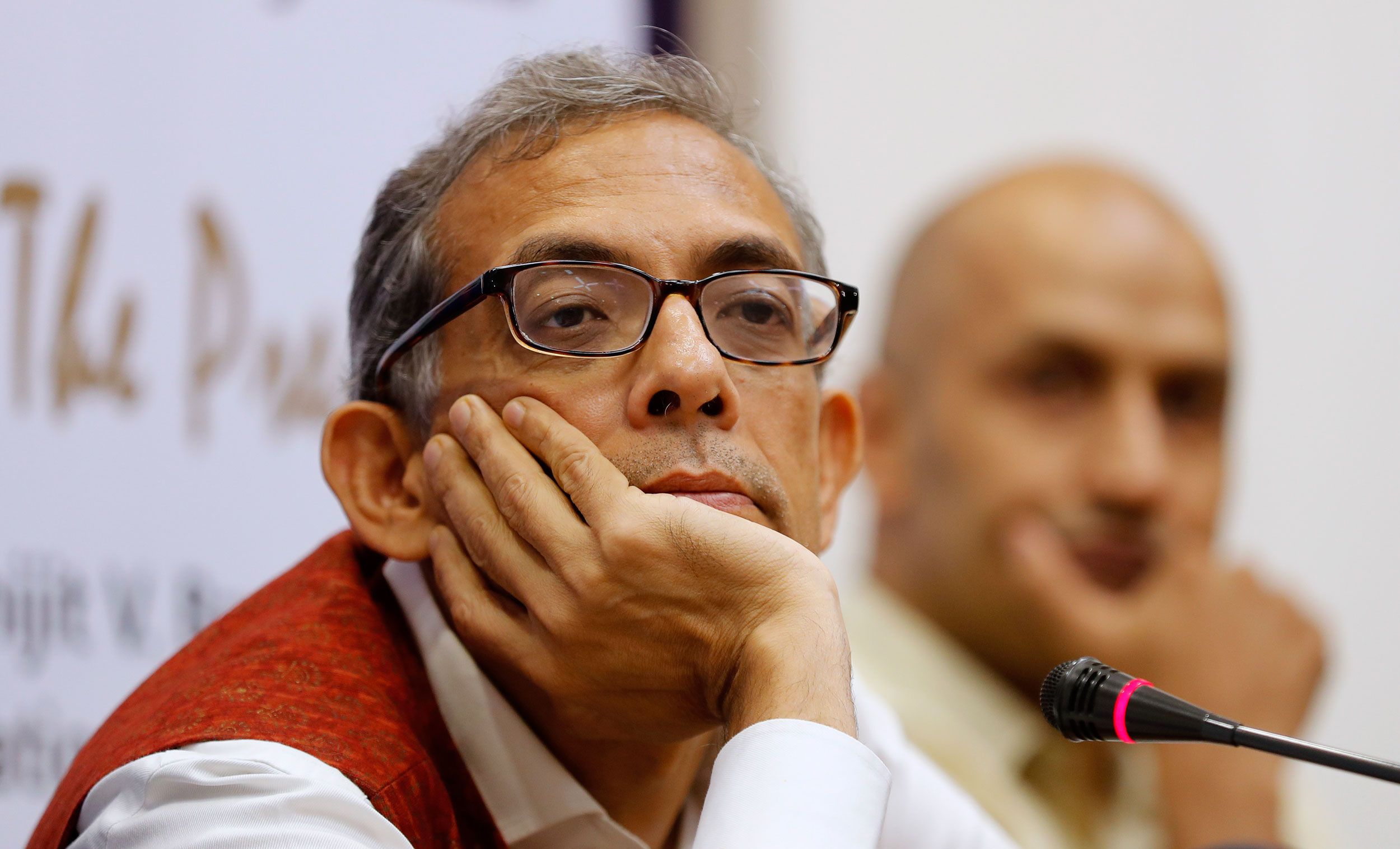 ---
|
Calcutta
|
Published 07.04.20, 09:35 PM
---
Economist Abhijit Vinayak Banerjee, heading the global advisory board to counsel chief minister Mamata Banerjee regarding Bengal's Covid-19 response, over a videoconference on Tuesday conveyed a few suggestions on personal hygiene and stressed the need for a reporting structure from the grassroots to contain the spread of the pandemic in the state.
Abhijit Banerjee, who joined the chief minister's news conference from his Massachusetts residence, requested Mamata to ensure in market places the personal hygiene measures, besides social distancing.
"The markets… when they are open, please make sure everyone wears a mask and ensure hand sanitisation or washing facilities at the entry and exit points," said Abhijit Banerjee, who, along with Esther Duflo and Michael Kremer, won the Nobel Prize for Economics last year. Abhijit Banerjee is married to Duflo.
"The countries that have done very well in fighting the pandemic, such as (South) Korea, Taiwan… these lessons we can learn from them. They are inexpensive and can be done without great difficulty," he added.
"If there are no masks, a piece of cloth will do. If sanitiser is in short supply, a source of water, a ghoti (a pot) and soap, that will do. Wash your hands well and enter, wash them well while leaving…. Keep the face covered, don't touch it."
Mamata profusely thanked the Nobel laureate for his spontaneous outreach to her even before she requested him to head the board. He has been taking a great deal of interest spontaneously, since this Covid-19 scare began, she said. "He has been getting in touch, about what we have been doing, how he could be of help, how Bengal is doing," she said.
Abhijit Banerjee, during his brief comments followed by an interaction with the chief minister, said it would have been pleasant if the communication could have been at a better time.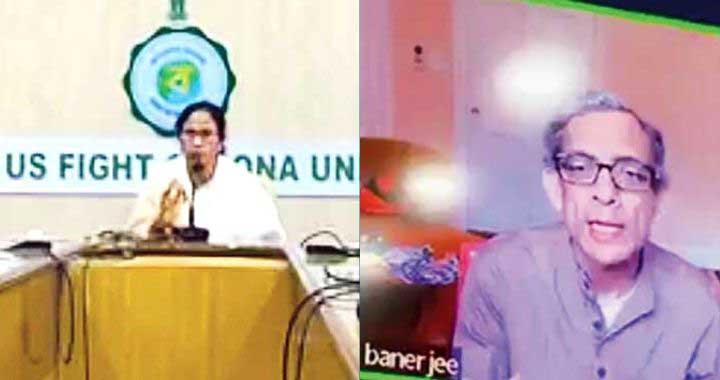 "These are dushchintar din (days of worry)… for the whole world," said the Ford Foundation International Professor of Economics at the Massachusetts Institute of Technology.
"It is the time to be cautious without being scared. If we let fear overwhelm us, our good sense starts failing us," he added.
The economist said there was the apprehension of the disease spreading from large gatherings and repeatedly drew on examples from (South) Korea and Taiwan to stress the need to implement social distancing as much as possible.
"Another thing done there, I have seen pictures…. If possible, keep some brickbats in the queues, I saw how you (Mamata) drew the circles (for social distancing in queues)… but if a brickbat or some such thing is kept, they tend not to cross it," he added.
Abhijit Banerjee said the small things, if executed properly, contribute a lot to the fight.
"No major innovation, no modern technology…. But these small things, if kept in mind, go a long way," he said.
The economist urged Mamata to set up a reporting structure for widening the ambit of random testing, on the basis of inputs from the grassroots, to minimise hotspots for spread of the disease.
"I am apprehensive that there could be some places where people are infected… a lot of people get it, but the symptoms are so common. Bengal has a shordi-kashir obhyesh (habit of cough and cold)," he said.
"People are in fear, and they say they do not have it. That fear must be done away with, that there is no cause for fear. It infects many but almost nobody dies," he added. "In a particular place, five-seven people have been seen coughing a lot. Testing there. A reporting structure, a hotline, Asha workers… tell them to report if they see a lot of people suddenly coughing a lot, get there for testing."
Abhijit Banerjee said Bengal was still under less pressure, relatively, and these suggestions ought to be implemented at this stage.
"If we can do this already, we can reach those places before it starts spreading…. Yes, there will be many wrong reports. But that's all right…. I think it is very, very important at this stage," he said.
"It should be done now, because if we suddenly see reports coming in from 50 places, then we will be in a bit of a spot," he added.
Thanking him for the "beautiful" suggestions, Mamata said she instructed state chief secretary Rajiva Sinha to see if an agency could be involved for the measures in marketplaces. For the reporting structure, she said a mobile application is being developed and Asha workers being trained, for "random, rapid surveys".
Mamata said it was a pleasure interacting with him and urged him to take care of his own health and wished for the well being of Boudi (Duflo) and Mashima (Nirmala Banerjee, his mother).
"You are the one who should be taking care of yourself. I am confined to my home…. You have been going everywhere. I worry for you," said Abhijit Banerjee, before they wished each other in advance for the Bengali New Year next week.