June 21 record orchestrated, say health officials
Covid: Several states face vaccine shortage following Centre blitz
Reports come amid assertions by health officials that India's vaccination campaign is already among the fastest in the world and still gaining speed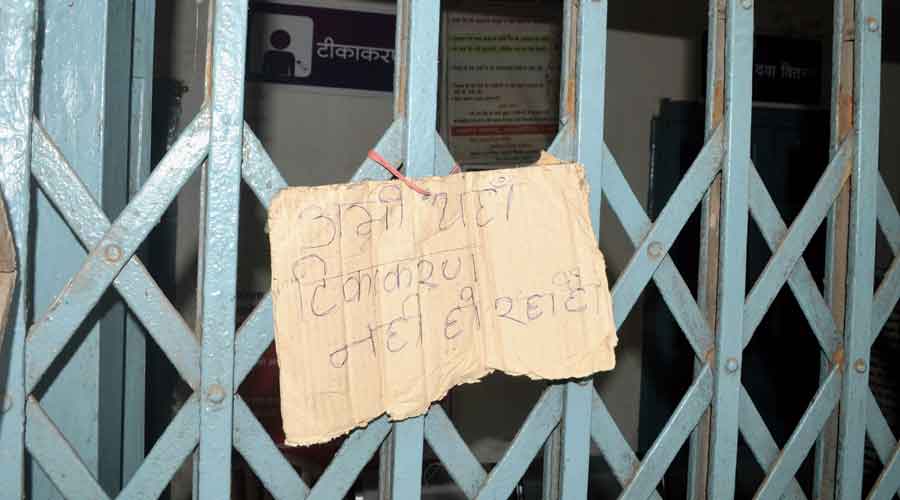 A board announces the vaccination pause at a centre in Dhanbad, Jharkhand, on Wednesday
Shabbir Hussain
---
New Delhi
|
Published 01.07.21, 02:59 AM
|
---
Multiple states, including Bengal, Delhi, Gujarat, Jharkhand and Maharashtra, are facing shortages of Covid-19 vaccines after a sharp rise in the nationwide average daily doses administered for a week starting June 21 when the Centre resumed responsibility for vaccine procurement.
Bengal on Wednesday decided to prioritise second doses amid what a state health official has described as an "acute shortage" of vaccines; a Jharkhand official said the state had no doses left for Wednesday and the inoculation drive was halted at several centres; and Mumbai's municipal corporation said there would be no jabs on Thursday because of inadequate stocks.
Several vaccination centres in Ahmedabad witnessed long queues and chaotic scenes as people turned up in large numbers for jabs amid supplies a city official said were not sufficient to meet the Ahmedabad Municipal Corporation's target of vaccinating 100,000 people daily.
A Press Trust of India report quoted AMC medical officer Bhavin Solanki as saying the city is vaccinating people, depending on the supply that varies daily. "Like yesterday (Tuesday) we received 35,000 doses. Some days we receive 20,000 doses or even 13,000 doses."
Health experts say such intermittent episodes of acute vaccine shortages are occurring against the backdrop of a vaccination campaign that was expanded in April this year for all adults without provisions for extra doses it would require.
The June 21 policy change allows anyone to seek walk-in registrations across the country. "Wherever the demand from the public on specific days exceeds supplies, there are bound to be shortages," a public health expert said.
"Another possible explanation — the shortages we're seeing this week might be the result of efforts to substantially increase daily doses administered in the week starting June 21," said R. Ramakumar, a professor of development studies at the Tata Institute of Social Sciences, Mumbai.
The Union health ministry had said 120 million doses were available for June. That would allow on average four million daily doses. Any attempt to raise the daily doses significantly during the month could impact availability for the subsequent days of the month — unless additional doses are available — either from earlier unused doses or fresh supplies.
While the campaign had administered a nationwide average of 2.99 million doses daily during April, 1.96 million daily during May and 4.03 million daily from June 1 to June 20, the average from June 21 to 28 rose to 5.7 million doses.
Two senior health officials had said last week that the record of over 8 million doses administered on June 21 had been "orchestrated" to demonstrate the nation's capacity to deliver large quantums of doses.
The Centre on June 21 resumed the responsibility of procuring vaccines for states and facilitating doses for private hospitals after a 50-day experiment during which states and private hospitals were expected to procure 50 per cent available doses.
The health ministry has said 120 million doses — 100 million Covishield and 20 million Covaxin — would be available for distribution to states and private hospitals in July, the same quantum as was available during June 2021.
"The quantum of doses available has not changed from June to July — a total of 120 million doses for a month would allow an average of about 4 million a day, not the average of over 5.7 million administered over the past week," said Ramakumar.
Public health experts say decisions to prioritise second doses amid vaccine shortages is in line with the health ministry's guidelines.
Vaccination advisers have said the Centre had tried to caution states that independent procurement by them would not be practical but had to give in under intense demand from states and sections of public health experts.
"A certain environment had emerged in April — states pointed out that health is a state subject — the option (state procurement) was offered," a senior health official guiding the vaccination policy told The Telegraph.
The shortages reported by multiple states come amid assertions by health officials that India's vaccination campaign is already among the fastest in the world and still gaining speed.
India has so far administered more than 335 million doses, but only about 6 per cent of the estimated eligible population of 944 million is fully vaccinated with two doses.
A senior health official had said on Tuesday that the average of 5.7 million daily doses administered between June 21-28 was equivalent to inoculating more than the entire population of Finland or Norway in a single day.
The official also said the US had taken 193 days to reach The 320-million-dose mark, while India took 163 days. Experts, however, underline that the US has fully immunised over 46 per cent of its population.