Health officials point at attempted orchestration of 'record' vaccine count
Advisers say Monday's data was not a 'sudden episode' but the outcome of a planned exercise to demonstrate India's capacity to administer a large quantum doses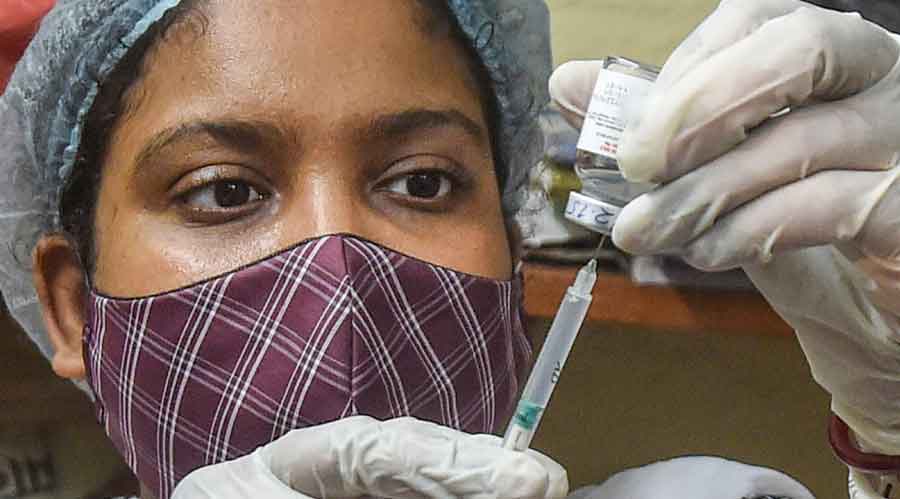 ---
New Delhi
|
Published 23.06.21, 01:42 AM
|
---
India's Covid-19 vaccination campaign on Tuesday logged 5.34 million doses, a 39 per cent decline from Monday's record 8.8 million that senior health officials have described as an orchestrated feat made possible through advance dose data, state support and public participation.
Health experts said they are not surprised at Tuesday's number —  5,340,550 doses administered up to 11pm — as a target of over 8 million daily doses would require a much higher vaccine production capacity than the current estimated 4 to 5 million.
Health officials and vaccination policy advisers have said the 8.8 million doses recorded on Monday was not a "sudden episode" but the outcome of a planned exercise intended to demonstrate India's capacity to administer a large quantum of daily doses.
"The response was well beyond our expectations — it was a demonstration of our capacity to conduct a synchronised orchestrated programme," said Vinod Paul, chair of the national expert panel guiding the country's Covid-19 vaccination policy.
An analysis by the Union health ministry has shown that 5.6 million (64 per cent) of the 8.8 million doses administered on Monday were given to people in rural areas. More than 90 per cent of the doses went through government vaccination centres, Paul said.
"We've established we can deliver vaccines across rural areas through the public health system, although we do expect the private sector to continue expanding its own role in the programme."
Paul said India has conducted massive vaccination drives in the past. "During our efforts to eradicate polio, we used to vaccinate over 70 million children in a single day, then reach another 100 million in mop-up rounds over a week," he said.
Vaccination advisers have said that Monday's record was a milestone towards the goal of delivering 10 million Covid-19 vaccine doses daily.
The sharp rise on Monday — after an average of 3.2 million daily doses from June 1 to 20 — has triggered speculation in some circles whether the government had timed the feat to occur on the first day of new vaccination rules where the Centre offered free vaccines to all those aged 18 years or older.
A dip in daily doses observed in Madhya Pradesh and Karnataka among other states has prompted some to ask whether the Centre had organised the record on Monday by intentionally slowing the pace of inoculations in BJP-ruled states in the preceding days.
But independent health experts observing the vaccination campaign for weeks have said there does not appear to be a clear pattern — for instance, Andhra Pradesh and Punjab also showed dips in preceding days while Uttar Pradesh had shown a slow rise through June.
An observed pattern does not necessarily establish cause and effect, said Rijo John, a health economist at the Rajagiri College of Social Sciences in Kochi. "But this would have required an inventory build-up and people willing to be vaccinated."
"At this point in time, I don't see administering 8 million daily doses sustainable over a long period. Our vaccine production capacity is currently between 4 and 5 million doses per day although this has been projected to rise in July or August and beyond," John said.
The Centre had told the Supreme Court last month that the Serum Institute produces 65 million doses of Covishield per month and Bharat Biotech produces monthly 20 million doses of Covaxin, although both companies are ramping up production capacities.
Health officials have said that they expect higher production and the entry of new vaccines between August and December to facilitate an accelerated vaccination campaign that would enable India to inoculate nearly its entire eligible population by the year-end or early 2022.