Misgivings over govt facilities persist
Covid second wave bares existing deficiencies in rural healthcare
Accounts reveal that communities have faced large clusters of infections, oxygen shortages, non-responsive ambulance helplines, and medicine black marketeering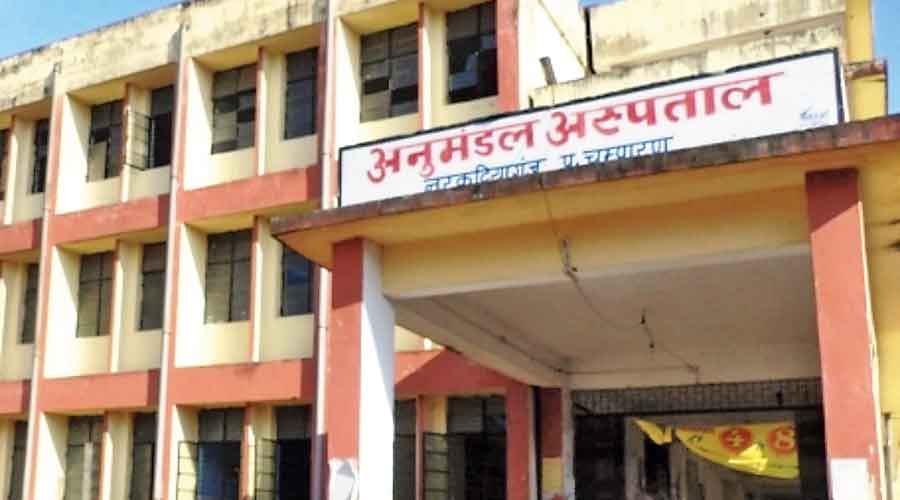 Bihar's Narkatiaganj hospital that had unoccupied oxygen beds
Telegraph picture
---
New Delhi
|
Published 24.05.21, 02:28 AM
|
---
Jahangir Alam, a rice farmer at Semri village in Bihar's West Champaran district, did his best to avoid a government hospital bed even when he started gasping for breath a week after falling sick.
He had earlier sought treatment from a private doctor in Narkatiaganj, but when his illness worsened his family called Matiur Rahman, a team member with Gram Vaani, an audio-driven rural social media platform.
Rahman found out that the Narkatiaganj sub-divisional hospital had unoccupied oxygen beds and asked the family to rush Alam there. It was the morning of May 9 and Alam's breathing had become increasingly difficult since the previous evening.
But Alam and his family, wary of the facilities at government hospitals, hired a private ambulance to ride about 100km to Motihari in East Champaran to seek admission to private hospitals. Two hospitals had no beds. A third accepted him but Alam died there a day later.
"They spent too much time looking for private hospitals," Rahman told The Telegraph. "Many patients here don't want to go to government hospitals; many patients don't take tests because they're afraid they would be forcibly sent to a government hospital if they're found positive."
Alam had neither sought nor was he recommended a Covid-19 test before admission, but a doctor who viewed a CT scan of his lungs after admission said its features were "suggestive of Covid-19 infection".
Without a lab-confirmed positive test, doctors say, Alam's death will likely go uncounted as Covid-19 among many others in rural areas where limited testing has meant many patients remain undiagnosed.
Covid-19 had penetrated rural areas last year, but health experts say the second wave has hit harder and magnified the longstanding deficiencies in rural healthcare services against the backdrop of poverty and hunger.
The Union health ministry's rural health statistics show that over 2,900 posts of doctors in district hospitals were vacant in just five states in March 2020, with shortfalls of 676 in Bihar, 637 in Uttar Pradesh, 1,106 in Bengal, 377 in Maharashtra and 171 in Punjab.
Over 2,600 (50 per cent) of India's 5,183 community health centres (CHCs) – which are expected to serve as the first-tier hospitals with specialists, X-ray machines, and operation theatres for rural areas – had no functional X-ray machines in March 2020.
In some states, the CHCs did not even have regular supplies of essential medicines – only 29 of Bihar's 57 CHCs, 211 of Gujarat's 348 CHCs, and 628 of Uttar Pradesh's 711 CHCs had regular supplies of medicines.
"In such circumstances, there's a tendency among doctors to not take risks and refer patients to a higher-level district hospital," said Yogesh Jain, a senior physician and founder-member of Jan Swasthya Sahyog (People's Health Support), an organisation that provides healthcare to rural communities in Chhattisgarh.
The treatment guidelines for moderate Covid-19 require blood biochemistry tests and medications such as steroids and anti-coagulants.
"Even if there is oxygen supply, many rural healthcare centres would lack facilities for those blood tests," Jain said. "And doctors would ask: why offer only piecemeal treatment?" Anecdotal accounts from patients and healthcare workers and "user-generated" audio reports from Gram Vaani suggest that rural communities have also faced large clusters of infections, oxygen shortages, non-responsive ambulance helplines, and black marketeering in medicines.
Bijaylaxmi Rautaray, secretary, Sahayog, a non-government health organisation in Odisha, cited the example of a Covid-19 patient who received medicines from a CHC in Erasama in Jagatsinghpur district but no instructions on how to use them.
"And in some areas, the health workers expected to monitor patients under home isolation have no access to oximeters. They receive only a pair of gloves," she said.
In Jamalpur near Munger, Bihar, a patient whose oxygen saturation levels had fallen to between 80 and 85 had to wait over a week without oxygen, according to an audio report uploaded by Gram Vaani. The report features an acquaintance complaining that neither was oxygen available nor doctors for consultation.
In Manesar, Haryana, a resident said the helplines for Covid-19 patients were not functional. In Samastipur, Bihar, a resident complained that chemist shops in the Pipraghat area were selling for Rs 300 medicines that cost Rs 100.
"Some doctors in rural communities seem to have fled as the cases increased, fearing being infected or getting beaten up," said Oommen John, a physician with The George Institute for Global Health, New Delhi. He said such information about rural areas was trickling in from clinicians still there.
"We know that clusters of infections and deaths have remained undocumented," John said.
In a cluster of three villages near Kanchanpur in Jharkhand's Hazaribagh district, for instance, Faiz Anwar, a former programme officer assisting TB control efforts in the district, has learnt from local residents that 27 people with Covid-19 symptoms died over the past three weeks.
The health ministry had last week released guidelines for Covid-19 care in rural settings, recommending 30-bed care centres and 30-bed hospitals with required medical staff, medications, oxygen and other infrastructure.
Public health experts have welcomed the content but some have expressed concern that the guidelines don't take into account the existing shortages of staff and equipment.
During the surge itself, Jain said, it might be useful to concentrate staff and healthcare resources at district hospitals or other hospitals with strong infrastructure, and make available an ambulance network to transport patients to such hospitals.