No agency collecting data key to analysis
On Sunday, India's Covid-19 count witnessed another unprecedented spike of 2,487 cases to reach 40,263 confirmed cases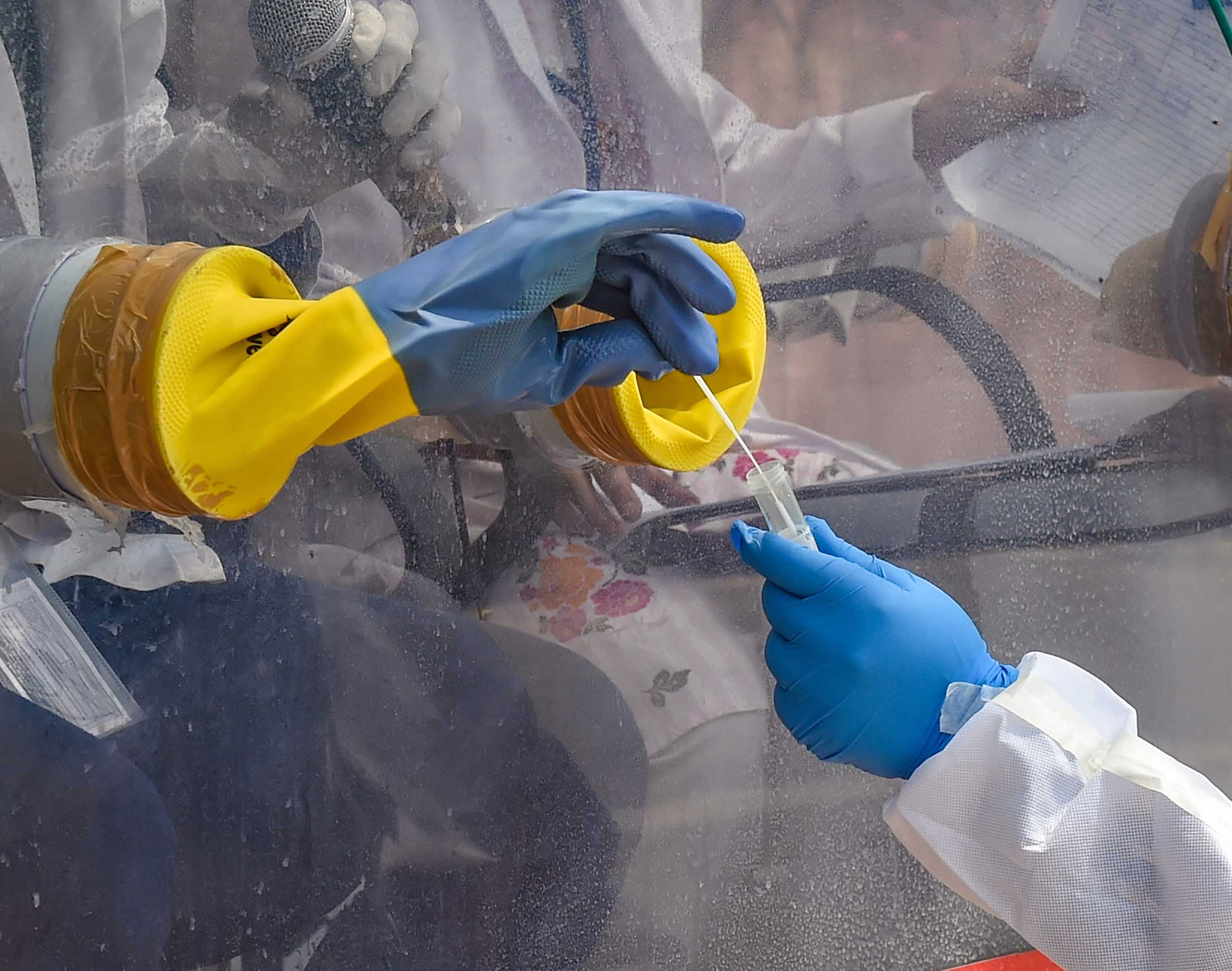 ---
---
No government agency in India has even started collating the clinical details of patients with severe coronavirus disease, without which any meaningful analysis of the disease's features is impossible and the country's Covid-19 deaths remain mere statistics.
Sections of doctors have expressed concern that the illness progression patterns and the risk factors for deaths in India remain inaccessible even with nearly 40,000 confirmed Covid-19 cases and over 1,300 deaths, and despite selective statistics released by the Union health ministry.
On Sunday, India's Covid-19 count witnessed another unprecedented spike of 2,487 cases to reach 40,263 confirmed cases. Nearly 10,900 patients have recovered and 1,306 have died.
"The health ministry's numbers may serve some purpose, but they are inadequate for research or any understanding of what's going on," said an infectious disease specialist and a member of a Covid-19 panel advising the government who requested not to be named.
The ministry, for instance, had last week said 14 per cent of Covid-19 deaths had occurred in patients below 45 years. This number is three-fold higher than the 4.5 per cent deaths under 45 observed among 6,840 patients in New York and more than twice the 6.3 per cent seen in China among 44,672 patients.
However, doctors say this does not necessarily mean that younger Covid-19 patients are likelier to die in India than in New York or China.
"To understand such differences in mortality, someone needs to analyse patients' details," said Rajesh Pande, a senior clinical care specialist and chair of the Delhi-Noida chapter of the Indian Society for Critical Care Medicine.
"What is the age distribution of patients? What proportions of patients across different age groups come with co-morbidities (concurrent health disorders)? How does the illness advance across different age groups? Any meaningful analysis requires such details," Pande told The Telegraph.
Doctors say that other numbers released by the health ministry too raise questions despite being in line with expectations that only a small proportion of Covid-19 patients require intensive care or ventilation.
The health ministry had on April 26 said that among the then hospitalised patients, 2.17 per cent had been admitted to intensive care units, 1.29 per cent required oxygen, and 0.36 per cent were on ventilator.
A government doctor had earlier this month said that most patients who need hospital care get well only with oxygen and do not need ICU or ventilator care.
Critical care doctors say it is unclear how a larger proportion of patients were in ICU than those who needed oxygen. "It is possible some were in ICU for other reasons and did not need oxygen, but such superficial statistics are not useful," a senior doctor said.
While frontline doctors who are treating Covid-19 patients do record such clinical details in patients' case sheets, they are scattered across scores of hospitals across the country with no attempts yet to pool that growing reservoir of datasets.
Hospitals are expected to submit paper forms, with some details of their Covid-19 patients and the tests conducted, to the National Centre for Disease Control and the Indian Council of Medical Research, both agencies under the health ministry.
"But the two-page NCDC form mainly asks for epidemiology-relevant data — it won't help efforts to understand how the disease progressed, what treatment was offered and how the treatment may have influenced the outcome," a senior doctor said.
A medical panel set up by the ICMR has proposed a nationwide electronic database with clinical details of Covid-19 patients from public and private hospitals across the country.
Randeep Guleria, director of the All India Institute of Medical Sciences, New Delhi, and the panel's chair told The Telegraph that the panel planned to initiate "a death audit project".
A death audit would seek to examine the course of illness and the sequence of interventions along the care pathway that a patient with severe Covid-19 received to determine what factors may have contributed to the death.
"Pooled data from death audits and clinical details of patients with severe disease could help doctors anticipate the course of the illness and intervene early enough to help some patients," said Raymond Savio, a critical care specialist in Chennai who has managed Covid-19 patients over the past month.
Doctors in other countries have already pooled patients' datasets in efforts to extract useful information — clinical or epidemiological. Chinese doctors relying on data from 1,590 patients last month identified a protein related to blood clotting, called d-dimer, to predict severe Covid-19 disease.
In a study published in the Journal of the American Medical Association last week, a group of New York doctors collated data from 5,700 Covid-19 patients to show that those with diabetes were likelier to receive invasive ventilation or develop acute kidney disease.
In the early weeks of the pandemic, a public health expert said, it is only natural that the focus would be to analyse epidemiology data to understand the spread of the infection better. But clinical data analysis could directly help the patients.
"The medical community looks forward to more complete clinical data that could help guide bedside decisions," Savio said.