Coronavirus outbreak: Karnataka violates patient privacy with list
The list contains private and potentially dangerous information such as house number, street, locality and city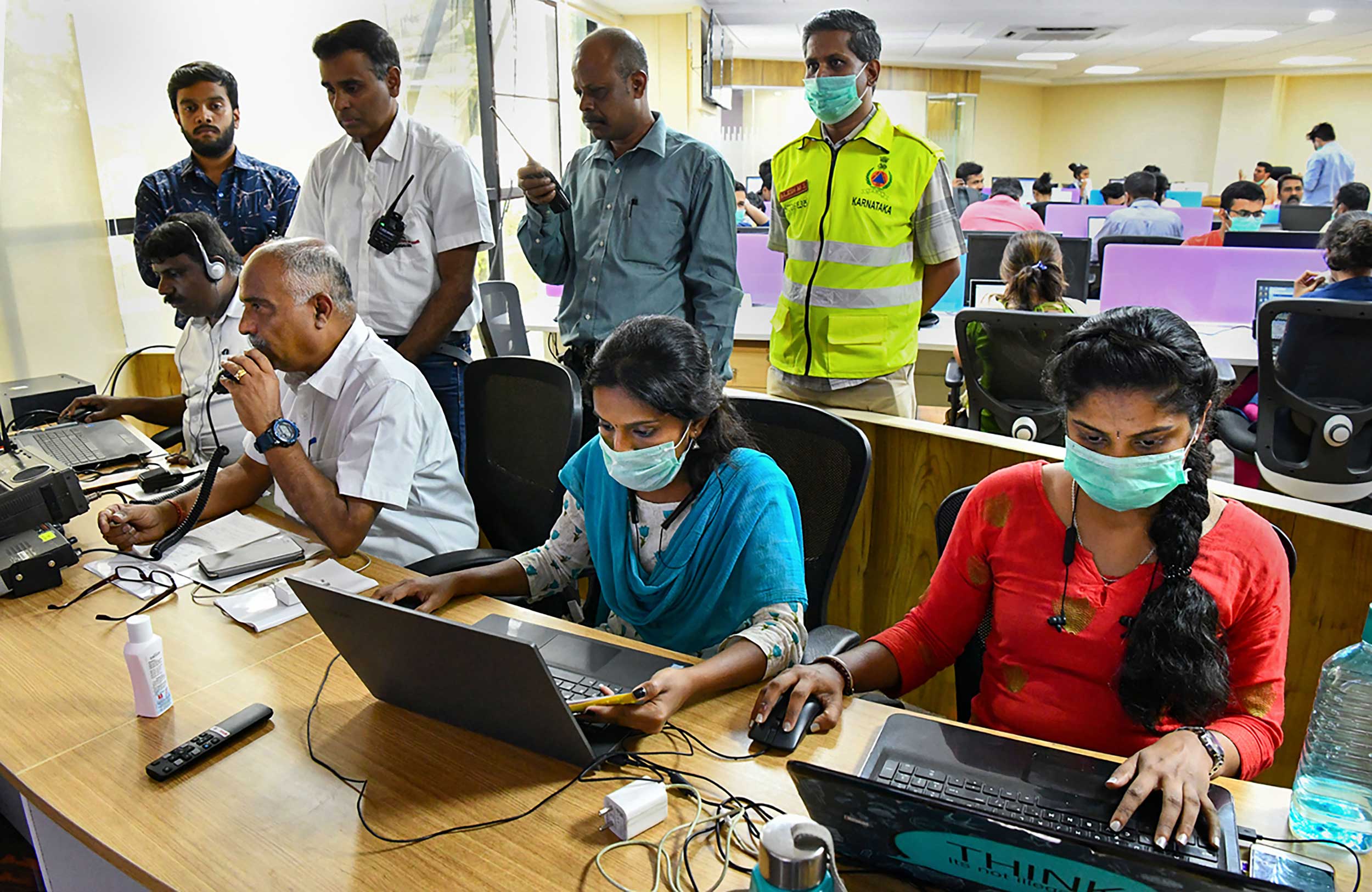 Officials work in the Karnataka Chief Minister's Covid-19 War Room at DIPR Building in Bangalore on Tuesday.
(PTI)
---
Bangalore
|
Published 26.03.20, 08:41 PM
|
---
Karnataka's health department has published online the full addresses of the people under quarantine and those who have tested positive for the novel coronavirus, raising privacy concerns.
Easily downloadable from the health department's website in the form of Excel sheets, the list contains private and potentially dangerous information such as house number, street, locality and city. It reveals which of those listed had arrived from abroad recently and mentions the country.
Although names and phone numbers have not been revealed, the details disclosed have been enough to cause concern among neighbours and even those living in the wider locality.
Under the head Bangalore Urban, the list carries the details of 14,910 people who are either under quarantine or have been admitted to hospital isolation wards.
So far, the state has recorded 55 coronavirus-positive cases, including two who have died and three who have been discharged after recovery.
A resident of an eastern Bangalore neighbourhood told The Telegraph on Thursday that he had been shocked to see such private information being published.
"Why is the Karnataka government so reckless? On the list, which I happened to see today, there is a patient from my locality," he said, asking not to be named to avoid revealing the place.
"This is an age when neighbours avoid even someone with chickenpox. With the coronavirus wreaking havoc across the world, our government should have been more careful with such data."
On Wednesday, a day after the list was uploaded, health minister S. Sriramulu was relieved of the charge of handling the state's response to the pandemic, which was given to medical education minister K. Sudhakar.
However, the list has stayed on the health ministry website — though it has not been updated since Tuesday — suggesting it had nothing to do with the change at the helm.
Sources said chief minister B.S. Yediyurappa had preferred Sudhakar, one of the ex-Congress MLAs who defected to the BJP last year, over seasoned BJP politician Sriramulu because Sudhakar is a medical doctor.
Sudhakar did not respond to repeated calls to his personal mobile number.
An information technology professional from a multinational company said the list was a "huge data privacy concern".
"Whoever thought of uploading this on a public website is either ignorant about the ramifications or plain reckless," said the techie, who too asked not to be named since he hadn't taken his employer's permission to speak to the media.
"Had this happened in the US, it would have kicked up a storm. But I'm sure that very few people in the (Karnataka) government would take this (privacy breach) seriously," he added.
Senior lawyer G.R. Mohan said he was aghast when he saw the list. "It's ridiculous that a government has flouted all norms of privacy. I'm going to file a case in a few days," he said.
Mohan stressed that apart from breaching data privacy, the move had placed many people in danger.
"Such personal data must not be disclosed during times like these since it can end up in families being ostracised," said Mohan.
He cited fears that some families might face a threat of eviction, while adding that any such move would be illegal.
"Besides, the breach of privacy can itself cause a lot of problems for those affected. It (maintaining data privacy in this case) is as important as protecting the name and any other identifiable detail of a rape victim," he said.
Mohan urged Karnataka to learn from other states.
"I think Karnataka should look at other states like Kerala and Tamil Nadu to learn how to protect patient data," he added.
A Bangalore-based analytics professional who heads a residents' welfare association at an apartment complex too expressed concern and urged the state government to "allay the data privacy fears over Covid-19 surveillance".