Covid: India approves US-based Moderna vaccine
This is the fourth jab approved in the country, after Covishield, Covaxin and Russia's Sputnik V, and the first one approved under a relaxed regulatory regime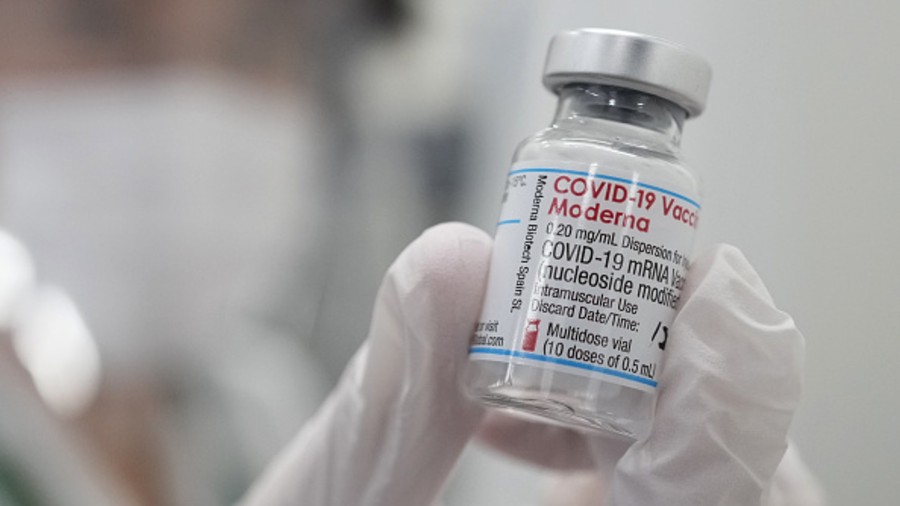 Many countries — the US, the UK, the EU, Israel, Japan, and others — had signed advance supply pacts with Moderna between August and December 2020
File picture
---
New Delhi
|
Published 30.06.21, 02:00 AM
|
---
India has approved the Covid-19 vaccine from the US-based Moderna, allowing its imports and entry into the vaccination campaign, a senior health official announced on Tuesday.
However, the vaccine maker's Indian partner declined comment for now on timelines and doses.
The apex regulatory authority for drugs and vaccines has approved an application received from Cipla, Moderna's Indian partner, for emergency use authorisation of the vaccine, said Vinod Paul, the chair of an expert panel guiding the Centre on its Covid-19 vaccination policy.
"Our vaccine basket is now richer by this addition… this potentially opens up a clear likelihood of the vaccine being imported into India," Paul said. "Let's wait and see how this opportunity will be used for imports of the vaccine into the country."
This is the fourth Covid-19 vaccine approved in India — after Covishield, Covaxin and Russia's Sputnik V. It is the first one approved under a relaxed regulatory regime allowing the emergency use authorisation of vaccines approved by select foreign agencies without clinical trials in India.
The Moderna vaccine that has 94 per cent efficacy against Covid-19 infections and 100 per cent efficacy against severe disease has already received emergency, conditional, or provisional approval in over 50 countries and an emergency use listing from the World Health Organisation.
Many countries — the US, the UK, the EU, Israel, Japan, and others — had signed advance supply pacts with Moderna between August and December 2020, a period during which Indian health officials were entirely focused on the domestically-produced vaccines — Covishield and Covaxin.
A query sent by this newspaper to Cipla asking about possible timelines for the imports, the number of doses likely available to India during this year, and distribution mechanisms has not evoked a response.
A spokesperson representing Cipla said it would respond "as soon as possible".
While Moderna and Cipla have not yet announced a price tag for the vaccine in India, a UN agency document with prices of different vaccines has listed the Moderna vaccine's lowest price at $15 (Rs 1,115) per dose and its highest price at $34.50 (Rs 2,564) per dose in high-income countries.
Health experts believe the Moderna vaccine, when imported, is intended to be made available through private hospitals just as Covaxin, Covishield and Sputnik V for those willing to pay for the vaccines. For comparison, Covishield costs Rs 600, Covaxin Rs 1,200 and Sputnik V about Rs 900 at private centres.
Public health experts tracking global vaccine supplies say the Moderna vaccine is in the near future likely to play a limited role in India's vaccination campaign given its commitments to other markets.
Moderna had by mid-June, for instance, supplied 217 million doses to the US government which has a confirmed order of 500 million doses. The company had said in February it was working to supply up to one billion doses worldwide during 2021.
The Moderna vaccine is based on a novel mRNA platform that requires the vaccine to be stored at minus 20 degrees Celsius for periods up to seven months. But the vaccine may be stored at 2 to 8 degrees Celsius, the normal vaccine cold chain, for 30 days.
The approval by India's Central Drugs Standard Control Organisation allows the vaccine to be imported for use in adults 18 years or older. "The approval is for import of ready-to-inject vaccines, but we hope in the future the company will consider manufacturing in India," Paul said.