Do-not-delay advice for hotspot residents
If flu-like symptoms emerge, seek medical attention fast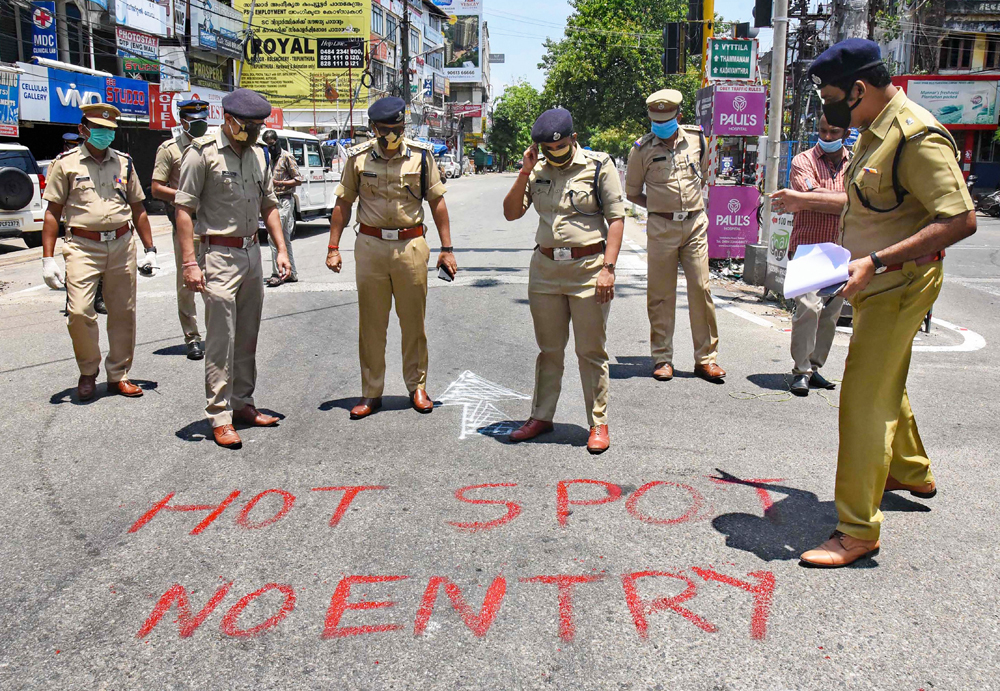 Police personnel mark a locality of Kaloor - Kathrikadavu as a Covid-19 hotspot, following emergence of positive patients, during the nationwide lockdown to curb the spread of coronavirus, in Kochi, Thursday, April 23, 2020.
(PTI)
---
New Delhi
|
Published 23.04.20, 11:17 PM
|
---
Residents of coronavirus hotspots who develop flu-like symptoms should seek medical attention and tests for Covid-19 without delay, a pulmonary medicine specialist and member of the national task force said on Thursday.
Randeep Guleria, director of the All India Institute of Medical Sciences, New Delhi, cautioned that delays could increase mortality.
India has established around 194,000 hospital beds with oxygen support and 12,000 ventilators across the country for Covid-19 patients. But Guleria expressed concern that the stigma or fear surrounding the infection might cause some patients to delay seeking treatment.
Central guidelines released this month say patients with flu-like symptoms such as fever, cough or runny nose in hotspot districts or densely populated areas need to seek medical attention.
"But the stigma is creating a huge problem," Guleria said. "Because of the stigma, many patients who have Covid-19 or flu-like symptoms are not coming forward to healthcare facilities."
He added: "They are coming very late when they are breathless — and this is leading to higher mortality. Many of these patients can be saved by just one treatment — giving them oxygen. When people have pneumonia or viral infection and their blood oxygen goes low, it can trigger other problems."
Guleria did not specify what proportion of the 9,954 Covid-19 patients diagnosed nationwide since April 15, when testing was opened up to patients with flu-like symptoms, had presented themselves late for diagnosis.
He said it was important that "more and more people come out for testing". "If you're tested early and reach the hospital early, and treatment is started, it will save your life. If you don't come to the hospital and you have Covid-19 and you come in a state when you're gasping for breath, it will lead to higher mortality," Guleria said.
Around 80 per cent of Covid-19 patients have mild symptoms and mostly do not require hospital care, but are housed in isolation beds in the so-called "Covid care centres" to prevent the spread of the virus. Another 15 per cent of patients recover with only supportive and oxygen therapy, Guleria said. Less than 5 per cent need critical-care beds or ventilator therapy.
Guleria's plea applies to all the 170 districts designated as hotspots by the government last week because they have large outbreaks or multiple clusters of infections.
A top government official and member of an empowered panel advising the government on its response to Covid-19 said the country had used the period of lockdown to ramp up testing facilities and hospital infrastructure.
"We've gainfully used this period to ramp up hospitals' capacity across states and to the district level," said Chandra Kishore Mishra, environment secretary.
"Our first goal is that people need not come to hospitals. But the second goal is to ensure that every person gets all that is needed in a hospital."
Mishra released fresh data to show that the lockdown had curbed the spread of the coronavirus, with the average proportion of people testing positive remaining between 4 and 4.5 per cent over the past month.
India's number of confirmed cases on Thursday was 21,700 and the number of tests conducted was around 500,000. In contrast, by the time many other countries had completed 500,000 tests, their numbers of confirmed cases were much higher – 80,000 in the US, 120,000 in the UK, and 100,000 in Italy.
Among India's 21,700 confirmed cases, 4,325 have been discharged and 686 have died.