Party thanks PM for agreeing to cancel board exams
Covid: Congress prods 'callous' Modi government to act
The opposition party alleged that the Centre had blundered through 2020 when preparations could have been made to curb the spread of the virus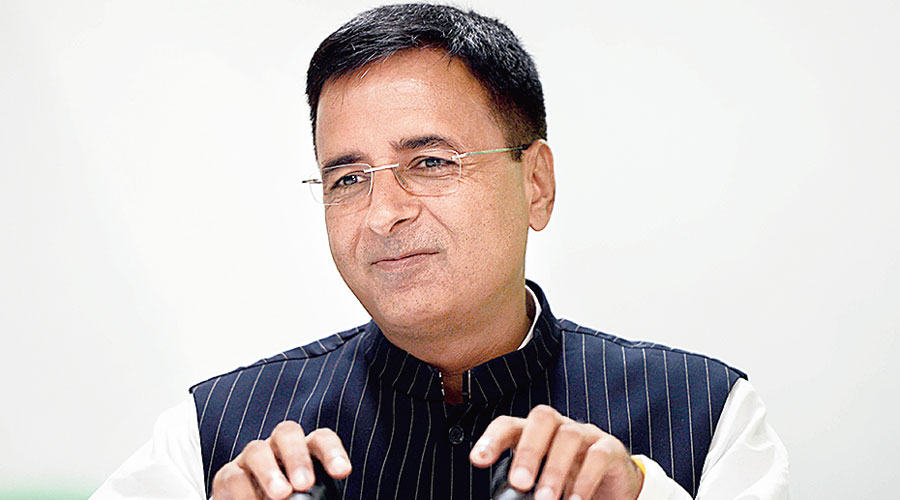 ---
---
The Congress on Wednesday said the Narendra Modi government's handling of the coronavirus crisis was "callous and cruel" as it had left people to fend for themselves.
Alleging that the government had blundered through 2020 when preparations could have been made to curb the spread of the virus and bolster health infrastructure, Congress communications chief Randeep Surjewala said: "We don't see any improvement when the country is dealing with the second wave. The government's callous attitude borders on cruelty and has endangered the lives of millions of people."
With Covid cases surging, hospital beds have quickly filled up and there are reports from several states of patients waiting outside in ambulances for admission.
Surjewala added: "Is the government a shop for a slanging match? When will they understand it is us versus corona, not us versus you? How can foreign minister S. Jaishankar say we will continue to export vaccines when states are facing shortage of vaccines?"
The Congress spokesperson continued: "Please don't discriminate between people and states, treat everybody as equal. Apart from vaccinating people and providing treatment to the infected, please offer financial assistance to the poor. Learn from the Maharashtra government, which has offered support to the poor despite meagre resources."
Maharashtra chief minister Uddhav Thackeray on Tuesday night announced fresh curbs to break the chain of infections, just stopping short of imposing a total lockdown. He exempted essential services, imposed prohibitory orders under Section 144 to curb gatherings and announced a Rs 5,476-crore relief package for those who will be affected by the restrictions.
While the popular scheme of cooked food — Shiv Bhojan costing Rs 5 per meal — has been made free, the government will supply 3kg of wheat and 2kg of rice per person free of cost for one month to the beneficiaries of the Food Security Scheme. Five lakh licensed hawkers, 12 lakh auto rickshaw drivers, construction workers and maidservants will be given Rs 1,500 each. Each poor tribal family will be given Rs 2,000 for one month.
The Congress thanked the Prime Minister for agreeing to cancel board exams. Priyanka Gandhi Vadra, who had forcefully raised the matter with the education minister, tweeted: "Glad that the government finally cancelled the 10th standard exams. However, a final decision must be taken for the 12th grade, too. Keeping students under undue pressure until June makes no sense. It is unfair. I urge the government to decide now."