Centre recommends cloth face masks
Stress on those who step outside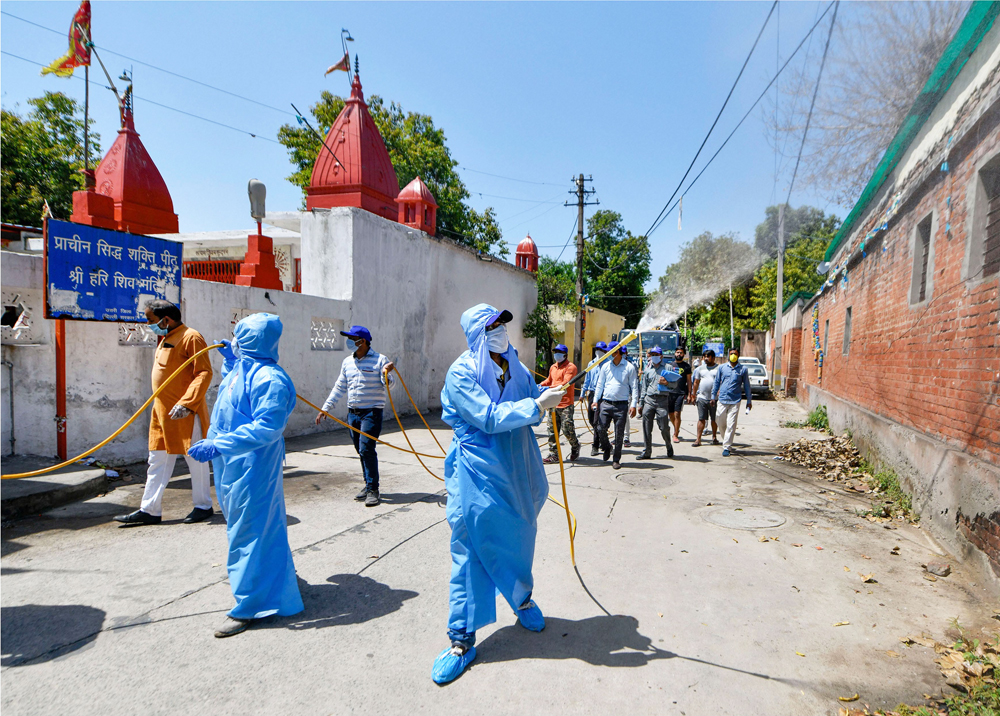 North MCD workers sanitize a locality in the Civil Lines area in the view of the coronavirus outbreak during the ongoing nationwide lockdown, in New Delhi, Saturday, April 4, 2020.
(PTI)
---
New Delhi
|
Published 04.04.20, 09:56 PM
|
---
The Union health ministry on Saturday recommended the universal use of protective face masks prepared from cloth, in line with advisories earlier this week from a top Indian science agency and the US Centers for Disease Control (CDC).
The health ministry has, citing a document released on Tuesday by the office of the principal scientific adviser to the government, asked people to use handmade protective reusable face covers, particularly when they are outside their homes.
"This will help in protecting the community at large," the ministry said.
However, such face covers are not recommended for healthcare workers, other people in contact with coronavirus patients, and patients with breathing difficulties, it said.
The face covers could be made from clean cloth at home, washed with soap and water and dried after every use, and used in such a manner that it can cover the mouth and the nose completely when tied across the face, the ministry's advisory said.
"This is an important advisory. The universal use of cloth masks will slow down transmission of the virus," said T. Jacob John, a clinical virologist and emeritus professor at the Christian Medical College, Vellore.
"Health authorities in the Czech Republic and Taiwan have adopted this strategy — and have gained benefits."
The cloth masks are primarily intended for use outside homes, particularly in areas with high population density or large numbers of people.
A senior health ministry official said the earlier guidelines on medical masks — recommended for people with respiratory symptoms and healthcare workers — stand. The guidelines discourage otherwise healthy people from wearing medical masks.
The office of the PSA had on Tuesday released a 16-page "do-it-yourself" picture manual with instructions on making reusable masks at home, stitching together thin strips and patches of cotton by hand or a sewing machine. It also showed how to make a mask from cloth and rubber bands.
The US Centers for Disease Control had on Friday recommended the use of cloth face covers, especially in areas of significant community transmission of the virus.
"We now know that a significant proportion of individuals with coronavirus lack symptoms and that even those who eventually develop symptoms can transmit the virus to others before showing the symptoms," the CDC said.
This means that the virus can spread between people interacting in close proximity – for example, speaking, coughing or sneezing – even if those people are not exhibiting symptoms, the agency said.
"In light of this new evidence, the CDC recommends wearing cloth face coverings in public settings where other social distancing measures are difficult to maintain (eg, grocery stories and pharmacies) especially in areas of significant community transmission."
The CDC said it is critical to emphasise that maintaining six-feet social distancing remains important to slow the spread of the virus. "The CDC is additionally advising the use of simple cloth face coverings to slow the spread of the virus and (prevent) people who may have the virus and do not know it from transmitting it to others."