Puri entry bar for cops
Only officers deployed for Rath Yatra will be allowed in the city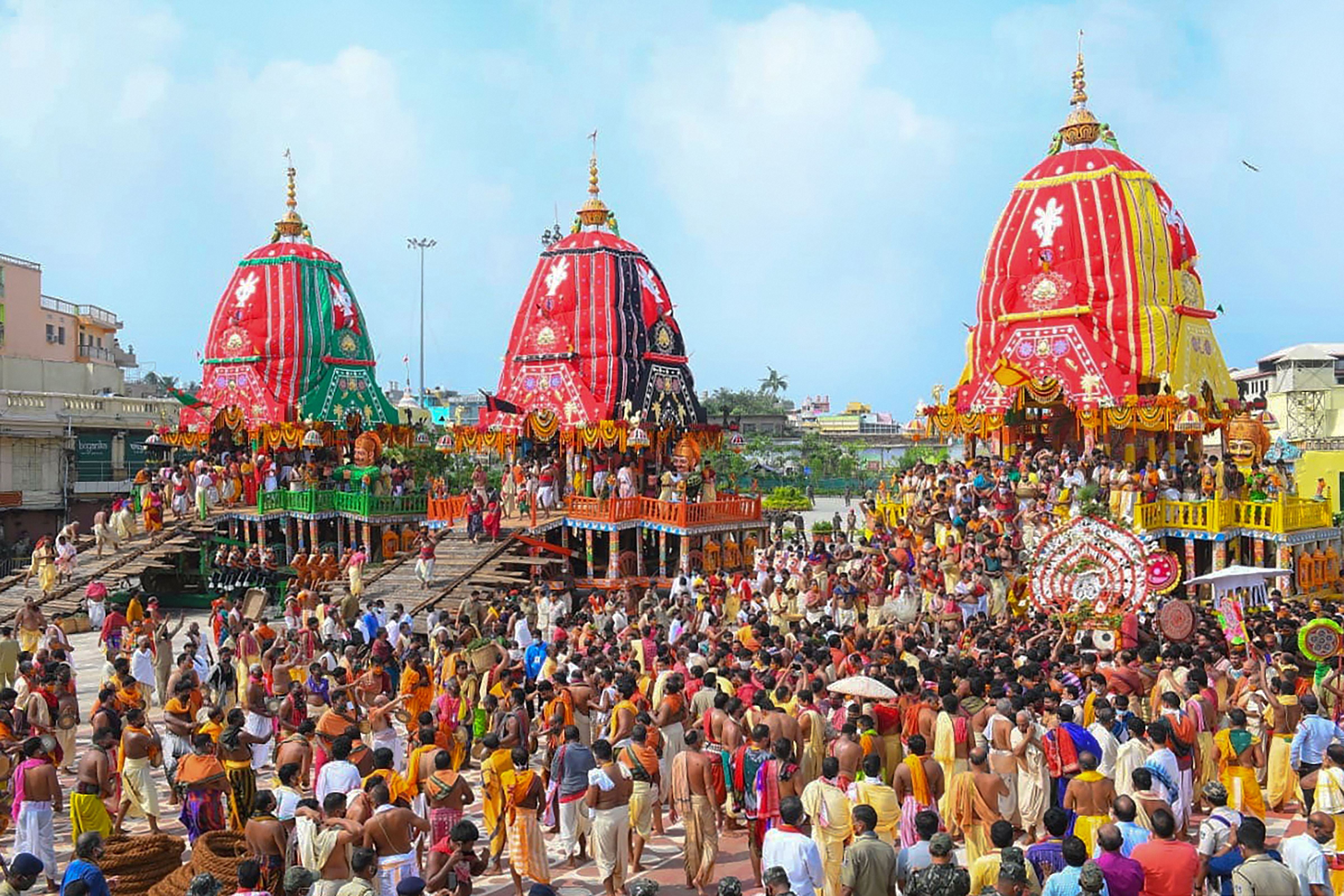 Priests and devotees take part in the pahandi rituals of Jagannath Rath Yatra in Puri on June 23, 2020.
PTI
---
Bhubaneswar
|
Published 28.06.20, 02:39 AM
|
---
Odisha police have issued instructions to all its officials not to visit Puri till July 4. Only those officers who have been deployed for the Rath Yatra are allowed to enter the city. A communiqué to this effect has been issued to all the district police and the commissionerate police, Bhubaneswar and Cuttack.
DGP Abhya in an official order said: "Possibility of some officers alone or with family visiting Puri on the pretext of official work or otherwise for "darshan" cannot be totally ruled out. Hence, it is hereby laid down that other than officers posted in Puri district and those deputed for law and order duty, no officer will be permitted to go on official duty to Puri till July 4."
According to the communiqué in case of urgency and if the duty cannot be postponed, permission will be taken from state police headquarters.
"When we are requesting the devotees not to visit Puri during the Rath Yatra, its our duty to maintain self-discipline. Earlier, the police had come under severe criticism as one of the inspectors of police had entered the 12th century Shree Jagannath shrine violating the lockdown guidelines. We want to ensure that such things are not repeated," said a senior police official.
According to the Supreme Court guidelines, Rath Yatra is being organised without the participation of the devotees. Only the servitors of the temple who have tested negative for Covid-19, have been allowed to participate.
The Lord Jagannath and his siblings who are in the Shree Gundicha temple will make the return journey on July 1, popularly known as Bahuda Yatra. After the Lord reaches the Shree Jagannath temple, the next day the siblings will be adorned in golden attire known as Suna Vesha. On July 4, the deities will enter the Shree Jagannath temple and the Rath Yatra will come to an end.
Puri district administration on Saturday decided to impose curfew across the whole district from 10PM of June 30 till 10PM of July 2.
In the absence of deities in the main temple, a team of the Archeological Survey of India (ASI) has inspected the sanctum sanctorum. "We are undertaking minor repairs in the sanctum sanctorum. It will be completed before the Lord returns," said an official of ASI.
PCC chief fined Rs 500
Odisha Pradesh Congress Committee (PCC) president Niranjan Patnaik was fined Rs 500 by the commissionerate police for violating social distancing norms. He violated the social distancing norms while taking part in a protest by the Congress and 13 other political parties at Master Canteen in the heart of the city against the government's complete failure in dealing with Covid-19.