Centre's muddled maths on migrant workers
Two ministries, two counts: 26 lakh, 99 lakh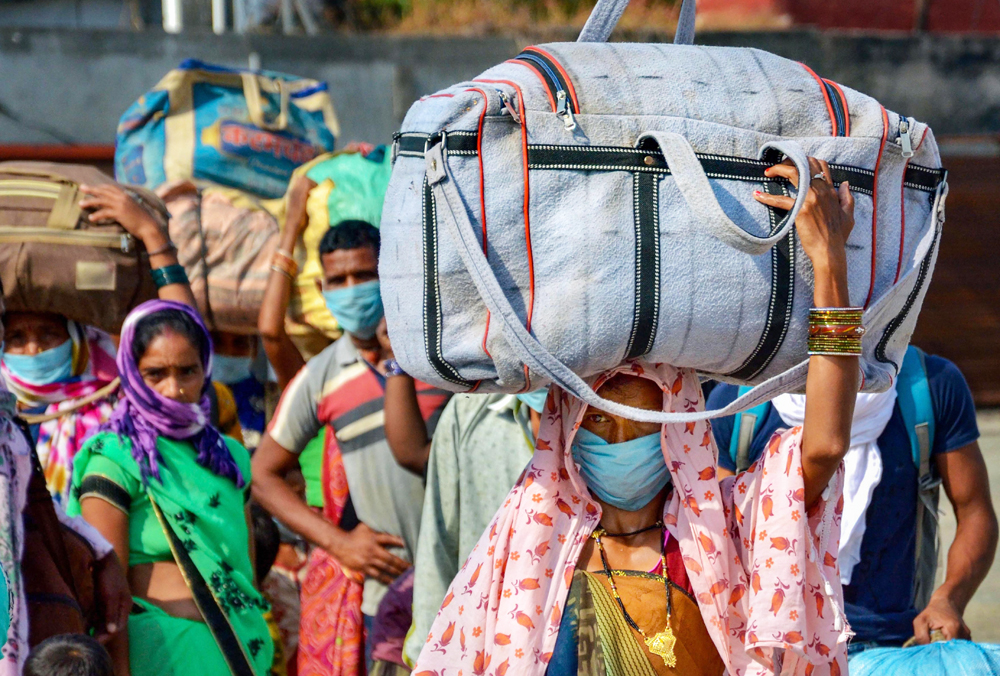 Migrants from Chhattisgarh arrive at Amritsar railway station to board a special train to return to their native places during the ongoing Covid-19 lockdown on June 4
(PTI)
---
New Delhi
|
Published 04.06.20, 10:54 PM
|
---
Twenty-six lakh people with 99 lakh mouths.
No, it's not a tale from the government's beloved mythological texts but a logical inference from the migrant counts carried out by two of its arms.
A labour ministry wing counted just over 26 lakh stranded migrant workers countrywide in April, shortly after the Union home ministry told the Supreme Court that 99 lakh migrants were being fed free of cost across the country.
The latest figure, uploaded on the central chief labour commissioner's (CLC) website on Thursday, has attracted charges of poor data collection from activists and labour economists, who say even the home ministry figures were a gross underestimate.
Surprisingly, the CLC has counted 10.5 lakh stranded migrant workers in Chhattisgarh — a small, largely rural state — and only two lakh in industrially advanced and sprawling Maharashtra.
Rajan Verma, the central CLC, had written to all the regional heads on April 8 to collect data on the migrant workers stranded in industrial clusters, work sites and shelter homes.
On Thursday, the commissioner's data said more than 12.2 lakh workers had been stranded in the industrial clusters, 11.29 lakh at work sites and 2.63 lakh in shelter homes.
On April 7, the home ministry had told the apex court that the central and state governments were feeding 54 lakh migrants, the NGOs were feeding nearly 30 lakh, and another 15 lakh were receiving food from industry and employers.
Gyanesh Kumar, additional secretary in the home ministry, had filed the affidavit in the court connection with activist Harsh Mander's petition for the payment of minimum wages and the supply of rations to migrant workers during the lockdown period.
On Wednesday, a media release from the government's publicity arm, the Press Information Bureau, had said the railways had operated 4,197 Shramik Special trains and ferried more than 58 lakh migrants home.
"They (CLC) have not collected the data well," said Chandan Kumar, national coordinator of the Working People's Charter, an alliance of over 150 informal workers' organisations.
Kumar said the government lacked accurate data because it had never implemented the Inter-State Migrant Workmen Act, 1979, which mandates the registration of migrant workers in their source state and destination state.
The CLC had not published its data until an activist filed an RTI application and moved the chief information commissioner after being denied the information.
Labour economist Ravi Srivastava has estimated that the country has 12 to 14 crore migrant workers, about half of them seasonal migrants.