Congress pays respects to Arun Jaitley
Leaders like Ahmed Patel, Anand Sharma, Kapil Sibal and Abhishek Singhvi expressed condolences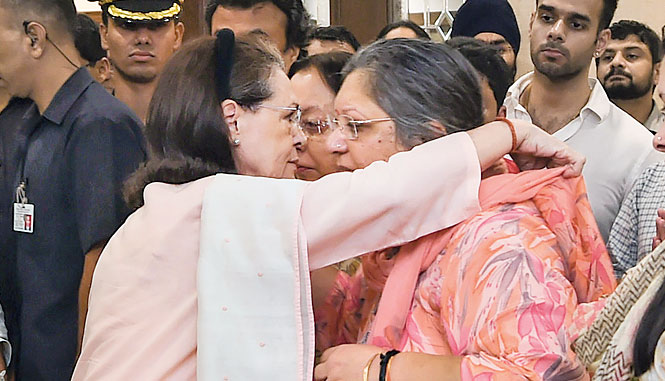 ---
---
Congress president Sonia Gandhi expressed deep pain and distress at the "untimely" passing of BJP leader Arun Jaitley, saying his contribution to public life as a parliamentarian and minister would be remembered forever.
Former Prime Minister Manmohan Singh also wrote to Jaitley's wife, expressing profound sorrow. Singh said: "Jaitley was an eminent lawyer, an excellent orator, a very good administrator and an outstanding parliamentarian. In his death, our country has lost a great leader…."
Rahul Gandhi tweeted: "I am sorry to hear about Mr Arun Jaitley's passing. My condolences to his family and friends. May he rest in peace."
Many other senior leaders like Ahmed Patel, Anand Sharma, Kapil Sibal and Abhishek Singhvi also expressed condolences.
The Congress had enjoyed good political rapport with Jaitley when he was leader of the Opposition in the Rajya Sabha during the UPA years. Although the relationship got strained after Narendra Modi came to power, Congress leaders continued to treat him with respect.
As an Opposition leader, Jaitley showed a mature understanding of the systemic relationship between the government and the opposition, and the communication gap between the Congress and the BJP increased only after Jaitley's approach changed under Modi regime.