Congress had opposed Verma's nomination
Mallikarjun Kharge, part of collegium, had said Verma had no experience in CBI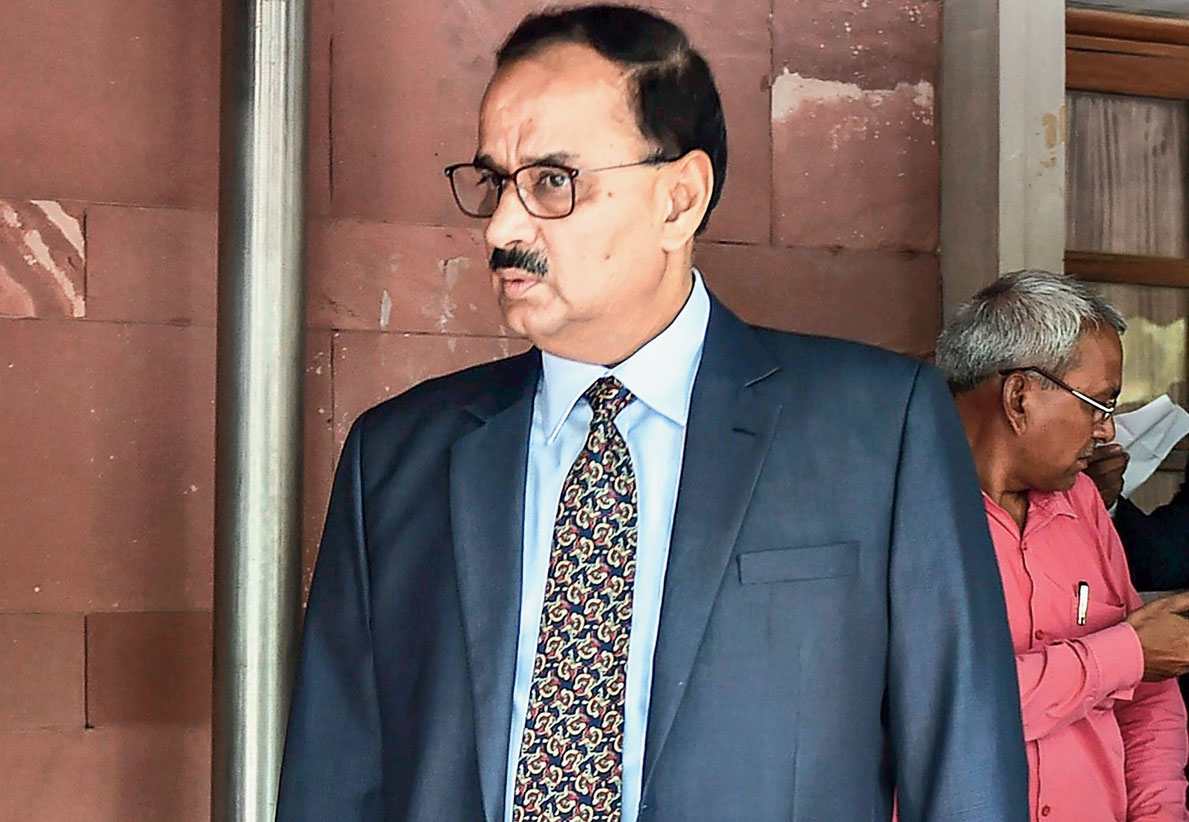 ---
New Delhi
|
Published 24.10.18, 09:18 PM
|
---
The Narendra Modi government has dropped hints at a collusion between benched CBI director Alok Kumar Verma and the Opposition but his nomination had been opposed by the Congress when his name had come up for consideration.
In January last year, the Narendra Modi government had appointed Verma, the then Delhi police commissioner, as CBI director despite a "note of dissent" by Mallikarjun Kharge, the Congress veteran and leader of the largest Opposition party.
Kharge, who was part of the three-member collegium of Prime Minister Narendra Modi and Chief Justice of India to select the CBI chief, had opposed the government's choice of Verma.
He said Verma had no experience of working with the country's premier investigating agency. But the then Chief Justice of India, Justice J.S. Khehar, and Prime Minister Modi went with the seniority criteria that tilted the scales in Verma's favour.
Verma, a 1979 batch IPS officer of the Arunachal Pradesh-Goa-Mizoram and Union Territory cadre, is known as a "tough taskmaster" and a "good administrator". He can add "sixth sense" to his resume.
In his first address to CBI officers after taking over as director of the agency, Verma had told them to stay away from "corruption".
Over a career spanning
38 years, Verma, who graduated from St. Stephen's College, has discharged various
roles in vigilance, intelligence, crime-fighting, railways and administration. He was also a director-general of the Tihar jail.
"An avid golfer, Verma is known as a good administrator and a tough taskmaster. The ugly turf war between him and his deputy in the CBI came as a big shock as he always had good relations with his subordinates," said an IPS officer.
Officials in the Union home ministry said Verma was once close to the political leadership. But the feud between him and his deputy Rakesh Asthana — and the silence from a section in the Prime Minister's Office that was backing the No. 2 — made things worse, they added.
"Asthana was close to officials in the Prime Minister's Office and started calling the shots, much to the dislike of Verma. As a boss, Verma reached out to the PMO to act against Asthana, considering he was being probed in some graft cases, but it boomeranged. A dirty game was launched to defame Verma," a home ministry official said.
"Unlike his predecessors, Verma is reticent, he never interacts with the media and was untouched by any controversy," said a CBI officer. He has stayed away from interviews during his 21 months as the agency's director.
Reticence in public is an asset for a bureaucrat but questions can be raised if officials become reluctant to speak up on time.
The feud between Verma and Asthana spilled out in the open in October last year when the director had objected to Asthana's elevation as special director, saying his name figured in a bribery case.
"But why did he not object when the government recommended Asthana's promotion in July last year? It's only after two months that he aired his views on Asthana's suitability. What induced this change of heart is still shrouded in mystery," an official said.
During his stint as Delhi police commissioner, Verma had brought in changes in the functioning of the force. Instead of micromanaging daily affairs, he used to call a meeting of the top brass every week to take stock and discuss measures to make policing people-friendly.
"He used to tell the top brass that the doors of the police headquarters should always be open for the common man and he appealed to the personnel to stay away from corruption, rudeness and barbarism," recounted an IPS officer attached to Delhi police.
Verma had promoted nearly 26,000 personnel of Delhi police who had been denied elevation for the past two decades.
Although several Aam Aadmi Party MLAs were arrested after Verma took over as Delhi police chief, the state government did not target him. Verma's predecessor B.S. Bassi was vocal and had several run-ins with chief minister and AAP leader Arvind Kejriwal.