Rahul commits to women's reservation
Congress chief backs reservation of 33% of seats in Parliament and state legislatures for women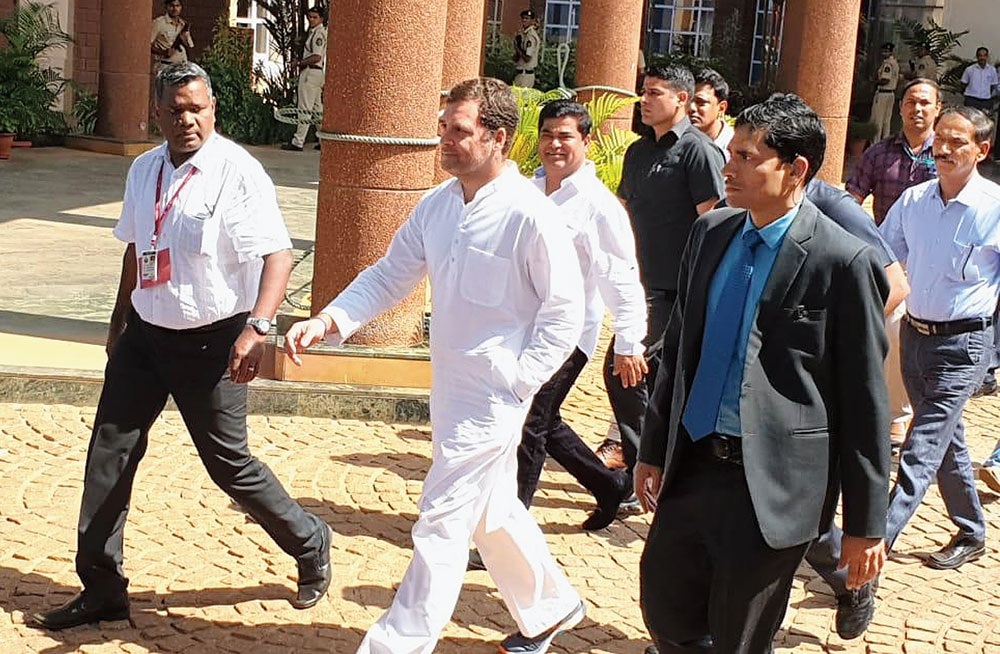 ---
---
Rahul Gandhi on Tuesday said the "first thing" the Congress would do if it wins the upcoming parliamentary elections is pass the long-pending women's reservation bill, saying his party wanted to see more women in positions of leadership.
The Congress chief also contrasted his Monday's proposal for a minimum income guarantee scheme for the poor with Narendra Modi's "maximum income guarantee" to his "rich friends", in a dig at the Prime Minister and the BJP government at the Centre.
Rahul's assertion on the women's bill, which seeks to reserve 33 per cent of seats in Parliament and state legislatures, came in response to a suggestion from a party worker.
"The first thing we are going to do once we win the 2019 election is to pass the women's reservation bill in Parliament," Rahul said while addressing the party's booth-level leaders in Kochi.
The suggestion on the bill — pending for a long time because of lack of consensus — had come through the Shakti app, a medium of direct communication between leaders and party workers.
Rahul said he wanted more youths and women to participate in politics and see more women even on the huge stage from where he was addressing the gathering.
"We will ensure that in every election many more youngsters and women (will) participate. We want to see women in positions of leadership," he said.
Rahul said the beneficiaries of the minimum income guarantee scheme would receive the money directly in their bank accounts. "The Congress party has decided if Narendra Modi can give a maximum income guarantee to 15 people (his rich friends), we are going to give a minimum income guarantee to every single poor citizen of India," he said to rapturous applause.
He compared the proposal to the rural job scheme MGNREGA, which guarantees every village household the right to work for a certain number of days in a year; the RTI Act that gives people the right to information, and the Food Security Bill, which guarantees right to food.
He also promised to restructure the goods and services tax if the Congress wrests power at the Centre. "I have said it before and I will say it again; the moment we come to power in 2019, we are going to restructure the Gabbar Singh Tax and make it a real GST."
Rahul slammed Modi for trying to create "two Indias" — one for the super rich and one for farmers, labourers and the middle class. "We are not going to allow an India where 15 people can live like kings, can fly in private aeroplanes, can have anything they want, and the rest of this country is poor," Rahul said.
Rahul brought up CBI chief Alok Verma's removal earlier this month, linking the decision to the Rafale scam and the offset contract awarded to an industrialist. The "Prime Minister of India is corrupt", Rahul said in a direct attack on Modi. "He is protecting himself when he removes the chief of the CBI and he ensures that no enquiry is carried out."