Congress chief ministers reissue carte blanche to Rahul
He can replace anybody: Gehlot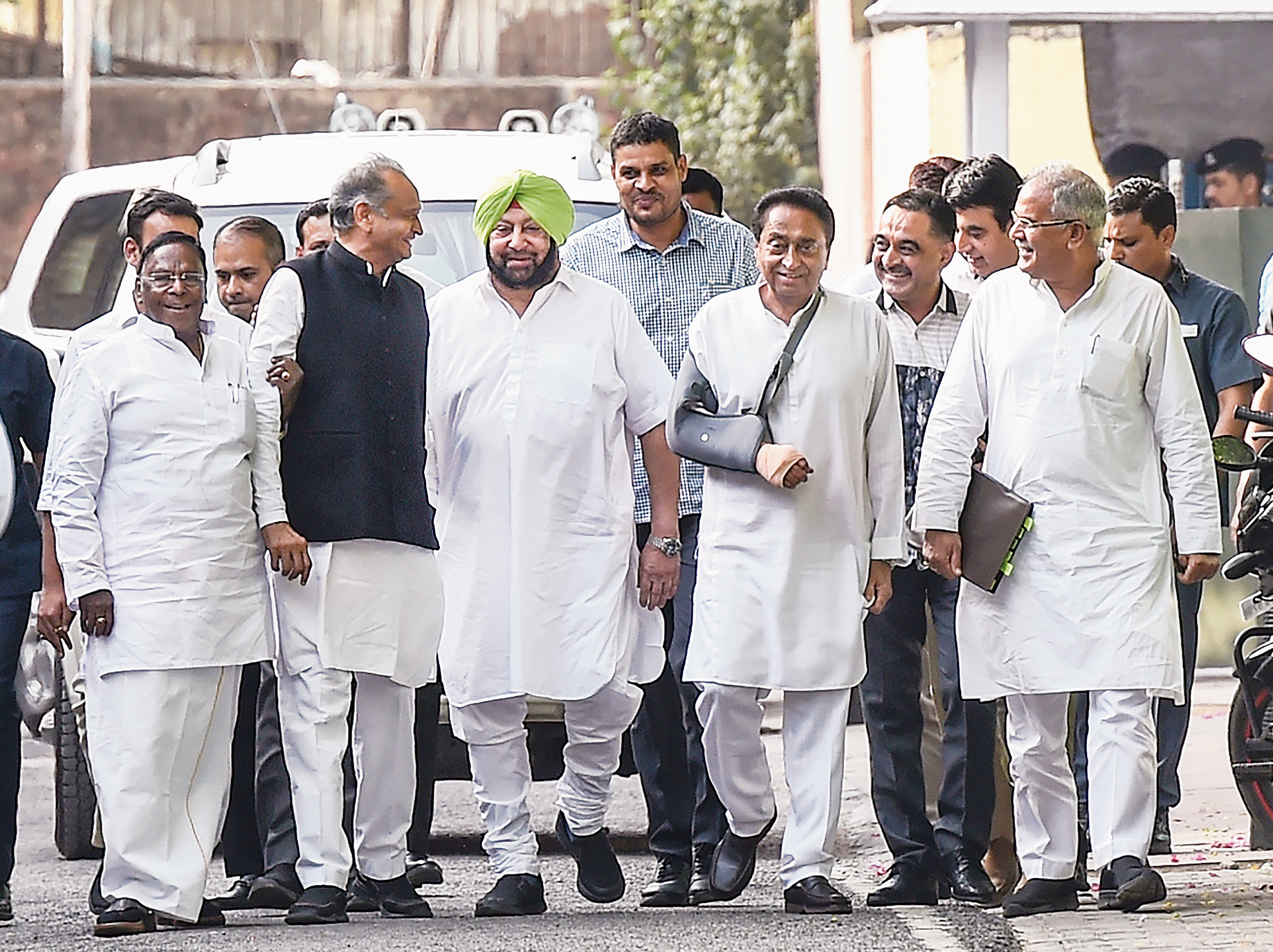 (From left) V Narayanasamy, Ashok Gehlot, Amarinder Singh, Kamal Nath and Bhupesh Baghel after meeting Rahul Gandhi in New Delhi on Monday.
Picture by Prem Singh
---
New Delhi
|
Published 02.07.19, 12:05 AM
|
---
Congress chief ministers on Monday tried to persuade Rahul Gandhi to withdraw his resignation as party president, saying he alone could not take responsibility for the defeat in the elections and nobody else was capable of reviving the organisation at this critical stage.
The chief ministers cited the principle of collective responsibility and said they were equally to blame for the results, which they primarily attributed to Prime Minister Narendra Modi's ability to "mislead" the people in the name of the army and religion.
They expressed solidarity with Rahul and asked him to freely take any decision while restructuring the party.
Asked if that meant offering their resignation, Rajasthan chief minister Ashok Gehlot said on behalf of all of them: "Resignations are offered on the day of results. It is for the high command to decide after the poll debacle what to do next. The Congress Working Committee has already authorised Rahul Gandhi to restructure the party organisation. He can replace anybody."
This was an indirect way of conceding that they had indeed iterated before Rahul that he was free to take any decision for the party's good, including a change of guard in the states.
Instead of resorting to sensational offers to resign that could immediately inject instability in the states, the chief ministers have indicated that they would accept the party chief's decision without any resistance.
The Congress's dreams were shattered mainly because of the pathetic performance in Madhya Pradesh and Rajasthan.
Other chief ministers — Captain Amarinder Singh from Punjab, Kamal Nath from Madhya Pradesh, Bhupesh Baghel from Chhattisgarh and V. Narayanasamy from Puducherry — didn't speak.
"We have expressed our feelings before Rahulji. We had a thorough discussion… dil se baat hui. We hope for a positive outcome," Gehlot said, implying Rahul's continuance as party president.
Gehlot added: "Rahulji campaigned with full force. He did issue-based politics. But (Narendra) Modiji misled the country. He didn't raise issues of development, of the economy. All real issues were pushed aside while he used religion and the army to mislead the nation. Sena ke peechhe chip kar rajniti ki (He did politics by hiding behind the army)."
Rahul feels that the senior leadership didn't back him fully and many leaders did have reservations about certain key elements of the campaign strategy.
Gehlot had indicated before the meeting that the chief ministers would convince Rahul that everybody had unflinching faith in his leadership.
In a series of tweets, he had said: "The Chief Ministers will meet Rahul to show solidarity. Earlier also we have stated that we are with him and we own the responsibility for the 2019 debacle. We firmly believe that only he can lead the party in the current scenario, his commitment towards (the) well-being of our country and countrymen is uncompromised and unmatched."
He added: "The 2019 election was not a defeat of the programme, policy and ideology of the Congress. Although it was very unfortunate to see that despite the failure of (the) Modi Government on various fronts including the depleting economy, the BJP did manage to hide their huge failures behind their fanatic nationalism with the help of enormous resources and government machinery at hand. But, in spite of all odds, it's no secret how amidst opposition, only (the) Congress president did his best to make it an issue-based election and took (the) BJP head on."
Rahul, however, has not given any indication of yielding to pressure. Although he has been meeting leaders of election-bound states, he has made it clear that he was trying to help them in his individual capacity.
On Monday, he met leaders from Jammu and Kashmir, including Ghulam Ahmed Mir, Ghulam Nabi Azad, Ambika Soni (the general secretary in charge of the state) and all five party candidates who fought the Lok Sabha elections.
The party too has realised a new leadership structure will have to be raised and there is speculation around several names.
Leaders like former home minister Sushil Kumar Shinde, former railway minister Mallikarjun Kharge and Ashok Gehlot are doing the rounds.