Congress spies DeMo2 in Centre's bid to grab RBI cash
Party alleges that senior finance ministry officials are being forced to write juvenile tweets to mislead people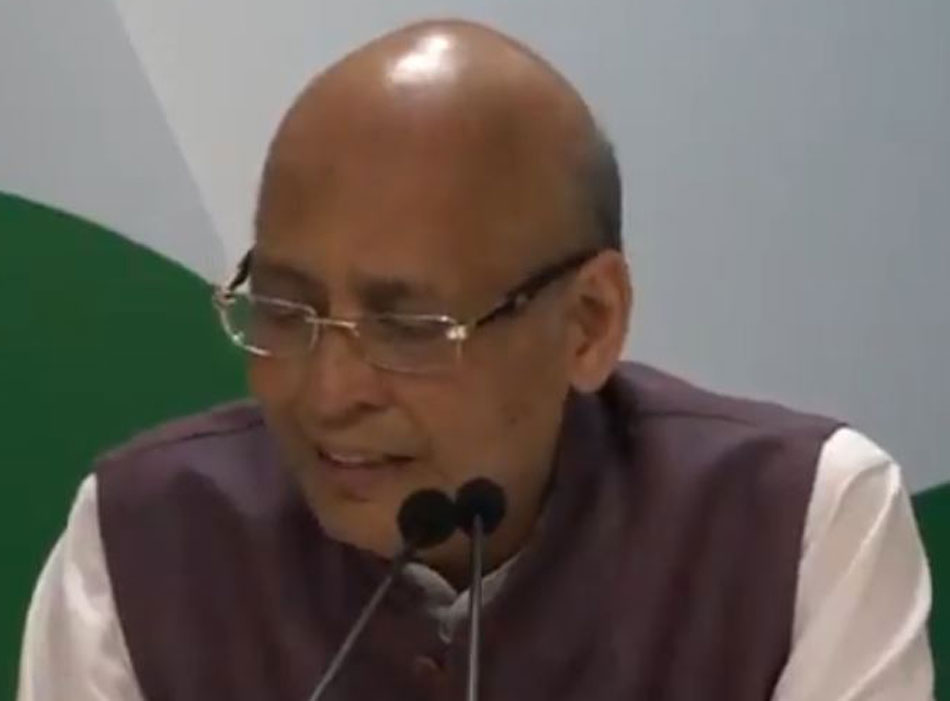 ---
New Delhi
|
Published 12.11.18, 09:52 PM
|
---
The Congress on Monday said the Narendra Modi government's intention to force the Reserve Bank to part with Rs 3.6 lakh crore from its contingency reserves amounted to "Demonetisation-II", predicting it would hurt the economy as much as the November 2016 decision had done.
"The Modi-made disaster of demonetisation shaved off 1.5 per cent of India's GDP and severely denigrated the institutional autonomy of the RBI," spokesperson Abhishek Singhvi said.
"Now the Prime Minister plans Demonetisation-II that will again shave off 2 per cent of India's GDP in one shot. Also, the demand for Rs 3.6 lakh crore from the RBI reserves is illegal and unethical."
Singhvi added: "The government is giving vague arguments to mislead. What is the meaning of fixing appropriate economic capital framework? A cobweb of fraudulent narrative, which smacks of despotism and complete disregard for institutional integrity, is being carefully woven by the government, so that it snatches away the family silver in an election season, to offer sops to the voters and to provide cushion to the crony capitalists."
The government has said it is not looking to force the RBI to transfer Rs 3.6 lakh crore to fund spending in an election year. "…Only proposal under discussion is to fix (an) appropriate economic capital framework for the RBI," economic affairs secretary Subhash Chandra Garg tweeted last week.
Singhvi said senior finance ministry officials were being forced to write juvenile tweets to mislead people. "In the late 1990s, deputy governor Y.V. Reddy had appointed the V. Subrahmanyam committee to go into the question of the minimum contingency fund the RBI must keep to meet emergency requirements. The committee recommended 12 per cent of the RBI's assets.…
"In the UPA government, this question was further studied by the Y.H. Malegam committee, which didn't prescribe a specific minimum requirement. As the Malegam committee's (other) recommendations started getting implemented in the latter half of UPA-II, the RBI regularly transferred higher amounts (Rs 40,000 to Rs 50,000 crore) year after year. As a result of demonetisation, the dividend amount plummeted to just Rs 30,659 crore in 2017-18 as opposed to Rs 65,876 crore in 2016-17 in the previous fiscal."
The Congress pointed out that the contingency reserves were now at barely 6 per cent. "The nefarious ploy of the Modi government seeking joint control of the management of the reserves will be detrimental to the RBI's institutional autonomy," Singhvi said.
"These funds of the RBI will be used by the government to recapitalise public sector banks, failing PSUs, thereby benefiting crony friends in an election season."
Asked about Modi's comments at an election rally in Chhattisgarh that Sonia Gandhi and Rahul Gandhi had been forced to seek bail because of demonetisation, Singhvi said: "We need not respond to all vulgar comments but this one is made by the Prime Minister. The emperor of lies has delivered another lie. What is the link of the false, vindictive case of National Herald with demonetisation? We are accustomed to fighting false cases since the British era; we can't be cowed down by any vendetta."
Singhvi added: "Why is the Prime Minister not answering specific questions relating to demonetisation? How so much money was deposited in one cooperative bank of Ahmedabad? How in some accounts of government blue-eyed boys, huge amounts were deposited just around demonetisation? He should answer questions instead of issuing pitiable and empty threats."