Communal hate gnaws at livelihood of the poor
Muslim scrap dealer forced to chant 'Jai Shri Ram' at Madhya Pradesh village, and Muslim food seller attacked in Mathura, Uttar Pradesh on the same day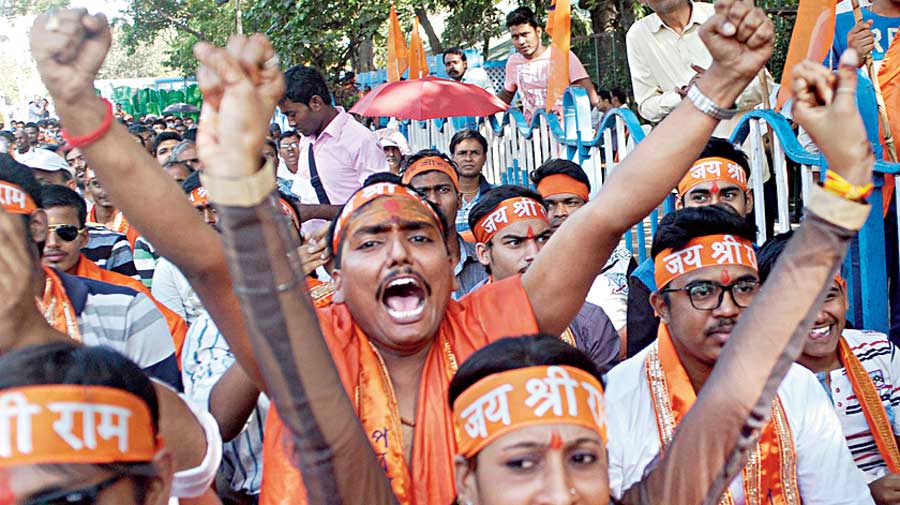 ---
Bhopal, Mathura, Ujjain
|
Published 30.08.21, 01:37 AM
|
---
One Muslim trader was coerced into chanting "Jai Shri Ram" while another was attacked for naming his food stall after a Hindu god.
Two men have been arrested on the charge of forcing a Muslim scrap dealer to chant "Jai Shri Ram" at a village in Ujjain district of Madhya Pradesh on Saturday, an official said.
A video shows two youths purportedly telling a middle-aged man in a cap: "How can you do business in our village? Say 'Jai Shri Ram'."
The man resists for a while, saying "Listen to me" repeatedly, before giving in and chanting Ram's name and asking: "Are you happy now?"
In the Uttar Pradesh district of Mathura — believed to be the birthplace of Krishna — some people threatened a Muslim dosa seller, Irfan, and vandalised his stall because he had named his business after the god.
A video clip shows a man tearing down a board that says "Shrinath dosa corner" while another fumes that the name would mislead Hindus into eating at his stall.
A voice asks why the vendor has not been using a Muslim name for the stall. Some people are heard chanting a slogan calling "Krishna devotees" to "purify" Mathura.
R.K. Rai, sub-divisional officer of police in Mahidpur, Ujjain, said: "Scrap dealer Abdul Rasheed, a resident of Mahidpur town who has been doing this business here for a long time, went to Sikli village to collect some scrap in his mini-truck."
He added that Rasheed was forced to leave the village and warned against doing business in the area. After he left, two men intercepted him at Pipliya Dhuma, roughed him up and forced him to chant "Jai Shri Ram", Rai said.
In a second video related purportedly to the Ujjain incident, two men are seen throwing away scrap from what appears the middle-aged man's four-wheeler and asking him not to enter the village again.
Actress Pooja Bhatt tweeted: "Mera Gaon. Mera Desh. Mera Ram. Mera Bhagwan. Marna toh hum sab ko hai. Aag mein jaloge ya nafrat mein (My village. My country. My Ram. My God. We all have to die. Would you rather burn in fire or in hate)?"
Mera Gaon. Mera Desh. Mera Ram. Mera Bhagwan. Marna toh hum sab ko hai. Aag mein jaloge ya Nafrat mein? https://t.co/Ng6Arjeeul

— Pooja Bhatt (@PoojaB1972) August 29, 2021
Jharda police station-in-charge Vikram Singh Ivne said Kamal Singh, 22, and Ishwar Singh, 27, had been arrested and booked for promoting enmity between different groups on grounds of religion, committing public mischief, voluntarily causing hurt, and other charges.
Madhya Pradesh Congress chief Kamal Nath said similar incidents had earlier occurred in Indore and Dewas.
"Has it been happening under a specific agenda? The government is watching everything as a mute spectator," he said.
State medical education minister Vishvas Sarang said the government was "committed to taking action and preventing such incidents" and asked whether the Congress was "behind making such videos and spreading them".
The Mathura incident took place on August 18 at Vikas Bazar. The police registered a case on August 28 invoking the charges of mischief causing damage, and criminal intimidation against unknown people.
City superintendent of police Martand Prakash Singh said the police were looking for the accused.