CJI-designate asks Centre, states to create a judicial infrastructure corporation
According to Justice Ramana, strengthening judicial infrastructure is the most important tool to reduce pendency and clear the backlog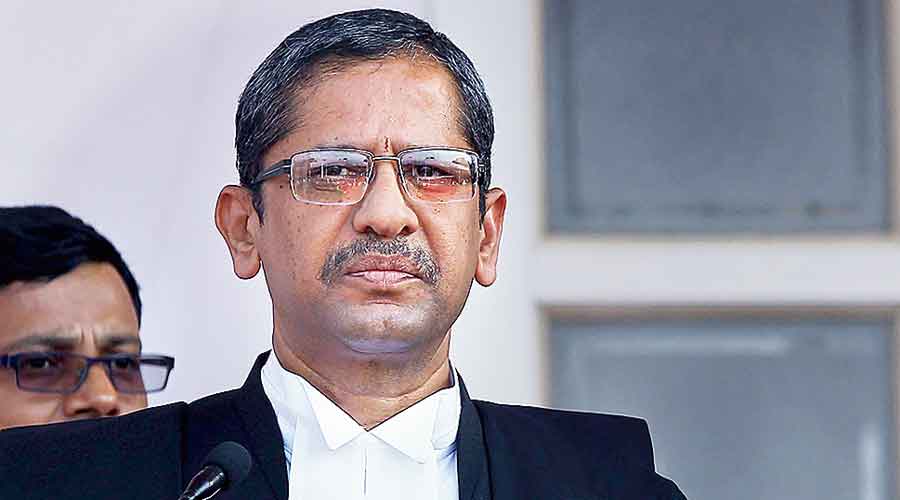 ---
---
Chief Justice of India-designate N.V. Ramana has regretted that despite 74 years of Independence, the nation continues to suffer from poverty and lack of access to justice for the downtrodden with nearly 4 crore cases pending in courts.
In an interview to The Telegraph, Justice Ramana, who will assume office as the 48th Chief Justice of India on April 24, asked the Centre and the states to create a judicial infrastructure corporation to tackle pendency.
"We can assert true accessibility (justice to all) when the person with the maximum disadvantage can still knock on the doors of the court of justice," Justice Ramana said.
Justice Ramana said financial constraints must never come in the path of progress and there was a need for the Centre and the states to co-operate and create the National Judicial Infrastructure Corporation, as a one-time measure, to cater to the need for judicial infrastructure in the country.
"Such a corporation would bring the uniformity and standardisation required to revolutionise judicial infrastructure," he added.
Justice Ramana said: "Ever since we declared ourselves to be an independent nation, we found ourselves caught between the twin problems of poverty and access to justice. The architects of modern India had debated this issue on several national and international platforms.
"Sadly, even after 74 years of Independence, we are still discussing the same issue. One would have expected that in this fast-paced world, topics such as these would have become outdated, however, it has not. We are still a country with millions of people living without access to basic fundamental amenities of life, including access to justice. As long as we are a nation which continues to face such dual realities, such discussions must continue."
The CJI-designate noted that people in the country are witness to courts operating from dilapidated old structures and rented premises, without proper record rooms or staff.
"There are premises without washrooms, waiting rooms, crèche services, or disabled-friendly infrastructure for litigants and lawyers.
"Situations like this have an adverse impact on the qualitative dispensation of justice. Therefore, it is important to concentrate our efforts on modernisation of judiciary. However, such endeavours must be undertaken after a careful stakeholder analysis and must portray the needs of changing times. Considering the intricacies involved in the judicial process, I call upon scholars and experts to provide a sustainable and inclusive model for modernising the judicial infrastructure in India," Justice Ramana said.
According to Justice Ramana, strengthening judicial infrastructure is the most important tool to reduce pendency of cases and clear the backlog.
However, the understanding of judicial infrastructure has to transcend beyond the issues of pendency, vacancy or the number of court rooms. It should involve modernisation, upgradation and creating a "barrier-free, citizen-friendly environment", he said.
According to the next CJI, there should be more emphasis on consolidating the free legal aid programmes for women and people from the Scheduled Castes and Scheduled Tribes.
"The idea of 'access to justice' is deeply embedded in the constitutional vision of justice. Legal aid is an important element in ensuring that access to justice is available to all persons, irrespective of their social or economic position.
"The legislative framework of the legal aid system of India reflects that it has made several categories of persons such as women, children, Scheduled Castes and Scheduled Tribes, persons in custody, persons suffering from mental illness or other disability, victim of disaster, industrial workmen and victim of human trafficking or beggars are eligible for legal aid irrespective of their income," Justice Ramana said, assuring that this would be one his top priority areas as the country's next CJI.