Chennai based group to honour Stan Swamy on Independence day
The event that will culminate in music and satire has been titled 'Kelvi Koothu' in Tamil and 'Dirge for Democracy' in English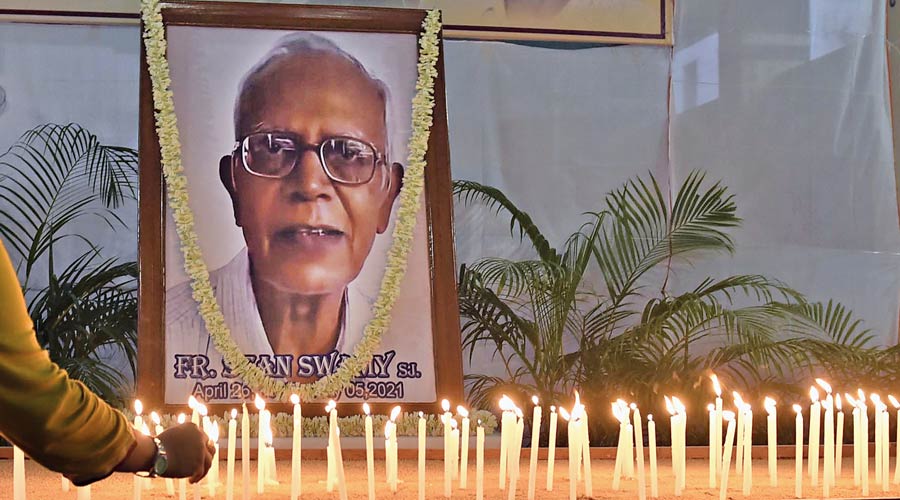 ---
New Delhi
|
Published 14.08.21, 01:39 AM
|
---
A Chennai-based group is hosting a series of discussions and cultural events that will culminate in music and satire webcast on Independence Day in honour of Father Stan Swamy.
The event, titled "Kelvi Koothu" in Tamil and "Dirge for Democracy" in English, has been organised by the Vettiver Collective, a group that agitates on social and environment issues by conducting unsponsored cultural events.
Environmentalist Nityanand Jayaraman, a member of the Collective, told The Telegraph the death of the 84-year-old Jesuit in judicial custody in Mumbai had triggered the event.
"Stan's death is not isolated," he said. "It is indicative of a culture that is choking democracy and constitutional values and (is behind) deaths from lack of oxygen, migrant workers walking back to their hometowns, violence by the State or by vigilantes. The event is a reminder of the multiple lives lost because of the State."
On Sunday, short plays based on poems written by two Tamil poets — Kavin Malar and Manushya Puthran — will be performed by a team of six artistes from a group called Kattiyakkari.
Isaivani, a prominent Tamil gaana-style folk singer, will sing Haanji, a satirical song on an autocratic ruler by lyricist Veronica. Another singer, Gaana Muthu, will perform Karuvadu (dried fish), a song about caste and politics.
Carnatic musicians Rithvik Raja and Praveen Sparsh will do a rendition based on an Ashokan edict on dharma. All this will be webcast free on the Vettiver Collective channel on YouTube.
The events will feature the oppari (lament) and gaana forms of music as well as theatre, mostly in Tamil, Jayaraman said.
"It is not merely a lament but we are celebrating the fact that we can fight back," he said.
"Independence Day is a renewal of our commitment to the sacrifices of our ancestors who fought for freedom, (and a commitment) to keep democracy alive and ourselves free."
The programme for Friday and Saturday features conversations between Sunday's performers and musician T.M. Krishna, filmmaker Malini Jeevarathnam and others, which are being streamed on their Instagram and Facebook accounts with updates on the Collective's Facebook page.
The event is part of the Justice Rocks series, which featured similar online performances last September, titled "Armed and Dangerous", on the police killing of George Floyd in the US and the custody deaths of 59-year-old P. Jayaraj and his son J. Bennicks in Tamil Nadu.
Besides Father Stan, 15 other academics, writers, lawyers and activists were arrested in the Elgaar Parishad-Maoist links case. After the Jesuit died on July 5 while waiting for bail, Tamil Nadu had witnessed large condolence gatherings in places where his ashes were laid in state.