Change of slogan in Jharkhand: Sabka vikas to sabka sarvanash
On May 18, 2017, four cattle traders, one of them a local resident, were lynched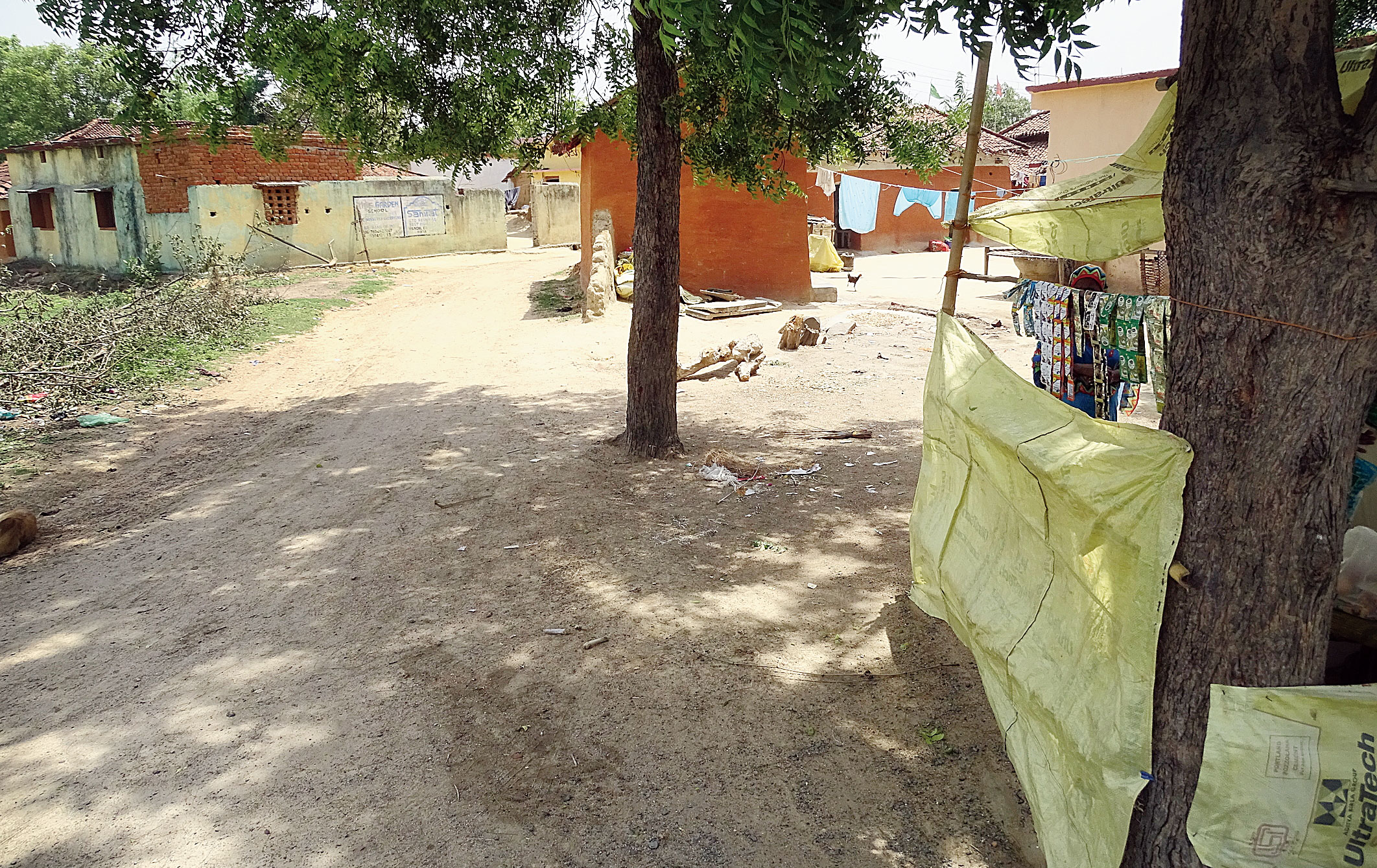 The site in Shobhapur village of Seraikela's Rajnagar block where four persons were killed in mob frenzy in 2017.
Picture by Shantanu Datta
---
Rajnagar
|
Published 10.05.19, 01:28 AM
|
---
It happened here, a small dry patch of a narrow road at the entrance of Shobhapur village. On May 18, 2017, four cattle traders, one of them a local resident, were lynched.
Everyone who lives in this all-Muslim village of Rajnagar block in Seraikela Kharsawan district uses the road everyday. They try not to think about the events of the day, but there are signposts. A village home a little ahead, the edges of its brick-tiled roof still black with soot from the blaze that gutted the vehicles the four were travelling in. A naked tree stub stands still, lifeless at the edge of the house opposite a mosque that is being renovated.
Sher Mohammed, whose house we are in, is a farmer, and speaks for the village. Of late the 51-year-old member of a block committee, that prioritises the development agenda of the locality, has one question for his Brahmin and Mahto friends of neighbouring villages: When laws are framed in this country, are they for an individual or for everyone?
Of course, he knows the answer. He is only checking with them. All agree that the Constitution is for each and every individual, the very people that make up society. So, who gives the right to some people to target individuals, based on the community they belong to, wonders Mohammed, a one-time loyal kariyakarta of the BJP.
BJP?
"Haan, Bhajpa (yes, BJP)," Mohammad says. "Not just me, all 100 families of Sobhapur had voted for the party in 2014," he emphasises. "'Sabka saath, sabka vikas,' yeh jo bole thhey. Aur hum maan gaye (Progress and development for one and all, they said. And we believed them)."
Today, a bitter Mohammed says he no longer can go back to the party he had joined against the wishes of a section of his community. "What has the party given us in return," he asks, and complains that the state BJP has ignored the recommendations of the government-mandated block committee he was part of. "It seems it doesn't care for the people… I blame the BJP's parent organisation, the RSS, for spreading the hate agenda, and the Bajrang Dal for executing it," says the bhindi and rice farmer as an afterthought.
The BJP's vikas slogan has undergone a change here: Sabka saath… sabka sarvanash.
"Shobhapur will vote against the BJP en masse this time," avers local resident Sheikh Moinuddin, pointing to a nearby school, the designated polling booth of the village that is a part of Singhbhum constituency where Geeta Koda of the Congress-led gathbandhan is pitted against sitting BJP MP Laxman Gilua.
Girls are enjoying their mid-day meal of rice, dal and sabji at the Utkramit Urdu Madhya Vidyalaya, the only Urdu school for children of all 254 villages of Rajnagar block, some 45km from Jamshedpur. But it has no Urdu teacher. The last one retired in 2012. Since then no one has been appointed though the principal in-charge has met everyone from the local clerk to the BDO. As of now there are only three teachers for English and social sciences. So classes have to be merged, KG to class 2 in one room, classes 3, 4, 5 in another, and so on.
Mohammed talks of the proclaimed promises of the BJP. "Majority governments can really work for the people. They should have concentrated on health and education. Instead they are bothered about who eats what, wears what," he says. "Hum Hanuman ke bhakt to nahin hain, nahi to chhathi cheer ke dikha detey yeh darad kahan hain (I am not a devotee of Hanuman. Otherwise, I would have torn open my chest to show where this pain comes from)."
That day in May 2017, seven cattle traders were lynched, four in Shobhapur and three in Nagadih, 15-20km away, in Baghbera in neighbouring East Singhbhum district. Two days later there was mob violence in Jamshedpur's Mango. About a fortnight later, a state government investigation, conducted by a two-member committee of Kolhan commissioner Pradeep Kumar and Kolhan
DIG Prabhat Kumar, concluded that the killings were
the handiwork of vested interests, who took advantage of an atmosphere of fear and
uncertainty as a result of rumours of child abduction gangs. The committee also pointed to administrative lapses, saying the mob was allowed to go berserk in the presence of police teams.
As many as 10 people were arrested for the Shobhapur killings, three let off due to lack of evidence; 21 were arrested for the Nagadih lynching with six accused still absconding. Mohammad claims that all seven arrested in Shobhapur were on bail, roaming the streets freely. "Kab kya hoga bolna mushkil (It is difficult to say what can happen and when)," he notes, giving voice to an all-pervasive air of fear.
At the corner of the road leading to the village, the very site of the May 2017 mob frenzy, a family has set up a tiny shop of lozenges, paan masala sachets and biscuits. It is Shobhapur's way of facing a traumatic occurrence from not so distant a past.
Singhbhum votes on May 12