Covid: Centre asks states to prioritise second vaccine doses
Only about 32.9 million people — about 3.6 % of an estimated beneficiary population of 900 million — have so far received the two doses required for full protection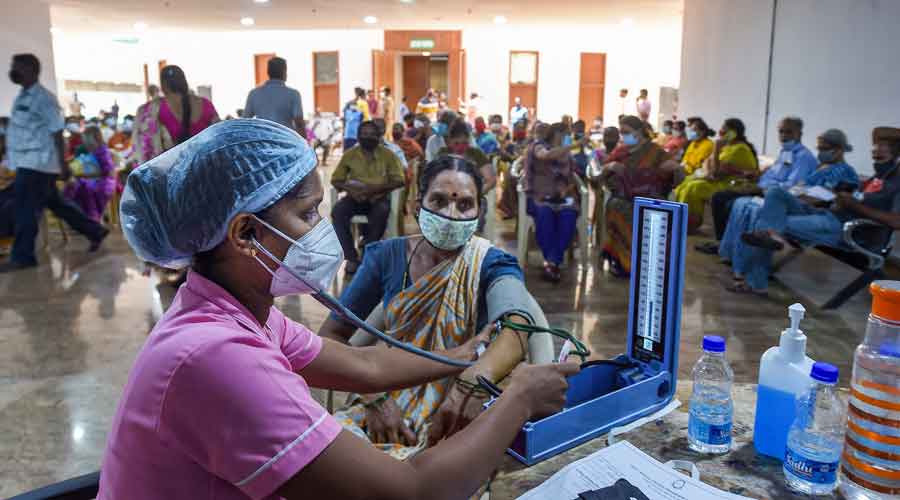 ---
---
The Union health ministry on Friday said states should prioritise second Covid-19 vaccine doses over first doses in a 70:30 ratio, a call that experts say affirms India's vaccine shortages that health minister Harsh Vardhan had denied last month.
"Our vaccination policy probably represents the most miserable failure among our responses to the pandemic," a senior member of the national task force on Covid-19 told The Telegraph. "We wasted time — from October to at least January, we didn't anticipate the need for ramped up production."
States should use the vaccines they are receiving from the Centre in a ratio where 70 per cent are reserved for second doses and 30 per cent for first doses, a senior health official said, iterating the ministry's earlier call for prioritising beneficiaries of second doses.
Only about 32.9 million people — about 3.6 per cent of an estimated beneficiary population of 900 million — have so far received the two doses required for full protection. At many sites across India, beneficiaries are awaiting slots for their doses.
"We request states and Union Territories to prioritise the beneficiaries of second doses… utilise supplies of vaccines through the government of India channel in a 70:30 ratio for the second dose and first dose respectively," said Arti Ahuja, additional secretary in the health ministry.
The call comes amid a decline in the number of daily doses administered — from 3.5 million on April 10 to 3 million on April 20 to 2.7 million on April 30.
The daily doses have ranged from 1.15 million to 2.2 million since May 1 when the Centre, responding to demands from some states and medical experts, expanded the vaccination campaign to allow states and private hospitals to offer vaccines to all adults 18 years or older.
The campaign's earlier phase — which senior health officials have described as driven by scientific evidence — had started on January 16, first prioritising healthcare workers, then frontline workers and then adding all people aged 45 years or older.
The Centre's decision to allow states to vaccinate all adults overnight more than doubled the pool of potential beneficiaries to about 900 million without immediate provisions for the extra vaccines that such a campaign would demand.
Health minister Vardhan had on April 7 described complaints of vaccine shortages by several states as "utterly baseless" and had said some states were trying to "distract attention from their failures and spread panic among the people".
Health experts and vaccine industry executives had predicted that the shortages that some states had experienced under the 45 years-plus phase of the campaign would only intensify once vaccination had been opened to all adults.
Under the current policy, the Centre procures 50 per cent of all vaccine doses and distributes them to all states for use only in people 45 years or older, while states and private hospitals can buy the balance or import foreign vaccines and vaccinate all adults.
India currently produces between 80 and 90 million vaccine doses per month. One vaccine industry executive said the supplies would continue to increase month by month, but said it was hard to predict when vaccines would become available on demand.
Although India has invited foreign vaccine makers such as Pfizer and Johnson & Johnson, experts tracking global vaccine supplies say it might be weeks to months before they can supply large amounts to India.
Gujarat Covid report
The Gujarat government on Friday announced that carrying a Covid-19 positive report will not be necessary for admission of patients to hospitals in the state.
The state health and family welfare department issued a circular, in which it asked all the hospitals to "give treatment" to all those "suspected patients having symptoms" of coronavirus.