Jammu and Kashmir govt makes it difficult for charities to procure oxygen
Move triggers outcry at the throttling of what has been a lifeline for most of the Valley's Covid patients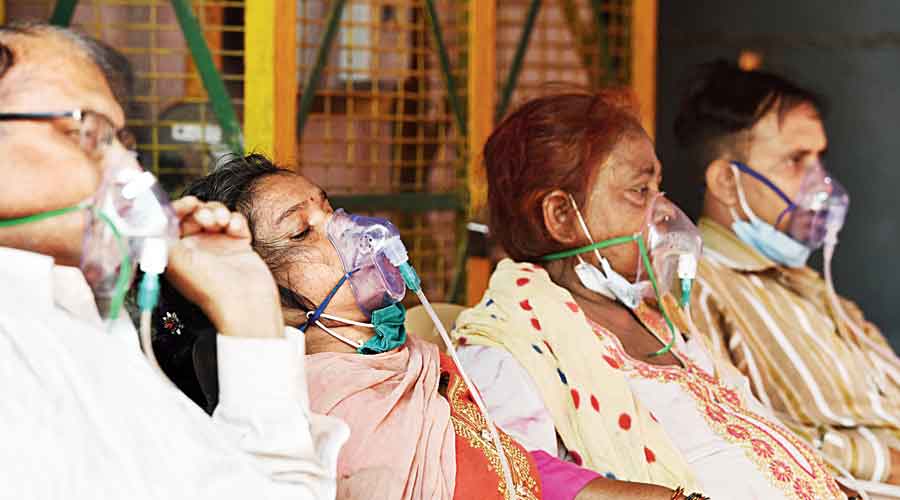 Covid patients receive oxygen support on Friday at a Ghaziabad gurdwara, which has teamed up with the non-profit Khalsa Help International to offer the free service.
Picture by Prem Singh
---
Srinagar
|
Published 08.05.21, 01:20 AM
|
---
The Jammu and Kashmir government has made it difficult for charities to procure oxygen for patients in home isolation, triggering an outcry at the throttling of what has been a lifeline for most of the Valley's Covid patients.
Srinagar deputy commissioner Aijaz Asad on Thursday directed oxygen manufacturers in the city to continue supplies only to designated hospitals or clinics and "stop supply to any private society/NGO with immediate effect".
The move, which handicaps the charities that have been the bulwark of the Valley's fight against Covid, reflects the government's perennial distrust of NGOs and suspicion of any kind of activism, even if its objective is to save lives.
The NGOs can now procure oxygen only after securing the deputy commissioner's approval, a process that the charities say entails lengthy paperwork and diversion of their resources and energy.
The government claims its move is aimed at checking "blackmarketeering" of medical oxygen.
The order created instant panic with some NGOs indicating they were stopping the distribution of oxygen cylinders. Outrage followed.
"Don't throw the baby out with the bathwater. Stopping the hoarding/black marketing of oxygen cylinders is a laudable goal. Preventing NGOs or making it tougher for them to help people get cylinders is dangerous. NGOs were working when the government was still in deep slumber," former chief minister Omar Abdullah tweeted.
The charities say they provide 4,000 to 5,000 oxygen concentrators and cylinders in Srinagar alone, helping 3,000 to 4,000 patients at home.
Hospital sources said that hardly any oxygen-supported bed was vacant. Official figures show the city has 940 isolation beds, most of them occupied. In addition, government hospitals have 82 ICU beds.
People in the Valley have always contributed generously to charities to take care of the tens of thousands of people hit by repeated lockdowns or unrests.
But with the authorities cracking down on political activism since the abrogation of Article 370 provisions in 2019, the charities too have faced tougher regulations — even raids by government agencies — apparently because they too are seen as some sort of a threat.
"Srinagar's population is five per cent of Delhi's and we still get 1,200 to 1,300 cases a day here, which is more than five per cent of Delhi's cases," the head of a volunteer group said.
"If you don't have a Delhi-like situation here, it's because of the charities. If we stop working, hospitals will be flooded with patients and I fear there could be 100 to 200 deaths (in Kashmir) every day."
On Thursday, the Valley clocked 3,241 cases, including 1,070 in Srinagar. There were 18 deaths.
Under pressure, the government on Friday said the order sought to provide fair and equal access to the "most needy patients" and that it was streamlining the process.
"Scuttlebutt has it as if somebody is being prevented. Not at all. In fact, proper mechanism in place will ensure regular supply in a smooth manner," deputy commissioner Asad tweeted.
Leading NGOs Athrout, the Social Reform Organisation (SRO), Help Poor and Hope Trust on Friday met Asad, who then reportedly announced a partial reprieve.
"The process (stipulated in Thursday's order) was cumbersome. We had to provide beneficiary details and stock in hand (daily)…. Now we have been told to furnish the details weekly," Afaaq Sayeed, who is with SRO Kashmir, told The Telegraph.
A member of another charity, who requested anonymity, said the government was reluctant to revoke the order.
"We urged them to revoke the order but they said it had come from the top and could not be revoked. They said they wanted to check the pilferage. We told them that if there was any pilferage, it was at the industry level and not on our level," he said.
"For now, they have provided us temporary relief but it still entails a lot of paperwork."
The volunteer said the order had already created panic. "We had a doctor, who was a frontline warrior, calling us. His entire family was Covid-positive and he was begging for supplies," he said.
SRO volunteer Sayeed said the charities' work helped the government.
"The kind of work we manage, the government might have to create four to five departments to do that," he said.
"We get 250-plus calls every day to our helpline and many more to our individual numbers. We had suspended our helpline following the order but it has been reactivated now."
Apart from providing oxygen cylinders, volunteer group Athrout has set up a 200-bed "Oxygen Sarai (Inn)" with around 75 concentrators and two dozen high-flow cylinders.