Migrant database: Centre misses apex court deadline
It will help track unorganised workers during crises like the pandemic and provide them with rations and other essential goods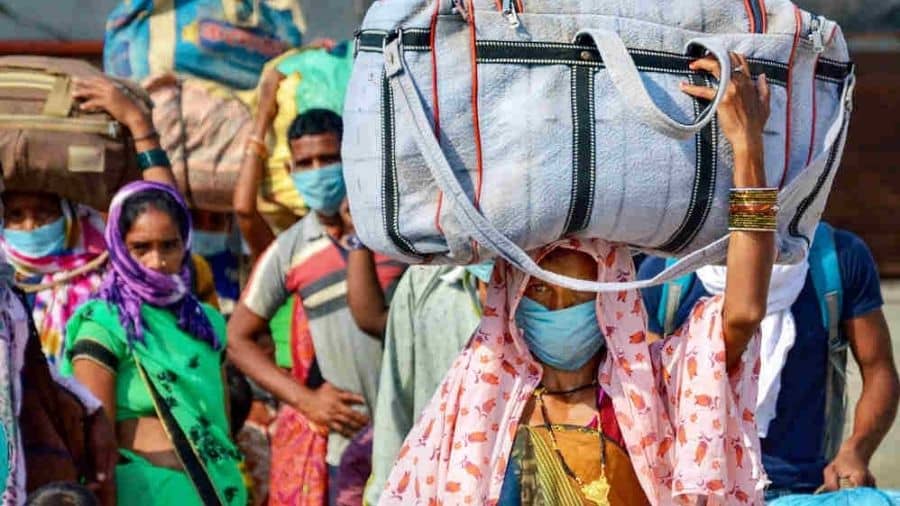 ---
New Delhi
|
Published 15.01.22, 02:04 AM
|
---
The Centre has failed to complete its database of unorganised workers and migrant labourers by the December 31 deadline set by the Supreme Court, with an economist questioning the adequacy of its private agency-dependent registration drive.
Although the Union labour ministry had last August launched an e-Shram portal to register informal workers and create a National Database of Unorganised Workers, around 40 per cent of the estimated 38 crore unorganised workers remain unregistered.
The database will help track migrant and unorganised workers during crises like the pandemic and provide them with rations and other essential goods and services. It will also help insure them against accidents.
Labour secretary Sunil Barthwal on Thursday reviewed the states' preparedness to address the problems that unorganised and migrant workers faced from the weekend curfews and restrictions on the functioning of establishments in certain areas.
According to a Press Information Bureau release, Barthwal told the state labour secretaries that over 21 crore unorganised-sector workers had registered themselves on the e-Shram portal.
"All the state/ UT governments were requested to put in place a mechanism to maintain a record of the migrant workers and register all the remaining workers who have not registered themselves on the e-Shram portal as yet," the release said.
The release said: "This will facilitate the state governments to plan and deliver financial and other benefits to them at appropriate time."
A labour economist who did not wish to be quoted questioned the adequacy of the government's policy of having the workers registered through authorised private agencies, called common service centres. The government pays the CSCs Rs 20 per registration.
"There is no clear strategy to get the workers registered. The awareness is limited to cities and coastal pockets. People in remote and tribal areas are still unaware of the drive," he said.
"The government has made the registration voluntary. There is not much incentive for the workers to register."
The labour economist advocated a campaign through the mass media and said the state governments needed to take the drive up on "mission mode".
If a worker registers on the e-Shram portal, his or her family will be insured for Rs 2 lakh against the worker's death in an accident.
"The incentive is too low. Workers will be encouraged to register if there is a tangible benefit, like a pension or an interest-free loan to start a business," the labour economist said.
A.R. Sindhu, secretary of CPM labour arm Citu, said the government should ask its officials or the CSCs to go to the workers' homes and get them registered.
Sindhu alleged that many of the CSCs were illegally charging the workers sums ranging between Rs 100 and Rs 500.
An email sent to the labour secretary seeking the reasons for the slowness of the registration drive and asking whether the government was planning a new strategy to complete the task has brought no response.