Centre flies off handle on Covid vaccine as states seek more doses
Maharashtra, Punjab and Delhi, which are grappling with sharp rises in daily new cases, had asked for jabs to be allowed for all adults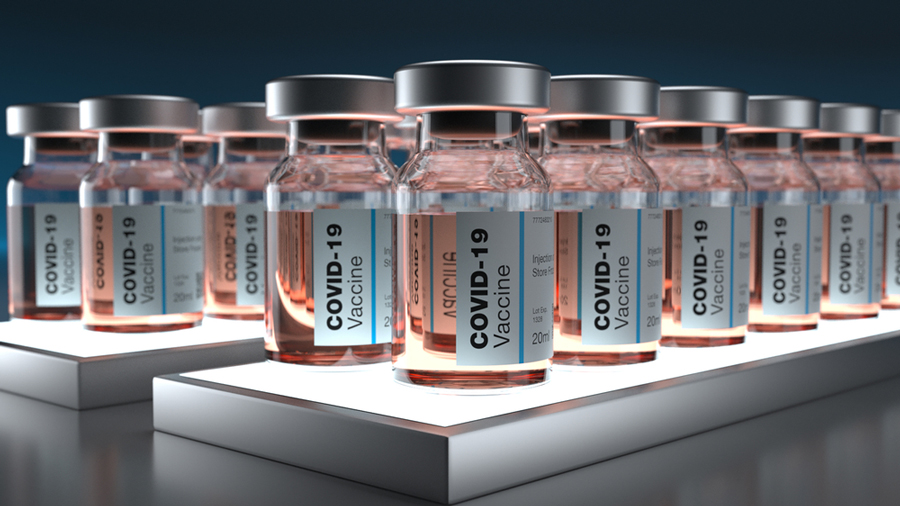 Bengal has also appealed to the Union health ministry to send more Covid-19 vaccine doses. Odisha has said it has had to close nearly half its immunisation sites because of a shortage of doses.
Shutterstock
---
New Delhi
|
Published 08.04.21, 02:37 AM
|
---
The Narendra Modi government on Wednesday erupted in anger at state governments that had asked for all adults to be inoculated amid a sharp surge in Covid cases and had flagged vaccine shortages.
Hours after Maharashtra health minister Rajesh Tope said that many inoculation centres in the state are being shut because of a shortage of vaccines and that the state now has 14 lakh doses which would only last three days, Union health minister Harsh Vardhan lashed out at the state government.
"The lackadaisical attitude of the Maharashtra government has singularly bogged down the entire country's efforts to fight the virus," the minister said. "Vaccine supplies are being monitored on a real-time basis, and state governments are being apprised regularly about it. Allegations of vaccine shortage are utterly baseless," he added.
The Centre turning on a state government in the middle of a pandemic whose second wave appears to be bigger than the first will do little to inspire confidence among the people.
 A Press Trust of India report had quoted Tope saying: "There are not enough doses at many vaccination centres and people coming there have to be sent back due to the shortage." The minister also said that the state has 14 lakh vaccine doses while its vaccination plan requires 40 lakh doses per week.
Maharashtra's principal secretary (health) Pradeep Vyas told PTI on Wednesday that several districts would run out of their vaccine stocks "today or tomorrow" and the Centre has been informed about this.
Bengal has also appealed to the Union health ministry to send more Covid-19 vaccine doses. Odisha has said it has had to close nearly half its immunisation sites because of a shortage of doses. 
Central officials have asserted in recent weeks that there is no shortage of vaccines for the campaign's current phase that seeks to immunise all healthcare workers and frontline workers and people 45 years or older.
 Vardhan iterated that position on Wednesday and bristled at demands to vaccinate all adults, describing these as irresponsible statements that appear intended to divert attention from their own "poor vaccination efforts."
 Maharashtra and Chhattisgarh need to improve their Covid-19 testing rates and Gujarat, Karnataka and Rajasthan need to improve their quality of testing, the minister said. Punjab, he said, has to address its high case fatality rate by early identification of cases.
"So long as the supply of vaccines remains limited, there is no option but to prioritise. This is also the established practice around the world and is well known to state governments," Vardhan said. The primary aim of vaccination is to reduce mortality among the most vulnerable people, he said.
Maharashtra, Punjab and Delhi, which are grappling with sharp rises in daily new Covid cases, had asked for vaccination to be allowed for all adults.
 Health experts who have been tracking the epidemic and the campaign said the discord between the Centre and some states is not surprising given the epidemic's resurgence, inadequate public data on vaccine supplies, and lingering vaccine hesitancy.
 "Things changed — the vaccination strategy was designed months ago under the assumptions India's epidemic was past its peak and was unlikely to grow to this size," said Oommen John, a physician-researcher at The George Institute for Global Health, New Delhi.
 "Under current circumstances, I would argue for a vaccine strategy that takes into account the epidemic patterns in specific districts — where the infection is rampaging, it might be worthwhile to expand vaccines to all those who're vulnerable — not just the most vulnerable," John said.
 Vardhan said states seeking vaccination for all adults have not met their priority group targets yet.
 Maharashtra has so far vaccinated less than 50 per cent of healthcare and frontline workers with two doses of the vaccine required for protection, while Delhi and Punjab have vaccinated less than 30 per cent of their healthcare and frontline workers with two doses.
Vaccine hesitancy is one of the reasons for the immunisation campaign's slow pace across India, and some medical experts believe the Centre needs to share the blame for that.
 The Centre's lack of transparency on adverse events following immunisation has likely contributed to the persistent hesitancy, a doctor said. Several countries have investigated the AstraZeneca vaccine — sold as Covishield in India — for possible links to blood clots. "Here, we see only episodic release of AEFI information by the health ministry," the doctor said.
A senior medical advisor to the national AEFI panel had told The Telegraph that details of each serious AEFI investigated in India would be made public. But the details still remain undisclosed.
The other vaccine — Bharat Biotech's Covaxin — was cleared even before its efficacy trial was complete, contributing to distrust.
"People wouldn't have forgotten how even some healthcare workers who are among the most vulnerable to the infection had hesitated on taking the vaccination," said a senior physician who asked not to be named.
Health officials have said the Serum Institute of India can produce about 70 million doses per month of Covishield, while Bharat Biotech can produce about 10 million doses per month of Covaxin, but neither the health ministry nor the companies have made public details of the government's procurement or distribution timelines. 
India had until Wednesday evening administered over 88 million doses of the vaccines, but only 11.5 million people have received both doses of the vaccines. The number of eligible beneficiaries under the current campaign phase is nearly 350 million.